Despite the Christmas deadline rushing at me like a herd of stampeding rhinos, I was helpless to make any progress at home on the Christmas knits until I finished this:
The Extraordinarily Pink Afghan
Now I know why there are so many crocheted afghans in the world. They are utterly compulsive. First the squares, so quick and satisfying. The sewing goes fairly quickly. And then the process crafter's dream- long hypnotic borders. I even like the way it came out- pink, to be sure, but with enough variety and other colors to break it up into a pleasing wildflower bed of color.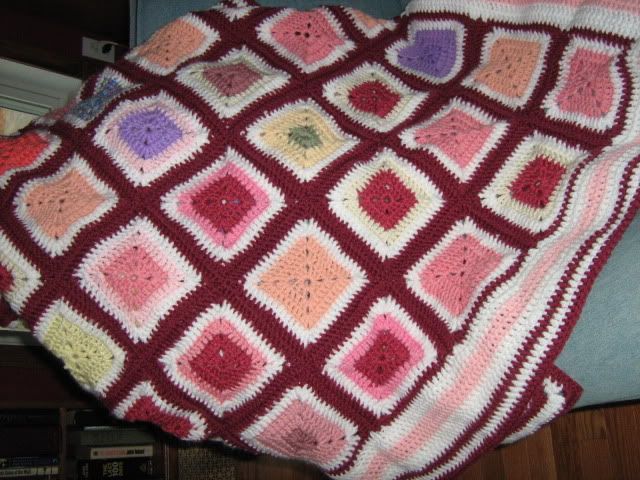 The finished size is 74 x 56 inches making it the largest fiber project I have done to date. Yes- that includes quilts (I've never made a bed-sized quilt). And I have wiped out my supply of pink yarn, along with most of the pale yellow, cream, lavender, and similar colors. Between the two afghans and my hat binge; I've essentially used as much yarn as I've received this fall. (I'm still working on the yarn I got during the preceding two years, though I've put a pretty good dent in that too.) The few skeins remaining from the bags of pastels my mom gave me have been consolidated into the acrylic stash without crowding.
And, as for the rest? I have a plan. The dominant color in the rest of the pastel yarn is pale green. There's some yellow and purple and variegated odds and ends that would go reasonably well with it. So, pick up a couple of the big super-saver skeins of dark green...and yes, there is going to be another afghan. After the insightful advice I received in comments, I've ripped out the garish orange agfhan square--the bright orange will make nice mittens, and the muted pastel variegated can go into the afghan.
But I refuse to start on it until the Christmas knits are done. Though I keep thinking, I would like to try a different square pattern and I've found this one that might work. I could do just one square, you know, to test it...but there's no such thing as just one square. Christmas knits! I must remain strong. Not one single...oops.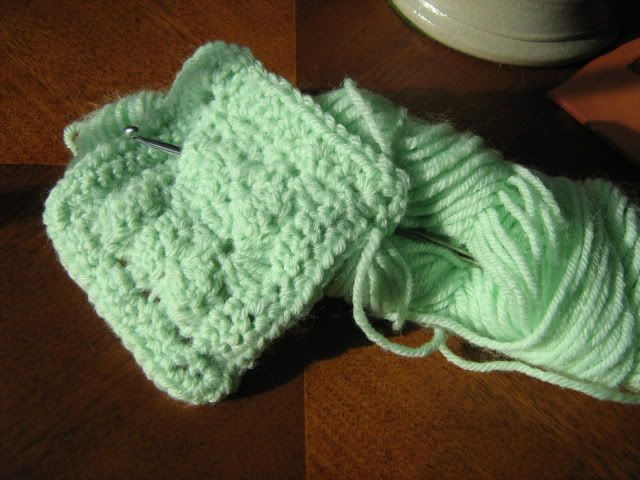 ...not one single trip to the craft store to get the dark green I'd need to actually finish any squares. Yup. I'm in control, here.