I grafted the toes of the socks this morning. Which is not to say they
couldn't
have been done on Christmas day, but. I decided on mature reflection that making myself crazy knitting all hours of the day and night, leaving other things to the last minute and or doing them poorly would generally not add to anyone's enjoyment of the season, least of all mine. Which is not to say that I didn't work quite steadily on them, I did. I just didn't go nuts. Sock number one was done just after dinner Friday, and I cast on sock number two. Sock number two got a lot of attention Saturday, as I knit in between methodically working down the list of things I wanted to happen. By bedtime I had turned the heel and was starting down the gusset. Sunday morning, I knit the foot. But on Sunday afternoon I was still 4 pattern repeats short of the toe, and out of time. So I set the sock down and had a lovely afternoon with my family. (And took the evening off from knitting after, as my hands were really due for a rest by then.)
It was a lovely afternoon. We ate my Christmas cookies. My husband cooked an excellent Christmas dinner, followed by a lovely dessert my mother brought. My mother expressed warm approval of the socks, even if late. Thoughtfully chosen gifts were given and received happily. My other family members received their various knit gifts with gratifying enthusiasm. And the socks? Here they are: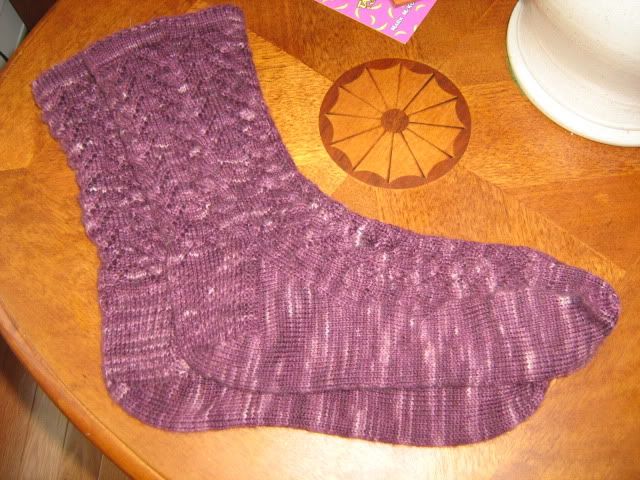 Lombard St. Socks by Susan Lawrence in colorway Gothic by Deep Water Dye Works.
And what of these other knit gifts, you ask? Well- secret project A can now be revealed as...yet more red socks! Okay, not so exciting, but my brother-in-law likes them. He got three pairs- two of these and the pair of
red-with-black-toes-and-heels I blogged
some months back.
And for my sister, there was secret project B, which now can be shown as, a pair of
sporty cabled mitts
!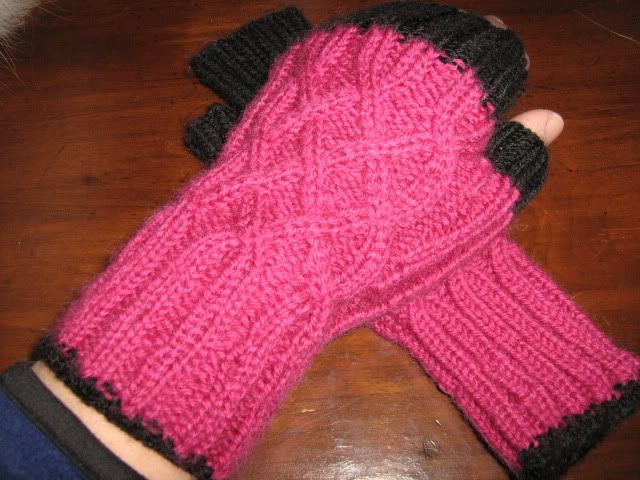 These were surprisingly vexatious. First there was the yarn, which had been badly treated at some point and had a lot of breaks and thin spots, leading to an intarsia-like profusion of ends to weave in. Then there was the part where I failed to read my own pattern and knit the first mitt with a totally wrong gusset (really quite embarrassing). Then I ran out of yarn. Something I should have foreseen but didn't. I waffled for a bit on what to use as a contrast color, let my knitting group talk me out of using the yarn I had on hand (they were right, it wouldn't have looked nearly as good as the black) and then went out and got the black . I like the final look, but oy, what a pesky little knit!
So now I'm contemplating my stash with the speculative look of a knitter without a deadline, and happily weighing my options. I've already cast on a hat, and I'll probably start that third afghan, and then there's the sweater I swatched for back in October (though I'm going to be mildly vexed if I can't find my notes and have to re-swatch...). So many choices! But hey, I'm taking my last two vacation days for the year this week, so who knows what might happen?!