So Toni asked yesterday what other people have in their sewing rooms, and her question was so apropos, so timely and succinct, that I can only assume she's reading my mind again, because it's certainly something I've been thinking about. See, I got my current beautiful new sewing room in the Great Construction of 2006, and was so giddy with delight (I can't think why else I volunteered) that my first project in it was making vast swathes of theatrical drape. (This was to replace a large quantity of ancient and venerable drape that was falling apart. It's owned by an organization that very often loans said drape at no charge to my music club for large events- so not purely altruistic on my part, but certainly a service to the community.)

However in the years since there has been less sewing, and the sewing room has become the repository of all sorts of Other Stuff, which for one reason or another has migrated there. And while we've devoted a fair amount of time and energy to organizing the library and the kitchen, the rest of the house has not gotten nearly the same level of attention. Over the last year-plus, I've been cleaning out, freecycling odds and ends, and generally herding stuff, so I'm getting to the point of wanting to do some major organizing and rearranging projects this year. But that's for later. Let's return to the sewing room and take the tour. Brace yourselves, it's not pretty.

What I've got: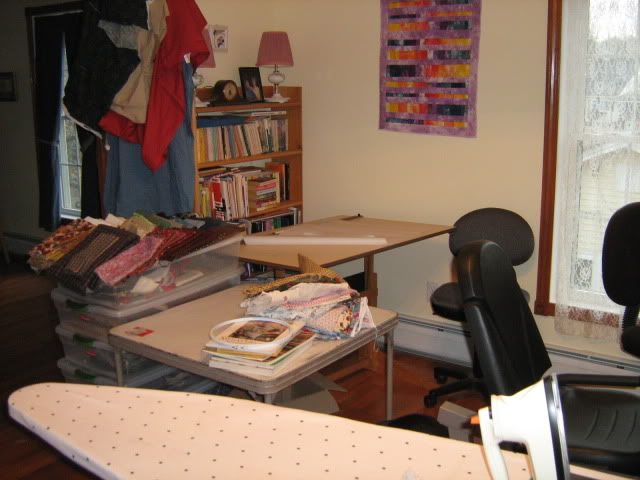 1. The fabric draped over everything is the last batch of (mostly) quilting fabric that was given to me by my mother, who got it from my sister, who got it from a friend whose mother was destashing. (Got that? There's a test at the end of the post.) File this under temporary- it's in the process of being ironed, folded and sorted into storage bins in color families, the better to be quilted with.

2. The storage bins are another story- these I hope to store in the closet eventually- but that needs some work. See item 14.


3. Bookcase #1- this contains knitting and quilting books, arts and crafts and the Romance Ghetto. Knitting and quilting, arts and crafts belong here, romances could be moved (and will likely have to be as the bookcase is overflowing).

(By the way, the lovely little wall quilt is my mom's work, made from fabric she dyed herself.)

4. The folding table is one of two- I have a card table and a long table. I can't use them both at once, but it does give me some work surface flexibility depending on what's going on. Folding tables are stored in the closet when not in use.

5. The drafting table. I haven't historically used this a lot- but when I do, it's very useful. It wouldn't necessarily need to be in the sewing room, but it's not a bad place for it--it gets used mainly for sewing design. But it's both movable and can be tilted flat and stored easily, so that's not mandatory.

6. Two rolling chairs. The intent is to have one be at the desk and the other at the sewing machine. I need another hard-floor chair mat for the sewing machine, if I plan to carry that out. But it would be useful since then the ugly paint-spattered folding chairs could go back to the basement where they belong.


7. The desk. Okay, here's something that is of questionable use in the sewing room. It used to be in the bedroom, but I started moving stuff out of there that I might want to use at times when my husband is asleep. Since he's a night person who much prefers to rise at the crack of eleven or so on weekends, the bedroom isn't the best place for that. File this under, movable if I had any idea where else to put it.

8. Fax machine (out of sight behind the desk). This could go anywhere and probably should. It's supposed to be an all-in-one printer/copier/scanner/fax, but I've only ever used it for faxing.

9. Large storage bin (in front of window on left, you can see a bit of orange fabric on top of it). This currently holds most of the other fabric I own- all colors together, in a jumbled mess. I plan to sort the quilting fabric out into the storage bins by color, and then put all the non-quilting fabric (most of which is in larger quantities) into it. This could continue to sit under the window or go into the closet.

10. Exercise bike- yeah. Not sewing or craft related at all. This was in the cellar, and got moved to make room for a planned expansion of the model train layout. On the downside, it takes up a lot of space. On the plus side, the sewing room is a lovely space and much more attractive to exercise in. It's also handy to have it next to the desk as I like to watch DVDs or streaming video while on the bike. (And having my laptop resident in the basement is definitely not convenient.) Tentatively, this is staying, but I'm thinking about trying to rearrange the space so it isn't so much in the way.

11. Ironing board- up most of the time, stored in closet when not needed. Must stay in the sewing room as practically all sewing requires it.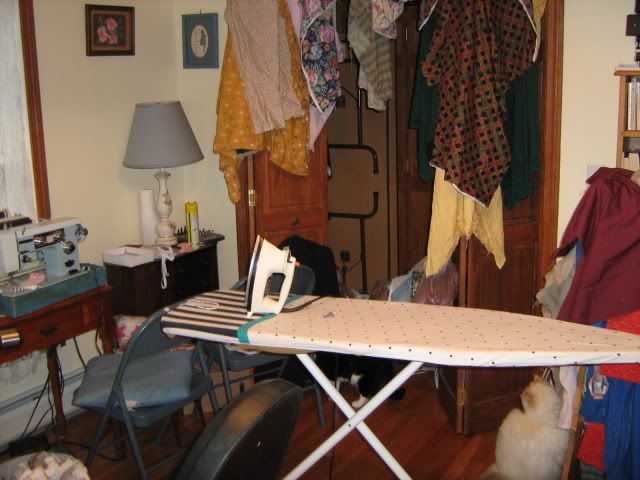 12. Sewing stand and three sewing machines- the sewing stand was a freecycle find- quite useful. It came with a sewing machine in it. Not so useful. I haven't even tried it to see if it works. I expect I'll be at the very least oiling it and cleaning it. Ideally, I'll get rid of one of the two lighter-weight machines, as three is not really necessary.

13. Sewing table- this little table usefully holds thread, buttons and notions. Certainly belongs in the sewing room. (The junk on top of it is another story.)

14. The giant closet- this is a 'needs improvement' item. It is designed to be double-depth, and is accessible both from the library side and the sewing room side. It currently has two sets of shelves and a crapload of boxes, bags and random stuff in it. The plan is to build a custom set of shelving that takes up perhaps 2/3 of the closet, with a walk-through area and the two existing shelves in the remaining area. With more shelving, this will easily take all the fabric and yarn storage. Timeline, however is TBD.

15. Drying rack. This has been in the sewing room forever, but the only good thing about it is that items to be ironed have a short trip from the rack to the ironing board. As soon as the last lot of quilt fabric is dry, I think this will go down to the bedroom. It will be one floor closer to the washing machine, much handier to fold and put away dry clothes, and the sound of drying clothes is unlikely to wake my husband in the morning. (The sound of Biscuit knocking the rack over is a completely different issue.)

16. Bookcase #2- this is completely random- mostly YA fiction and totally misplaced. The bookcase is sized for paperbacks so many of the YA books don't fit in it. We've got a spare bookcase that got moved into my husband's office in the last library re-org (and is currently empty) and I'm thinking that YA should move there, at least for now. It's also paperback-sized, so not ideal, however. The other consideration is that there is a second bookcase that matches Bookcase #1-and I'd really like to get that bookcase back into the sewing room (it's currently in use elsewhere). That would give me more tall-book-space, and matching shelves in the sewing room. (But involves a lot of book-logistics involving what happens to the stuff currently on it.)

17. Large fluffy cat (lower right). I'm darned if I know what he's for, but I apparently can do nothing in the sewing room without him.

Well. I'm not sure that this makes for entrancing reading, but it has certainly helped me to clarify some of my own thoughts on rearranging. And perhaps Toni will get some consolation from seeing how much more organized her sewing room is than mine!