Friday morning instead of rolling out of bed and going to work, we packed up bags and headed off to the airport to fly to Dallas for our annual North Texas Irish Music Festival excursion.
As it so often is, the weather there was more like late spring or early summer, and we turned our pasty northern faces to the sun with intense pleasure. We took off our jackets. And our sweaters. And walked around making Vitamin D, like nobody's business....what? Oh, the music was outstanding! The photo below is of Hailey Sandoz and Reelin'- at 12 years old, she was undoubtedly the youngest performer on the music stage (though there were younger children among the dancers). But you would never have guessed from her playing, which was amazing.
We wandered from stage to stage, listening to the incomparable
Ed Miller
, this year with
Jil Chambless and Scooter Muse
, the ever entertaining
Trinity River Whalers
(it may help to know that if you jumped into the Trinity River in Dallas, you'd probably break a leg, not to mention getting splashed to the knees with mud - or in other words, if you see whales there, you've probably been at the pub too long). We caught a terrific new group of young musicians called
Goitse
and listened to some old favorites, like the amazing
Chris Newman and Maire Ni Chathasaigh
.
And when we weren't at the festival, we checked out bookstores, and walked. Having been to Dallas once a year for over 10 years now, it's interesting to see the changes. There's been certain amount of attention in recent years to urban planning and making the city more friendly to pedestrians. We were walking a new route this year, so I don't know exactly when it went in, but I was much taken with several different public areas that were landscaped with moving water. Very attractive and appealing.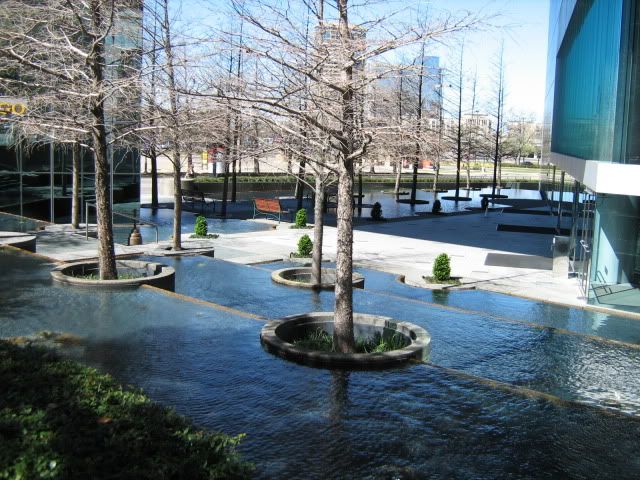 The festival ended Sunday, but we had planned to stay an extra day (lured by a very attractive plane fare), and so Monday we drove down to Austin. It was even warmer than the weekend and beautifully sunny. I got a bit scorched (I never seem to think of using sunscreen in March until it's too late.)
The first place we stopped was the visitor center, which was in the building of a historic bakery across from the capitol building. They had a wonderful collection of photos of the families that had lived and worked there, as well as an exceedingly well-stocked crafts area- the quilts were especially gorgeous.
We walked around Austin- a very pleasant small city, reminiscent of Denver in the architecture and laid back feel of the place. They also have a tremendous amount of greenspace around the lakefront. We took a walk out along the lake and then up to Barton Springs, a natural cold spring. There were a considerable variety of birds and other wildlife.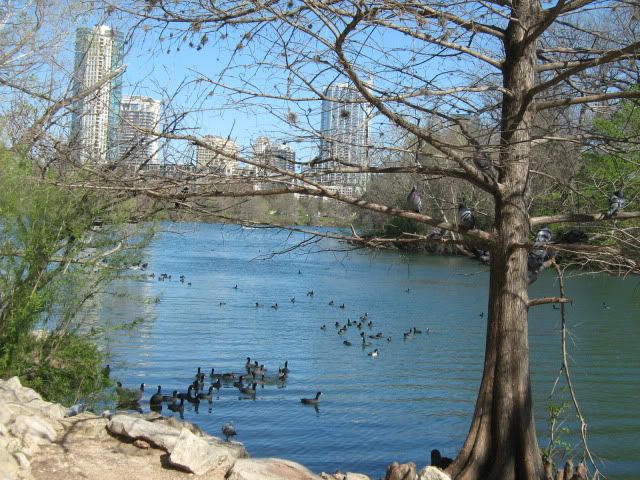 The water was beautifully clear. We could see fish darting along the bottom.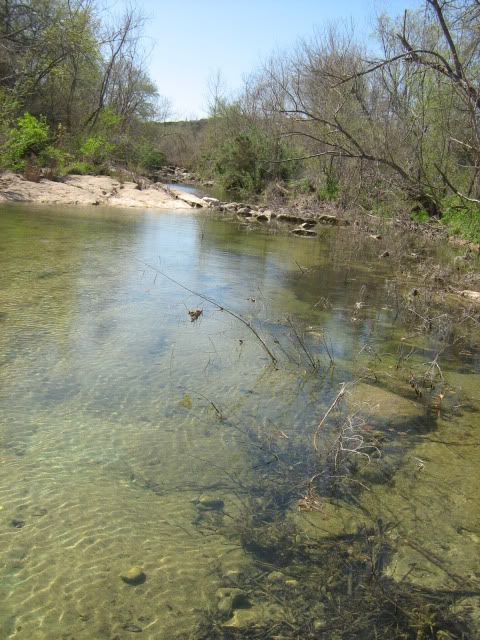 And I have never seen so many turtles in one place in the wild before. There were a whole bunch of them. I caught an even dozen here sunning themselves on fallen logs.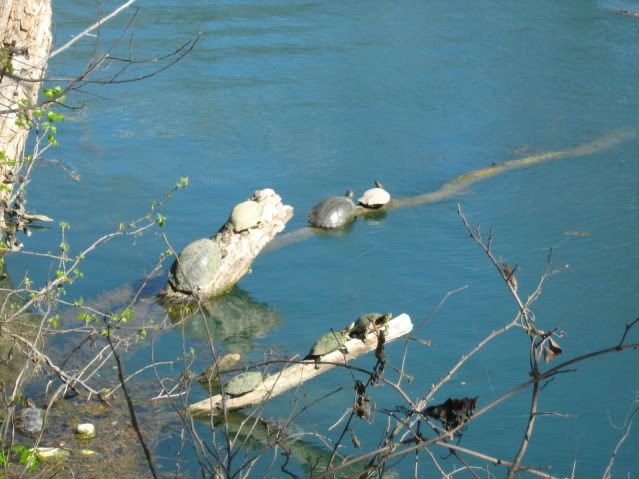 We took one of the walking tours through the older parts of town. This is the John Bremond House.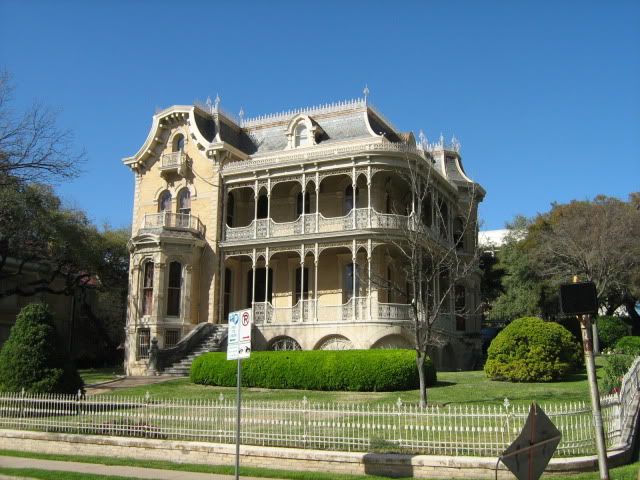 And we finished with a visit to the
Texas History Museum
, which was interesting and extremely well presented. They didn't pull any punches with the less savory parts of the history, and didn't dumb it down either. We were quite impressed.
Naturally, being as I was traveling, there was some attention to small projects (though not as much as there might have been, since I managed to sleep through a good deal of the travel time that would normally be devoted to crafting. And also read a couple of books.)
The plain blue socks got done- another pair of identical twins. This time I can't really take any credit. Two balls of yarn, they both started the pattern in the same place, the socks patterned the same way:
I also finished the pair of mittens I started last week in a state of post-blanket euphoria: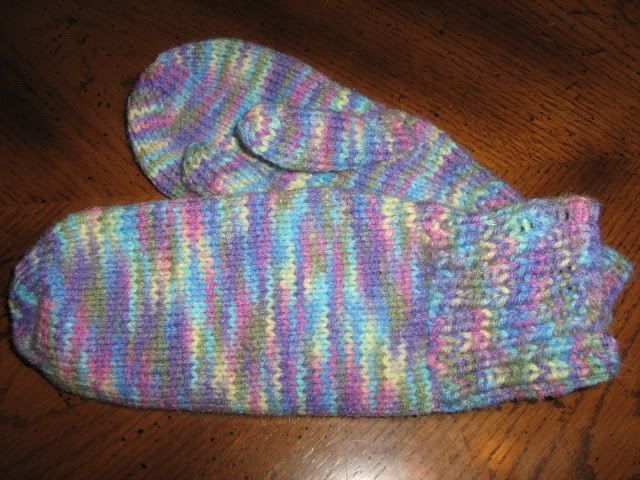 And I cast on a new sock- since this is the same yarn in a different colorway as the blue socks above (and therefore I knew how many stitches around the sock needed to be to fit), I cast this on top down instead of toe up, for the change of pace.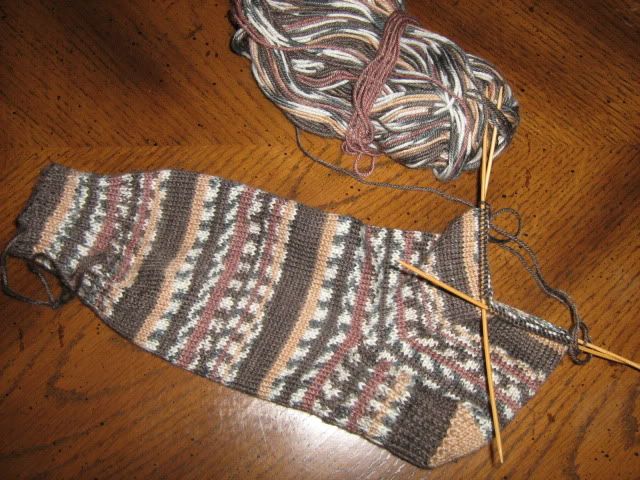 And lastly, the cats were naturally very happy to see us. Cookie greeted us enthusiastically right up until the food landed in his dish (then he was busy). And Biscuit has been following us around, checking out luggage and generally getting underfoot. Home sweet home!