The last few days have been a time of doing a lot of small things. I finished the colorwork hat:
There's actually a funny story about the hat. Some years ago, I was waiting in an airport. I spent a lot of time in airports in those days (it was a work thing) and this particular evening my flight was grossly delayed. The gate was nearly empty- there were only a few other passengers there- and the gate agent was clearly a little bored. Seeing me knitting, he wandered over curiously and watched me working on a cabled sweater. "My mother does that," he told me. "She's always knit me sweaters." We chatted for a few minutes- his mom sounded like a pretty dedicated knitter, and the guy asked some idle questions about cables and so forth. Then he looked at the ribbing on the edge. "That's not how my mom does it," he said. He tried to describe for me the way his mom did edges but it didn't ring any bells. This was pre-internet and pretty much the only knitting techniques I knew were those I'd seen in patterns. He wandered off after a while and I saw him on the phone, and thought nothing of it.
About half an hour later he came over and presented me with a set of handwritten directions. He'd called his mom, and asked her about how she did knitted hems on sweaters. (There are the directions in the photo with the hat.) I didn't have the heart to tell him at the time that they were pretty unintelligible, as they were transcribed over the phone by a non-knitter. I was able to figure out what the technique was later and look it up- basically it was for doing a stockinette hem with a purled turning row- and I tried it out, but in worsted weight I found it way too bulky.
But last year I did my first actual knitted hem (that I didn't frog), on the Lombard St. Socks- that one uses a YO, k2tog for the turning row to make a picot edge, and I rather liked it in the fine gauge yarn.
So- when I went to start a hat in sport weight, the first decision I had to make was the edge. I was eager to get into the colorwork, and in worsted yarn I've often used an i-cord cast-on for the edge. But in sport weight, I thought it might be a bit thin, and so I thought of the knitted hem. And I love it- it makes a firm smooth edge that isn't too heavy at all. And I kind of wish there was some way to tell that gate agent and his mom that I finally used it.
I finished the red mittens, finally (they waited on the hat).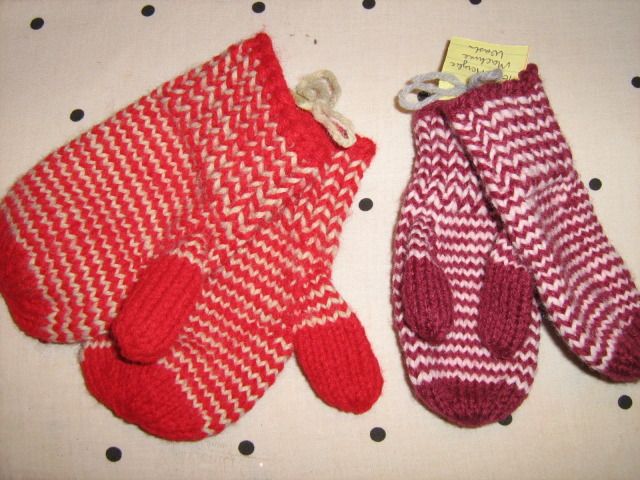 And I started a new colowork hat. For this one I'm using a pattern chart from one of the sweaters in "Sweaters from a New England Village", a book my mom gave me recently. It has some gorgeous patterns- no firm plans yet, but I definitely want to make a couple of the sweaters from this book.
The weekend was unusually free of commitments and I enjoyed being home. I didn't move any of the house-related projects, but I did get some extra sleep and catch up on laundry. I skeined up and washed some of the new yarn that was a bit dirty, and then I banished the whole box to the porch as there are some signs of insects. I'm avoiding mingling that yarn with the rest of my stash until I can be sure there's nothing alive there. (Though I expect that any moths that went for that yarn starved to death- it's pretty much all acrylic.)
I finished three books and started a couple more. I finished ironing and sorting all the new fabric. I hung out with my neighbor, who is coming along nicely with her first sock, and made it to my local knit group.
A nice quiet weekend- just what I needed, as the week ahead promises to be busy.