I can't quite put my finger on what has been consuming all my time these days, but there must be something, because I keep rushing from one thing to another to another and never quite getting to everything. At least I started the year filled with energy.
As I got closer to the end of my vacation, I started to feel actually rested, which led to puttering. Puttering is when I wander around the house, absentmindedly picking things up and putting them away, uncovering unfinished projects and finishing them, and generally accomplishing things in a leisurely yet effective manner. It's highly satisfying.
I blew away the mending pile, and picked up the sewing room. This led to finding all the pieces of the top I started back in May and finishing it. Of course it's going to be summer before I can wear it...but at least Biscuit isn't batting the pieces around the sewing room. Any more.
And I finished off the mittens for the last FO of 2012.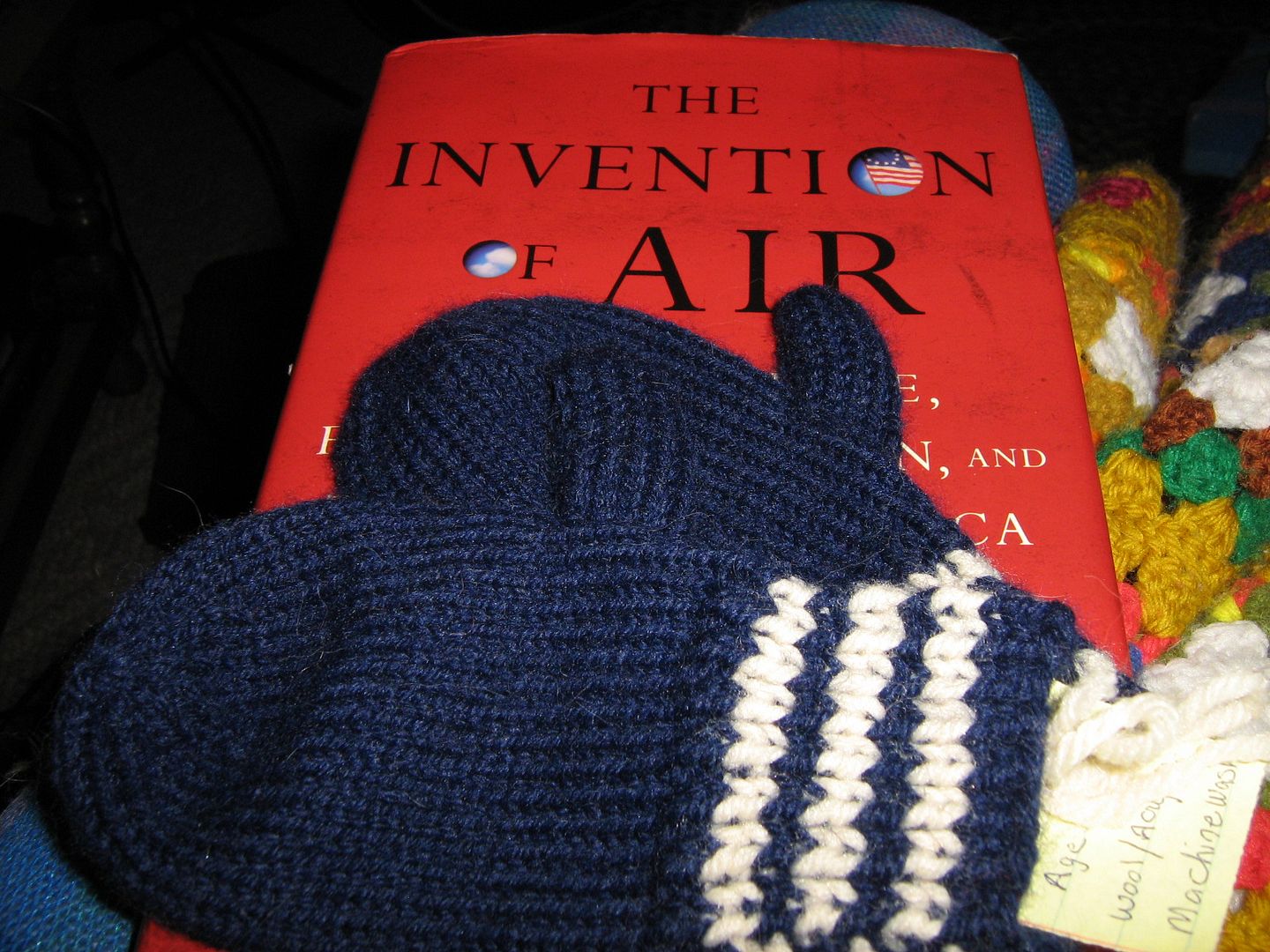 And that leads to the FO statistics, since we engineering types love our statistics. In 2012 I had 78 total FOs, which broke down as follows:
43 pairs of mittens (not a surprise), and 2 pairs of fingerless mitts.
16 hats
2 sweaters
2 sewing
8 pairs of socks
3 scarves
2 blankets (one crocheted lap size, one knitted baby blanket.
No carpentry, which is a bit unusual. I did make that wooden base for the candelabra/sculpture made by my sister, but didn't feel that it was really involved enough to count as a 'project'. (I couldn't work up to tackling any carpentry on vacation. The bench tools live in the garage which is darned cold this time of year.)
While shopping is not one of my usual pursuits, I did go out and get new boots for the new year. This had something to do with the part where my old boots, after sixteen years of faithful service, had the paper-thin soles start to come off. Now, the new boots are quite nice and comfortable. But they're almost incidental. No, the real win of the day was the box. It is a
marvelous
box. Biscuit approves of it.
And Cookie is ecstatic. There's nothing quite like the love of a cat for his box.
Although...my husband has just introduced Cookie to fish videos on YouTube. Cookie is astonishingly rapt. It's rather worrying.