There are all sorts of springlike happenings around Chez Practicalcrafts. For one, I conquered the third (and thankfully smaller!) skein of yarn and finished the crinkle-top baby afghan.
And amazingly, a full week before the baby shower. It was like a spring miracle. Biscuit helped me to wrap it.
"Yum, yum, curling ribbon!"
So long as we understand that by "help", I mean that he dove under the tissue paper to make sure there was nothing hiding there, pounced on the curling ribbon and tried to eat it. I had to put it in the car for safekeeping to ensure that the present made it out of the house intact. Which turned out to be fortunate, since in a state of extreme grogginess the following morning I would have forgotten to take it with me.
The weekend brought terrific weather with it. There was a lot of watching of the out.
""Whoa! There are birds out there!
And a certain amount of working off the natural excitement caused by watching the out.
Cookie has a good deal of trouble rassling with Biscuit. It's the fluff. Where the heck do you bite him? (Answer- it doesn't matter. You'll get a mouthful of fluff no matter where you bite.) Biscuit has a decided preference for munching on Cookie's ears. All in good fun, of course.
Sunday, Amtrak was offering some special fare deals to promote the Northeaster train service to Portland, and other Maine points. Jonathan and I love traveling by train, and lured by the gorgeous sunshine we went up for the day. We weren't the only passengers (despite the photo- the crowd waiting to board was behind us). There were a number of families out for the day, and we watched the wild excitement of the under 3-foot set with some amusement. (Some years ago, that would have been my husband and his indulgent mother, who took him to pretty much every steam train and train-themed attraction on the East coast.)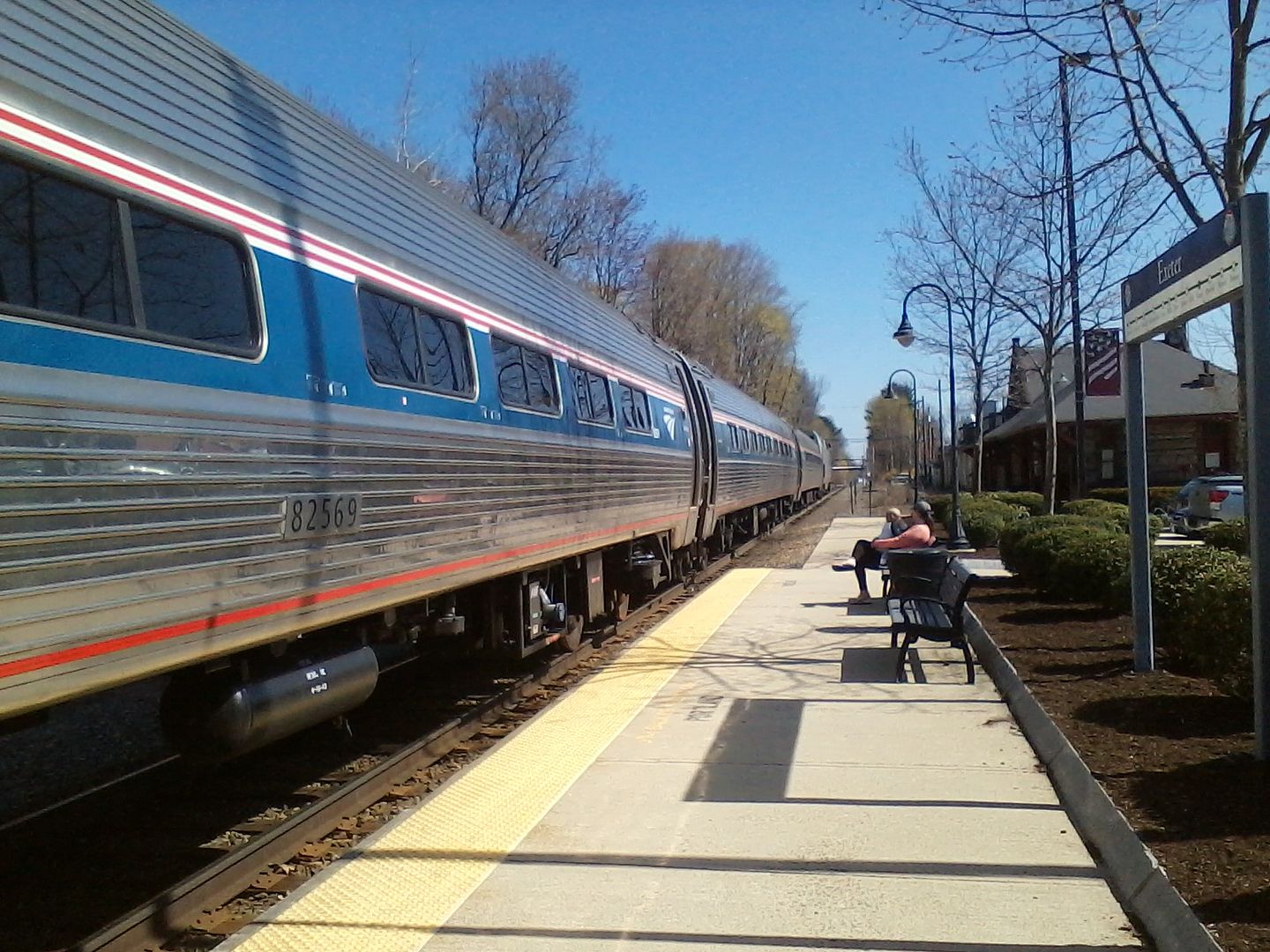 Amtrak Downeaster at Exeter Station
We walked into town and had lunch, and then set out to walk some more- Portland is a nice city, and has a number of pleasant walking trails. Our route started out along the waterfront, and past the
Maine Narrow Gauge Railroad Museum
. "Purely coincidental," my husband said. "I didn't even know if they'd be running trains today." (They were, but only diesel, not steam.) The narrow gauge line has rails 2 feet apart, compared to standard, and the trains are really very cute- they look like models, compared to the larger gauge.
From there our path took us on a long loop around the Back Cove- we saw a harbor seal, in addition to the more usual bird life- and back into town for ice cream at
Beals
before strolling through streets full of lovely Victorian homes on our way back to the train station. It was a really gorgeous day, and the first one I've been able to walk around in short sleeves without getting chilly. In addition to forgetting my camera (my husband took the train photo above on his phone), I also didn't think to bring sunscreen, so I wound up a bit crispy around the edges. Not a real burn, but certainly a warning to me that I can't expect to get away without it much longer.
Naturally, there has been knitting. I finally finished the Wasabi hat, which I still need to block, and I've done more mittens when needing something simple I could work on in bad light. (Hint- a slip-stitch pattern in sock yarn is
not
that kind of project.)
I finished the third pair on the train. Have I mentioned how much we like traveling by train? Comfy seats, electric outlets for electronics, light for reading and knitting, and you can stroll down to the cafe car if you need a snack.
And now I'm back to working on WIPs, checking my flowerbeds daily to see what survived the winter, and resisting the restless spring urge to start something new. Because mittens aside, it would be really nice to get one of the larger things done. Not to mention block the darned Wasabi hat.