We rolled out of bed early, eager to get a jump on the sightseeing.

We walked around Truro, finding that the waterfront was a bit short of water (it was low tide),
the Lemon Market was charming (mostly closed, but what we saw looked nice).

We found a friendly (and very clean) native.
We strolled through the Pannier Market (this one was pretty permanent looking- more like Reading Terminal Market in Philadelphia than the flea-market sort of thing they did in Tavistock).

We also noted a restaurant and said 'hey, we should remember that' - about which more anon.
We finished up back at the Royal Cornwall Museum a couple of minutes before it opened.

Like the other county museums we've seen on this trip, this one was remarkably good.

They started with a very impressive collection of stone age tools, then bronze age, then iron age, and Roman.

Cornwall doesn't have very much in the way of Roman artifacts compared to more northern places.

The only known villa lacks many of the luxuries (like the hypocaust and baths) found in other places.

The placards informed us that there probably wasn't a large Roman population here, but rather that the Romans governed through local chieftans.

We strongly suspected that being sent to Cornwall was possibly not the most prestigious duty ever.
The museum progressed through more modern eras- Cornwall has a rocky history of disputes with London (which apparently continue today- we saw inflammatory posters urging political action on posters in present day Truro).

But we were diverted into a quite extensive section on geology and mining in Cornwall, which was quite fascinating.

From there we took in other exhibits- one a gallery of paintings from artists who worked in- and painted- St. Ives.

They earned our admiration by being all representational (we like that) and some of them were quite striking.
From there, we went to the Egyptian exhibit.

Yes, you read correctly, Egyption.

This was quite effective and well done- the star of the show was their mummy,

Iset Tayef Nakht who was a priest and craftsman in 25th Dynasty mummy at the Temple of Al Karnack.

They had a very striking reconstruction of what the man would have looked like- done from X-rays of the skull and forensic reconstruction of the features. The exhibit drew some interesting parallels between the lifestyles of the contemporary Greeks and Romans, and how the Egyptians lived.

They also had a kid's mummify your own body exhibit, with instructions on how to remove organs, put them in the appropriate jars, and then lay wrappings and charms on the (simulated) body...really, just the sort of thing to appeal to children of a certain age.

Kind of like a cross between Operation and the Alien Dissection Kit (without the slime).
After going through the exhibit, I was left with only one question, which was, how the devil did this Egyptian gentleman wind up in Cornwall?!

So I asked one of the museum volunteers.

It seems that he was excavated and sent to a local person and they had done a 'mummy unwrapping' (apparently considered good entertainment in the days before pannier markets).

And so they had him, and all his possessions, and a good deal of information about him.

A descendant had donated the mummy to the museum.

His coffin was in excellent condition and quite beautifully inscribed.

The museum attendant pointed out some of the features of the drawing and told us that they thought he had worked on his own coffin, being a craftsman, and literate.

They also encouraged people to say the appropriate prayers for him, (translated into English, of course).

If there is an afterlife, no doubt

Iset Tayef Nakht is one of the best remembered souls in it.
By this time we were quite hungry, and wasted no time in proceeding down to the pasty shop down the street that had tantalized us with baking smells when we had passed by earlier.
From there, we took a bus to Newquay, on the coast and added another to our growing collection of English seaside towns.

This was one of the more resort-like of towns.

We noted no less than three Mexican restaurants (apparently Mexican is considered vacation food), and innumerable surf shops.

By now the sky was cloudless and the sun shining down warmly.

We followed the coast path and walked over rocky slate headlands covered in wildflowers

and overlooked long sandy inlets of beach.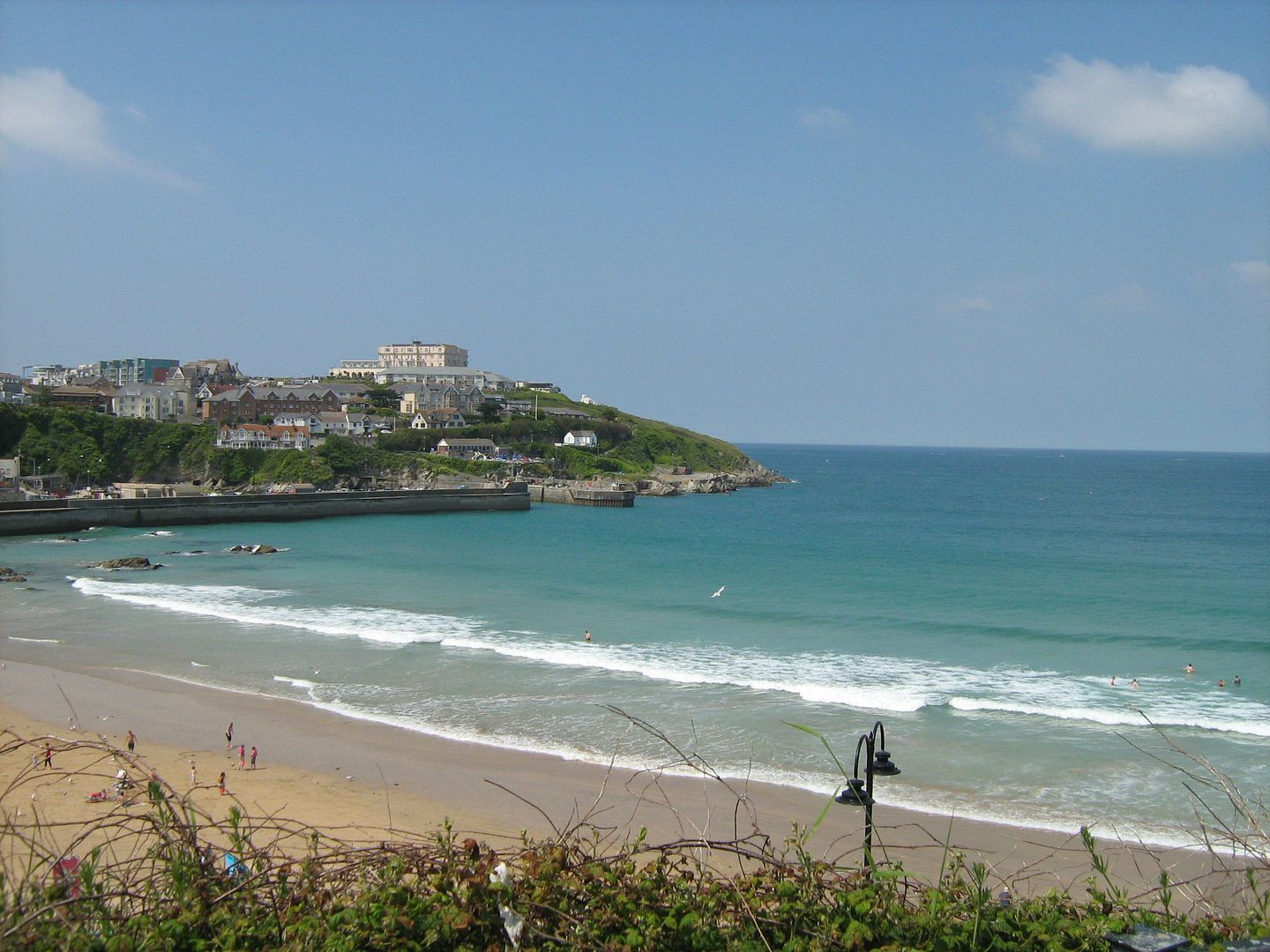 There were a few signs of the harsher past.

We found the 14th century Huer's Hut, where a lookout would be posted to sound a horn when schools of pilchards would be sighted.

Boats would go out with nets held between them and try to scoop the whole school and drag it to the beach, where salting and packing of the fish would go on for days.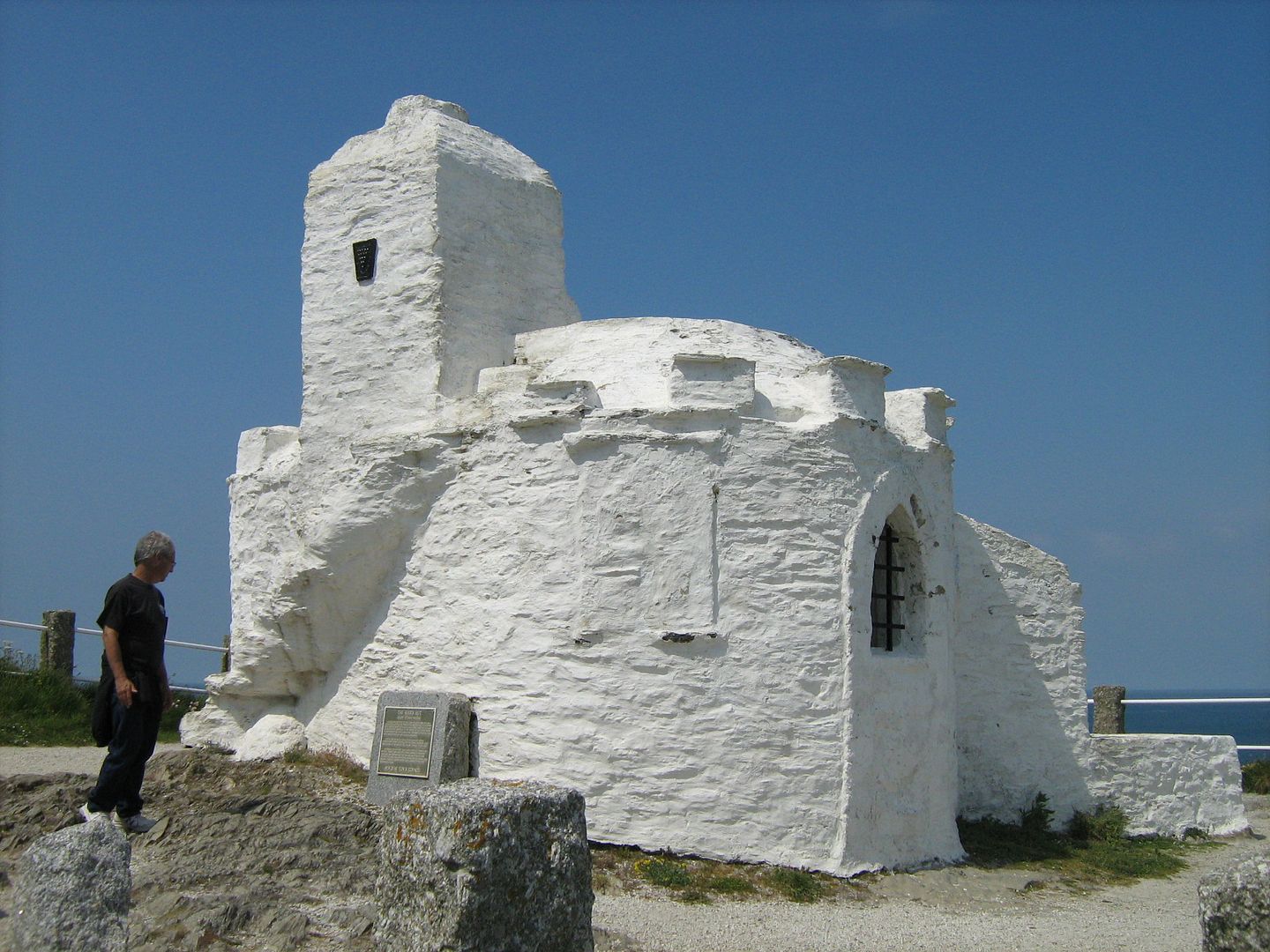 Huer's hut
We also found the lifeboat station, with a steep slide for launching the boats at the mouth of the harbor. The plaque told us that before the lifeboat station had been built, lifeboats had needed to be launched from the beach, which would have taken them far longer to reach the boats in need of rescue.

After the station had been built, 142 lives had been saved.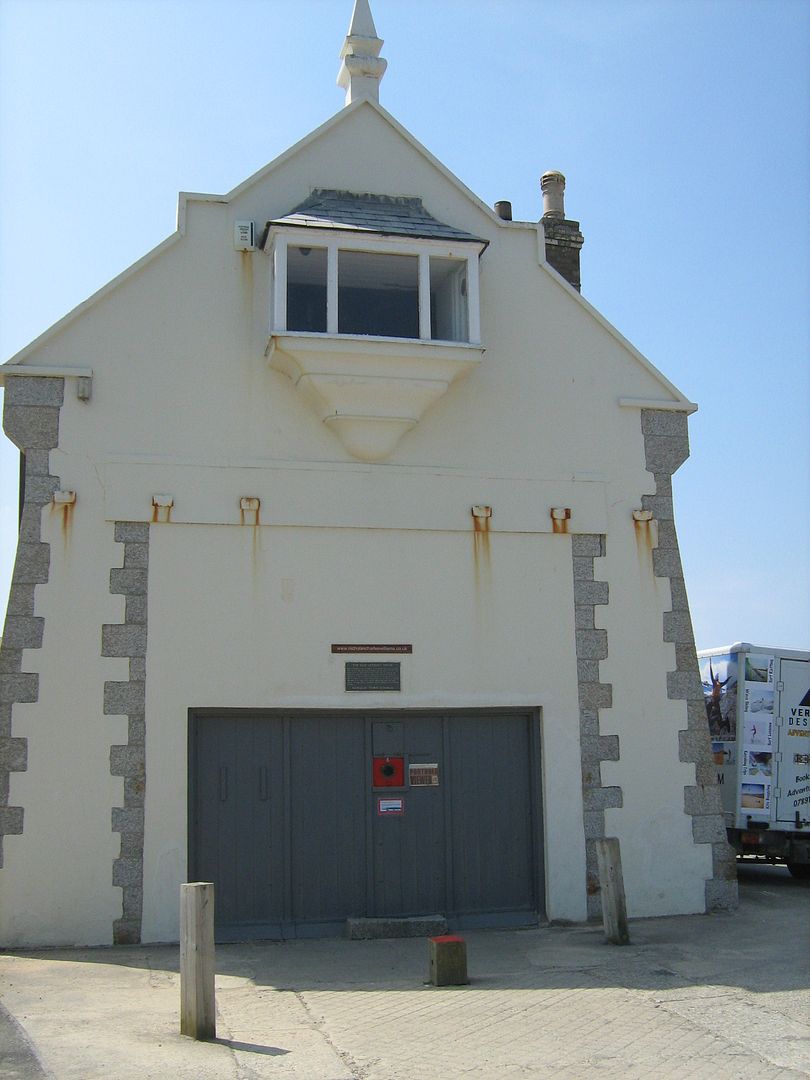 Lifeboat station
Lifeboat launching ramp
Several beaches had quite impressive surf and the surfers were out in force.

Around the headlands, the sea swirled around the rocks in an ecstasy of creamy foam.

I couldn't see any birds, but they were there in numbers- so many that the birdsong seemed never to stop but just went on and on.

T

he short explosive tweets and longer calls made me imagine a bird video game...Jonathan says I'm weird.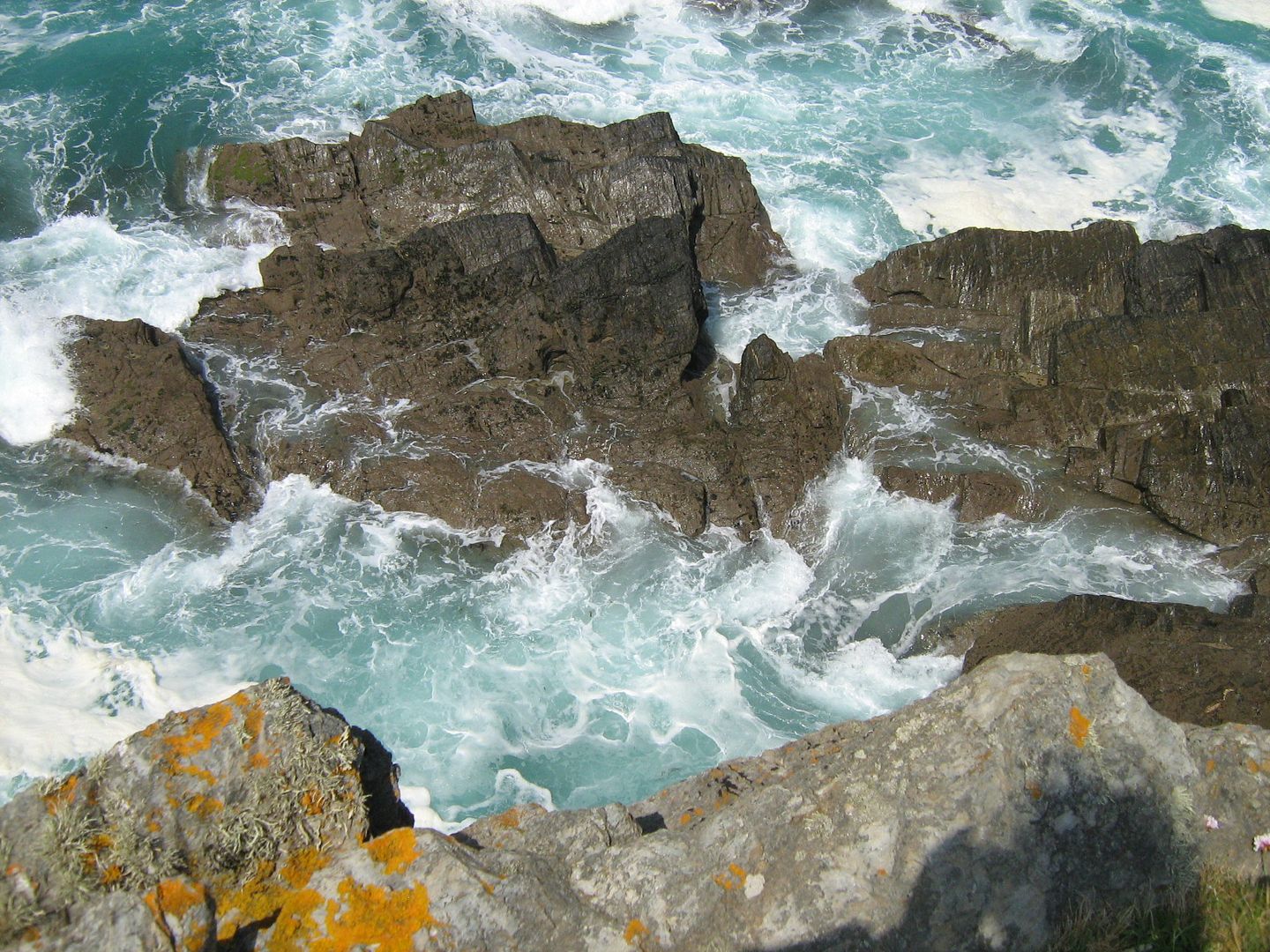 When we reached the river Gannel, we found that the tide was high.

There was a low-water footbridge nearer the mouth and a low-water crossing marked further up, but at high water, the best way across was by ferry.

We stopped for some ice cream, then descended a long narrow cliff stair to reach the waterside, and a cheerful gentleman with a motorboat ran us across the river for a nominal sum.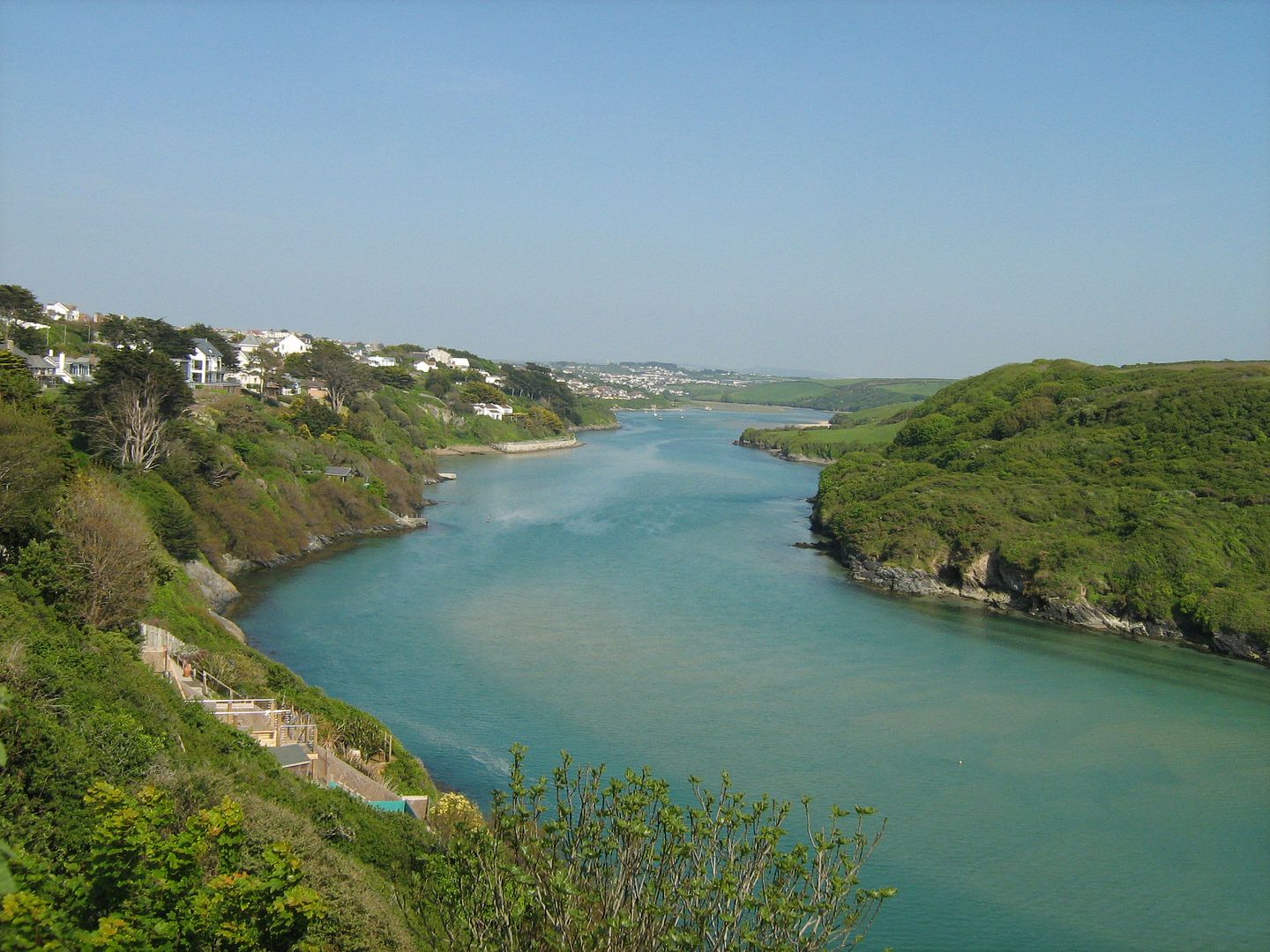 River Gannel
When we had taken the ferry, we decided that rather than walk back to Newquay, we'd continue on to the next village, Crantock, and take a bus back.

We reached the village sooner than we expected, but the bus was due so we duly executed the plan.

This turned out to be fortunate, since when we checked bus schedules back in Truro, we found that we had bought tickets on the faster bus...but the one that stopped operating earlier in the evening (the other bus line had later buses to Truro, but they took quite a bit longer, and there was train service, but with a connection, so that likely also would have taken a while).

So we abandoned the idea of Mexican food and caught the last bus back for Truro.
On alighting in Truro, we considered our dinner options.

There were several restaurants recommended by our guidebook, but they nearly all were geared to expensive dressy places with beautifully arranged exotic food that isn't really us.

(Not to mention the part where the sunburned, windblown, T-shirts and jeans look would have kind of stood out.)

We looked around for more down-home kinds of places, and finally decided to go to the Italian restaurant we'd spotted that morning. Which we then couldn't find. By the time we'd circled the center of Truro twice, we were quite hungry and not a little annoyed. We both remembered it...but neither one of us exactly could recall where. We checked out a bunch of other options we spotted along the way, but didn't see anything that appealed. Finally, we tried retracing our steps from the beginning of the day and located the restaurant...we'd evidently walked right by it without seeing it!
On the way back to the hotel, we stopped at Sainsbury's so Jonathan could get one last soda. We'd grown accustomed to Sainsbury's- it's a common grocery chain, usually on the small side by American standards. Not this one! It looked like a cross between Walmart, Home Depot and a warehouse store. It made us a little sad to see it- we spend most of our time in England in town centers, and although we know that the bland retail spaces exist in England, we don't usually see them.
Fortunately, we didn't have anything like that in our immediate future. The next day would be all scenic, all the time.