It seems like things have been moving slowly with a lot of backtracking lately. However I did finish the lavender hat and a pair of mittens to go with.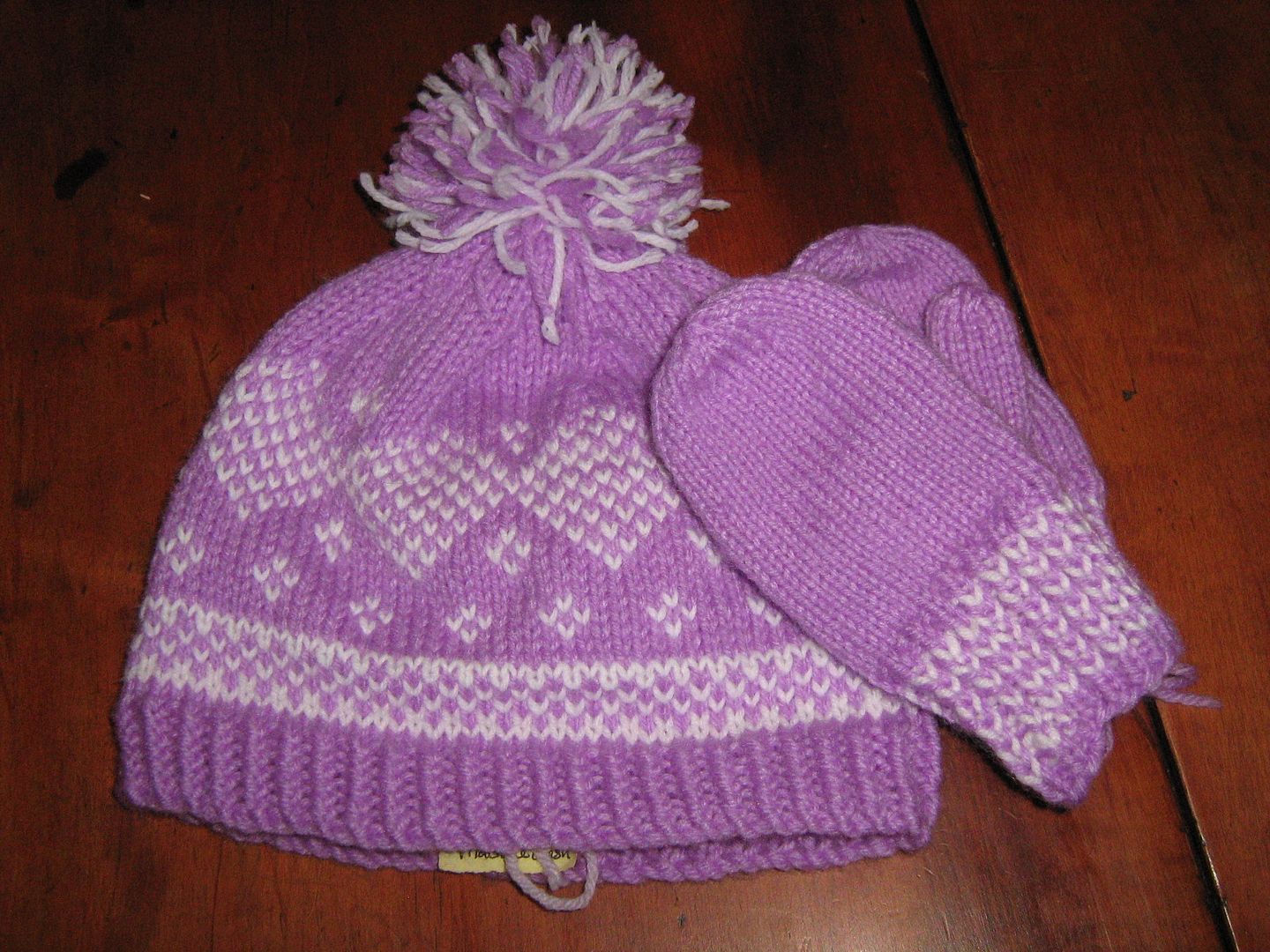 I was talking design with
Valerie
, and I mentioned that if I'd been planning this, rather than making it up as I went along, I'd probably have put the first row of small diamonds above the larger motif, rather than below it. I didn't feel like futzing with diamonds in the decreases, so I just switched back to the solid color then. But when I was done, it looked unbalanced. Hence the pom-pom, to add a little touch of the contrast color at the top of the hat. I don't usually do a lot of pompoms, as I never much liked them as a kid, but this is a small hat- perhaps a younger child will find it fun.
Since then I have been casting on in a frenzy- and not always been happy. I tried a brioche scarf, which I've never done before.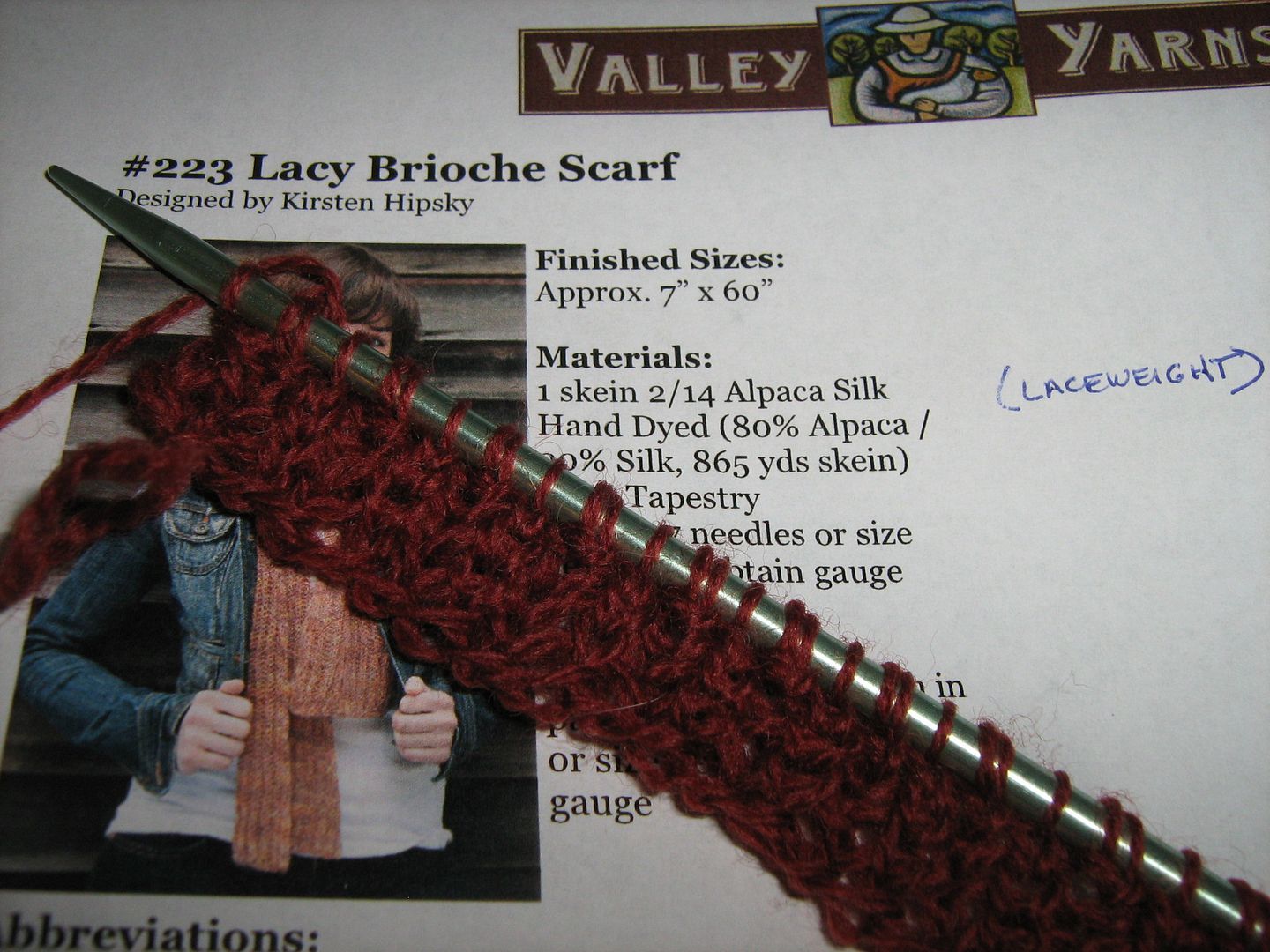 But I quickly decided that I couldn't do it in a solid color- I'd go berserk. Maybe I'll try it again in a nice variegated yarn. So I cast on a lace pattern instead, one that has patterning on both sides. I'm not sure this one is going to last either. But for the moment I'm persevering, as I wanted to have something a bit more challenging on the go.
There've been bits of sweater, and more of the cotton socks, and I've cast on another pair of socks--in flagrant disregard of my only-one-project-of-a-kind-at-a-time rule. Which I've been breaking right and left. And then there's another hat and mitten set which I don't have a photo of yet, so I'll have to show you later. But what has taken priority--and a heck of a long time--has been the last two bookcases for the library.
Here they are awaiting trim.
We did the house addition in 2006, and built all the bookcases around the outer wall in the library that year. (In retrospect, I'm amazed we got as much done as we did that first year.) Since then we've built two more sets of interior bookcases that have wrapped around pillars, and added decorative grills to the bottoms of the bookcases to hide the baseboards. But it was always part of the plan to add two more bookcases on the interior wall, and this evening we got the last one up, and anchored. (Each bookcase has four L-brackets that are screwed to the bottom of a shelf on the horizontal, and through the back of the bookcase to studs in the wall on the vertical.) I should put in here, that while I did some of the work, the lion's share of the credit belongs to my husband, who designed the bookcases and did all the woodwork. We stained, polyurethaned, assembled and mounted the bookcases together.

And not a moment too soon- the history section is bursting at the seams, and we really need the additional shelf space.
Biscuit and Cookie found the whole project fascinating...first the mysterious power tool noises from the garage (from which they were barred), then the people outdoors staining things, and then the final assembly, polyurethane and trim, which they were able to supervise at close range in the library. (Fortunately the polyurethane smells nasty enough that they stayed a safe distance away from it while we were doing the final finishing.) Biscuit supervised every part of the project.
Cookie only came up to look things over in the final phase.
While Jake mainly ignored it...but he did join me for some quiet knitting once the work was done. (It was very sweet- he's been rather tentative about laps, so it was nice to have him give it a try.)
Aside from carpentry and knitting, there's been a lot of other annoying odds and ends, like scraping all the old tired adhesive off my windshield and remounting my toll-tag (I've only been holding it up and waving it at the toll booths for 6 months.) And disassembling the vacuum, cleaning it out, and replacing the belt. Yes, now it sucks, just like it's supposed to. And, of course casting on projects, frogging them or losing interest, and starting over. Hopefully I'll have some things that are more than cast on rows to show you soon!