June 22, 2014
The next day was bright and sunshiny. Our friends took us to see
Longthorpe Tower
. It sits in the middle of a flock of cottages with tidy gardens like a 14th century swan among geese.
It's notable for having one of the most complete and best-preserved sets of domestic wall paintings still in existence.
From there we went back to our friends' place and left the car, and walked over to the local pub for a splendid Sunday dinner at the
Fitzwilliam Arms
, also known as 'the Green Man' after a distinctive piece of topiary in front of the building. (Alas we did not get a good photo, but the bush to the left of the door looks like a close cousin to the Michelin man.)
Fortunately we got a ride back, as we were rather weighted down by lunch.
In the afternoon we went into the city center to see the Peterborough Heritage Festival. Peterborough has a
lot
of heritage. Historical re-enactors included Vikings, Romans, Normans, Cromwell's forces, Napoleanic troops and WWI soldiers. The WWI guys brought a replica tank:
The Romans were attempting to recruit Peterborough's youth (I don't think the young lady was buying the spiel, frankly).
The authorities of Peterborough apparently located some kinder, gentler Vikings...we felt sure that historical Vikings would have been far less susceptible to direction:
The Normans deployed their shield wall:
There were falconers demonstrating their art:
The archery club was doing a brisk business in letting visitors try their hand with a bow. JT couldn't resist dusting off his high school archery skills: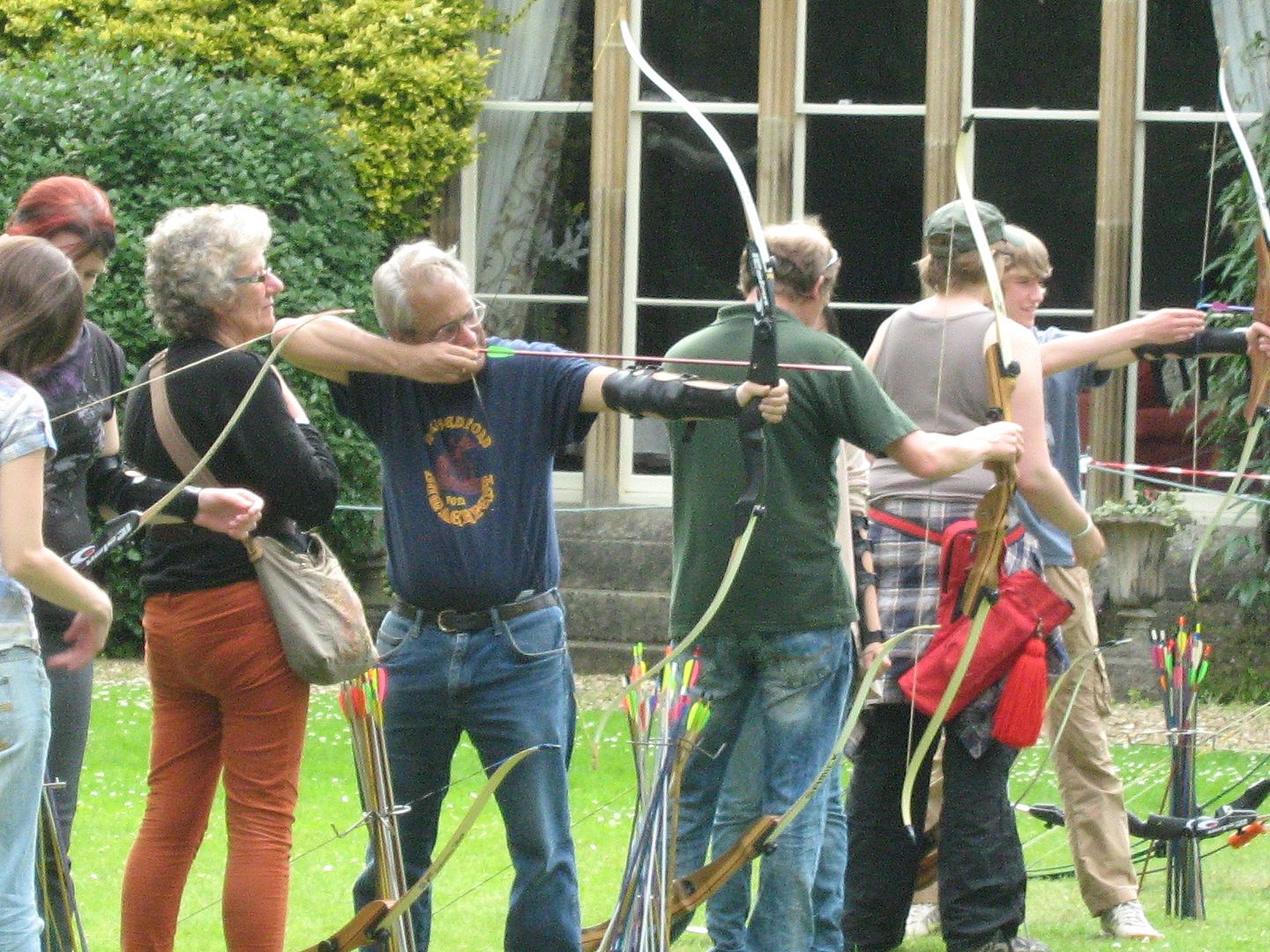 JT takes aim. He's in the navy shirt in the middle.
There were even less understandable local pursuits as well. (I have no idea. Feel free to speculate.)
A good time was had by all:
Since much of the festival was being held on the grounds of the cathedral, we were able to see that as well:
We finished up eating pancakes and then hanging out while the men played guitars and the women played Words With Friends (having been enticed into adding the app to my Nook during the visit). And in my case, knitting as well. A lovely end for the day, and one I hope to repeat as soon as we can lure our friends into a return visit to the US.