Yes, it is once again that time when I fill the blog with my vacation photos and yarns (mostly of the story type, but not entirely). This year, we determined that the time had finally come to see something of the Continent. We were lured to this plan in part because we had been invited by my husband's aunt and uncle to come and see them in Berlin, where they were spending the summer and fall this year. Not unusually, our ambitions led us to try cram as much as possible into the allotted time. So on September 3, we embarked on a nearly three week odyssey through northern Europe, starting with a couple of days in Paris.
As is our habit, we tend to do a lot of walking our first day, so as to stay awake and adjust to the new time zone as quickly as possible. We were staying in the Quartier Latin, just a few blocks from the Jardin de Luxembourg, so it's hardly surprising that we strolled first in that direction.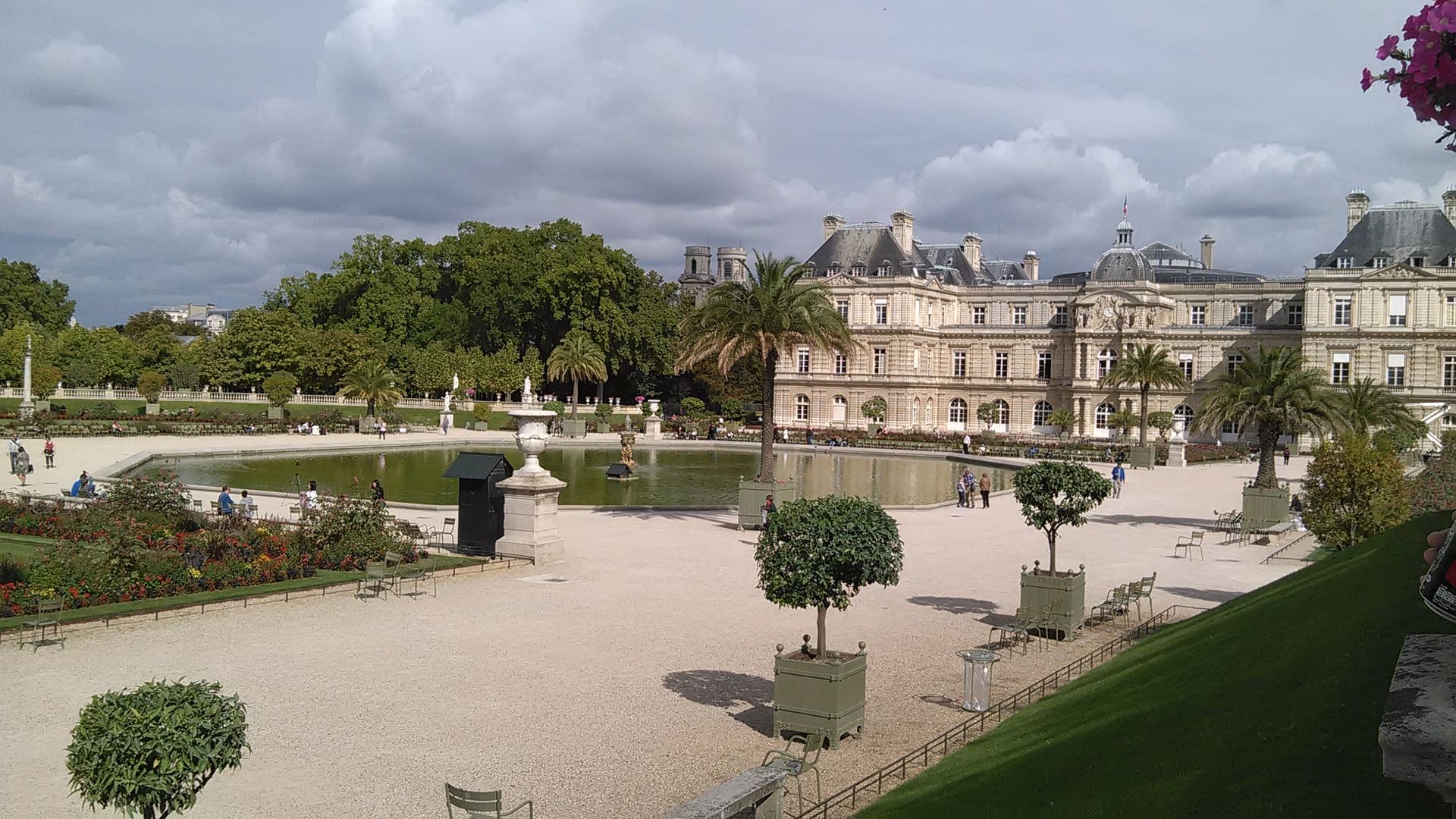 The Parisian garden, we observed, tends to involve large paved areas with a few manicured sections of grass (on which one is not permitted to walk) and carefully groomed trees and flowerbeds. In fact the compulsion to order has driven them to quite some extremes- like square trees. Really. Look at the trees on the left below.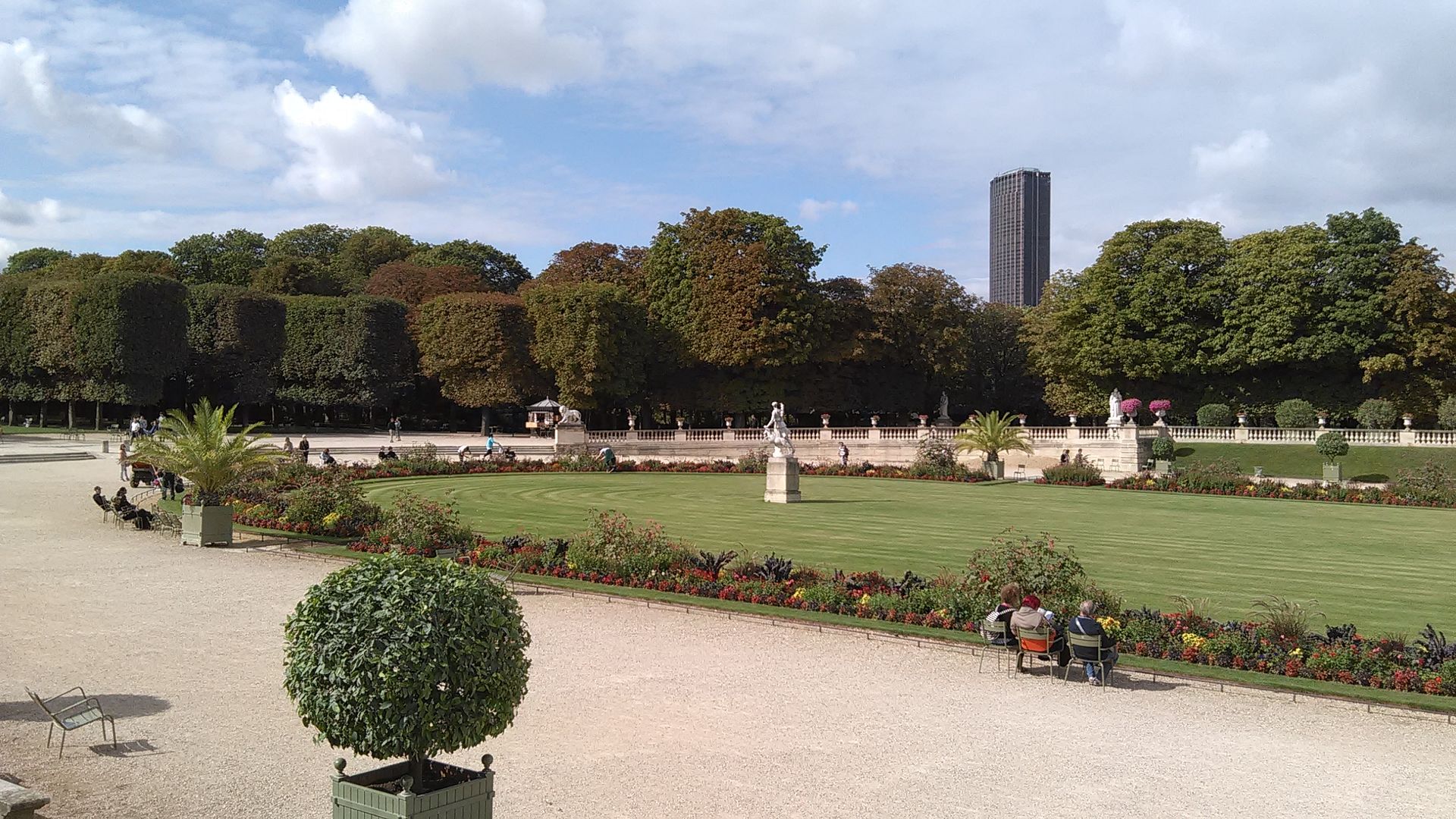 From there, we naturally proceeded along to the river.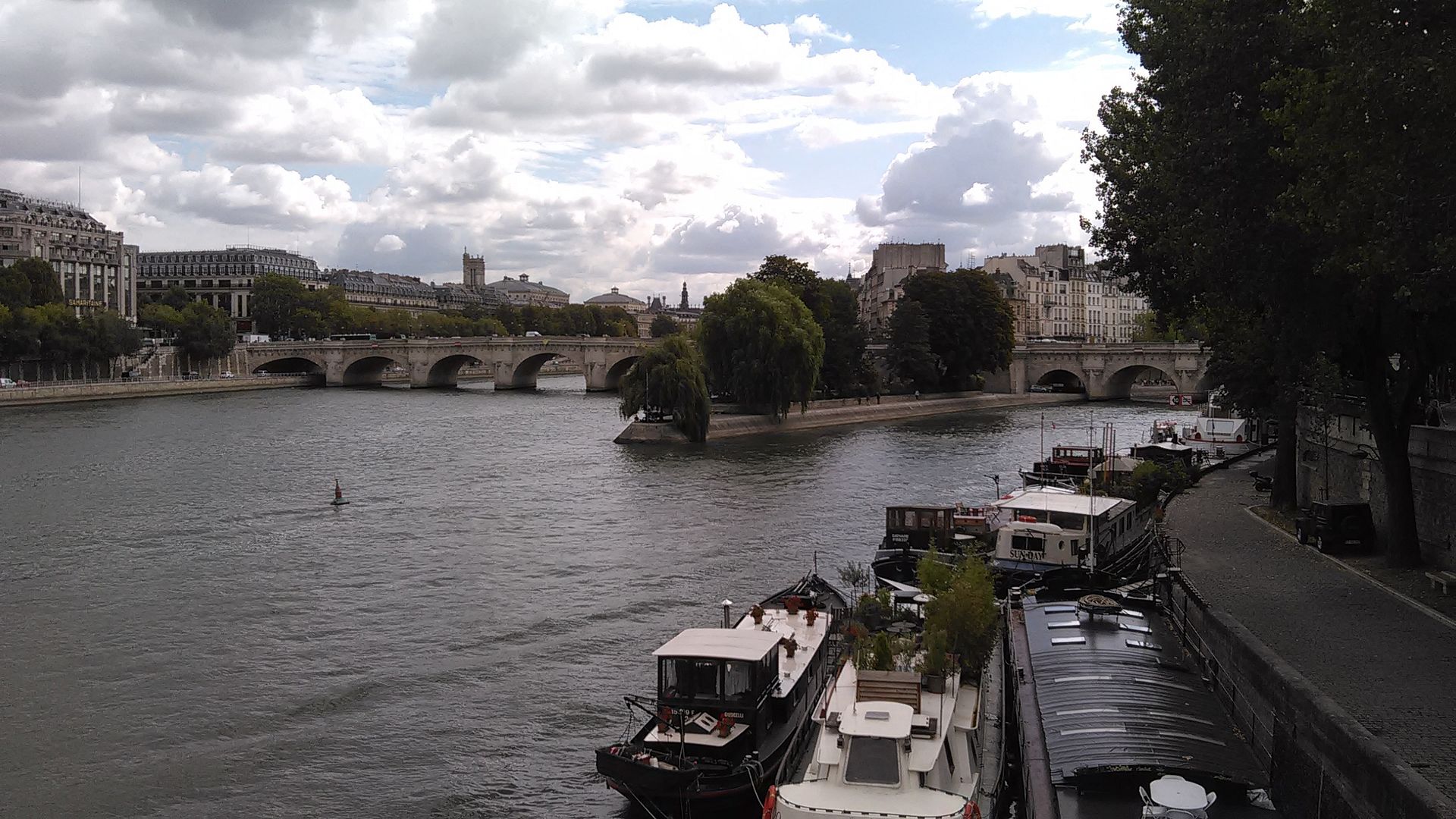 We observed with interest the reconstruction of the old market at Les Halles. It will be quite interesting to see when it's done.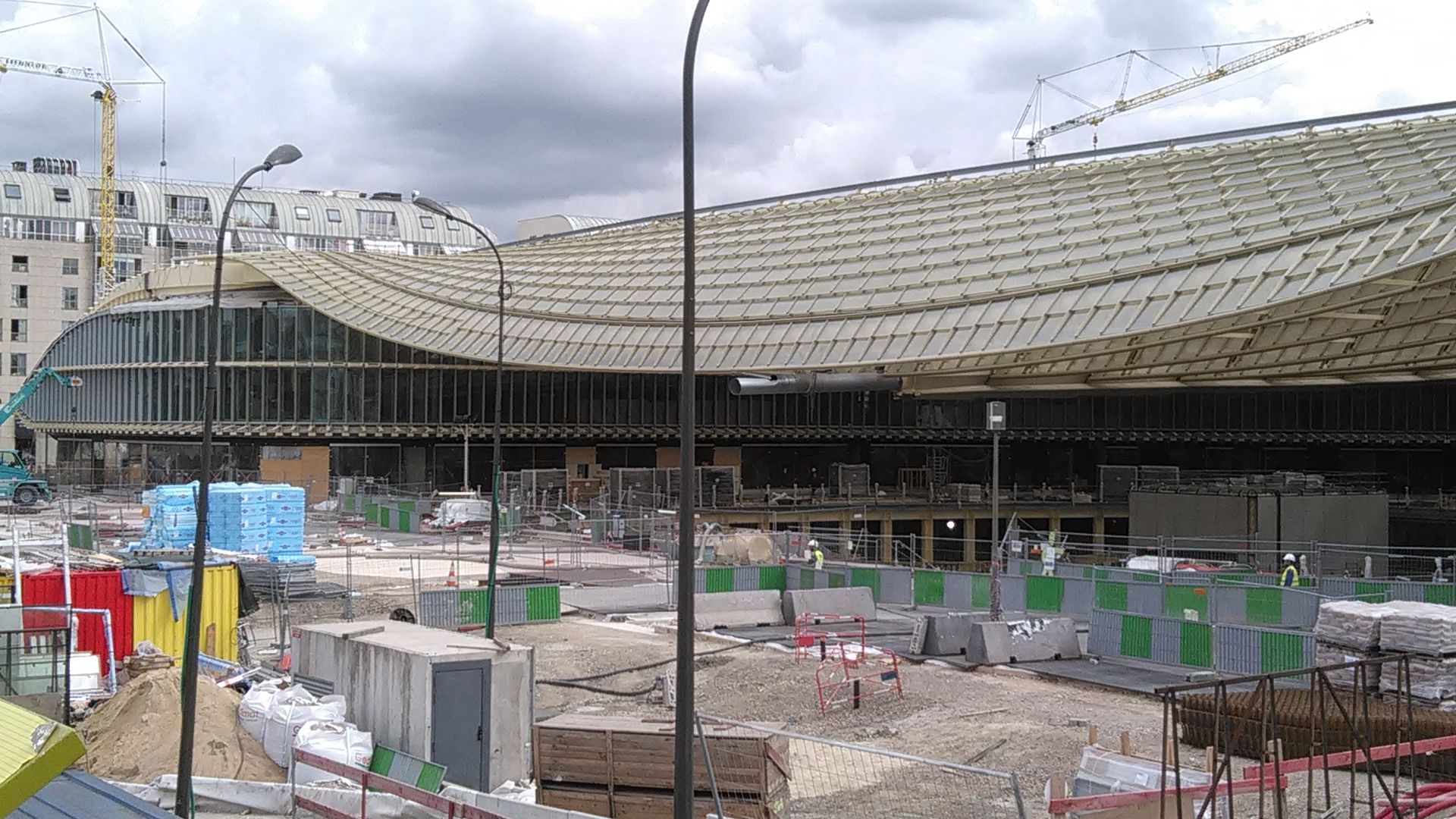 We strolled up to Monmartre, noting a plethora of restaurants for future reference. The view from Monmartre is of course spectacular.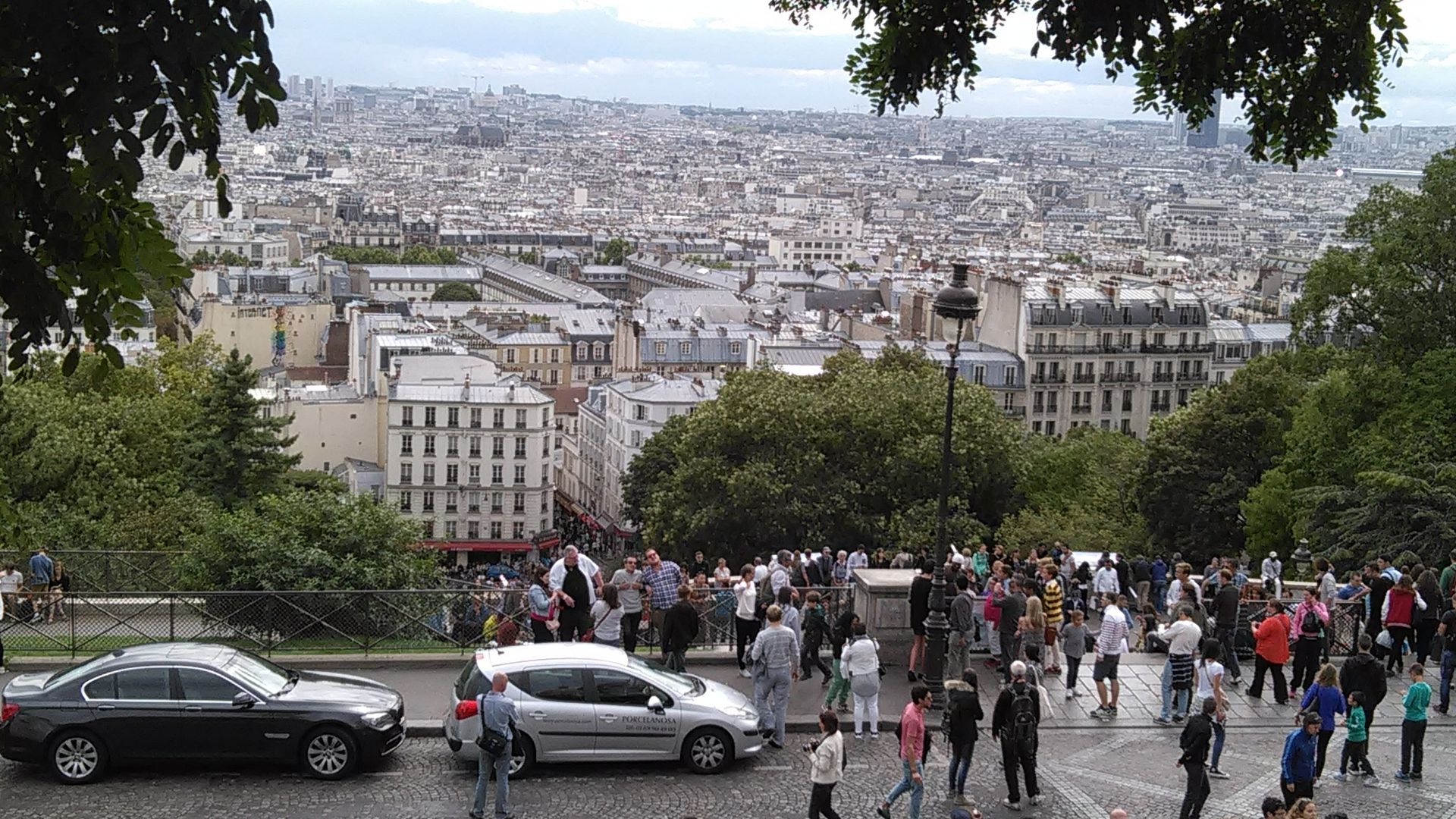 By the time we'd wound down, had dinner, and discovered that Paris is the City of Love even for cars-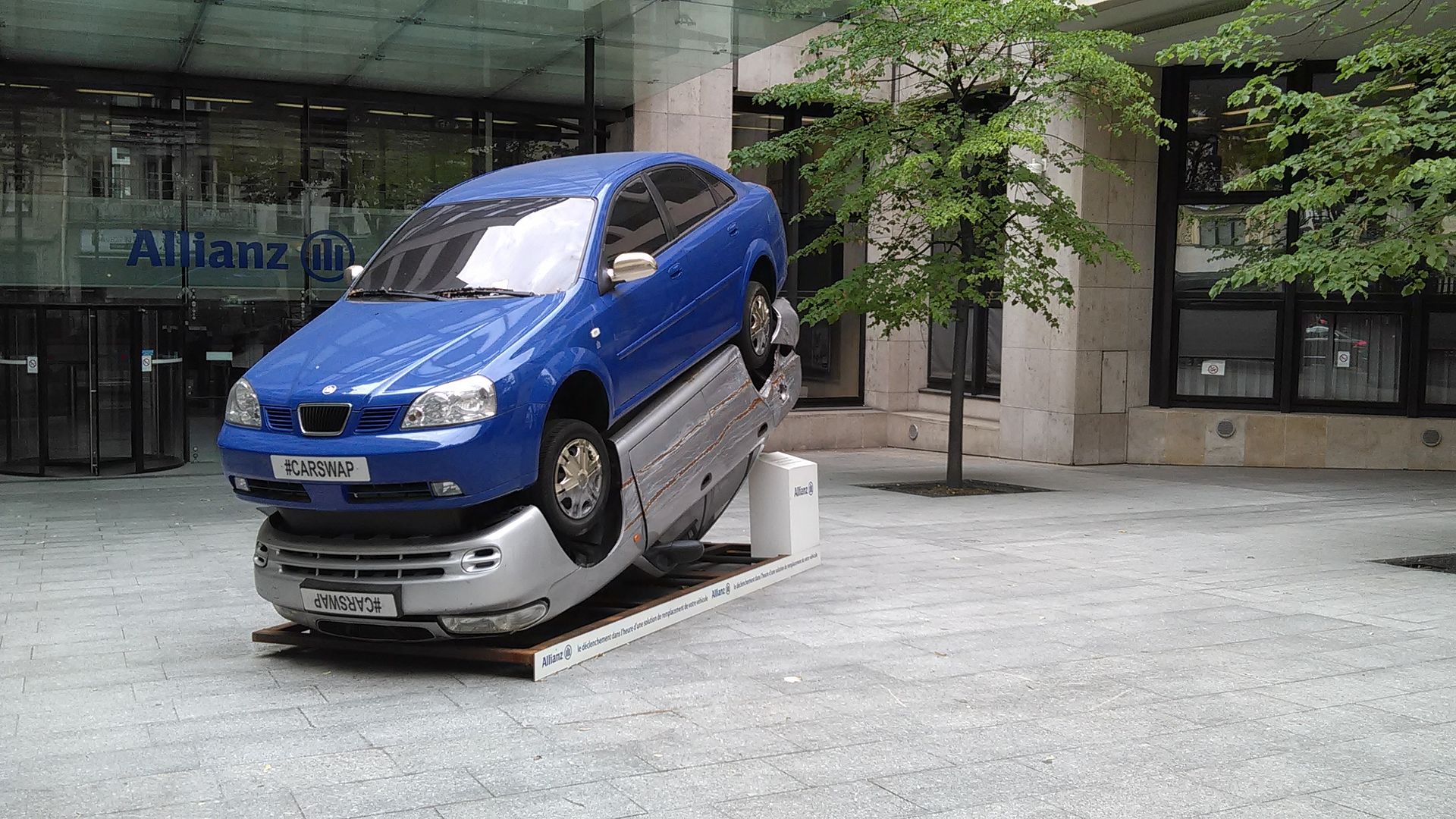 -we were ready to call it a day.
In the morning we set out walking again, this time to take in the Promenade Plantée,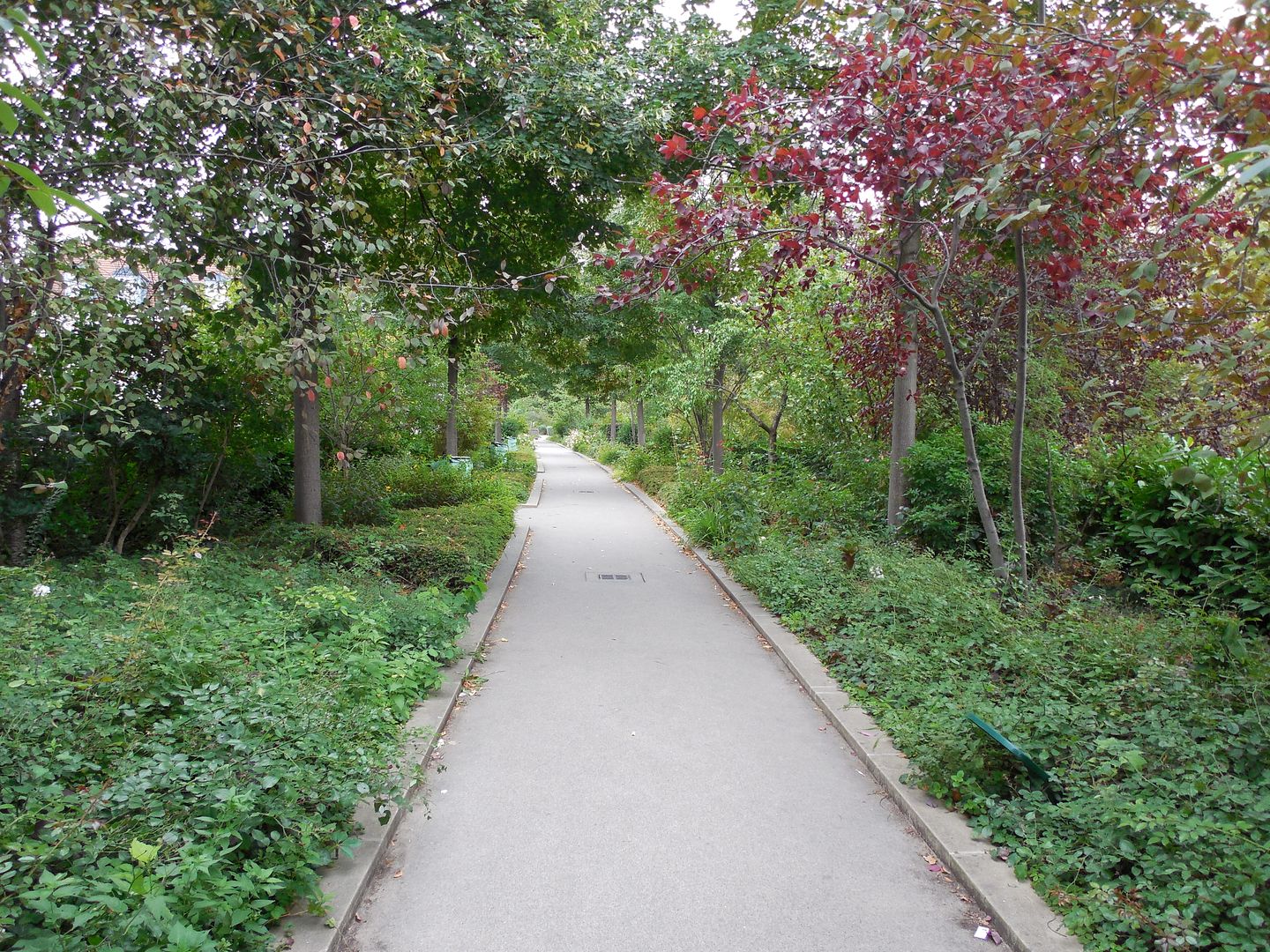 It's an elevated park built on an old rail viaduct and was part of the inspiration for New York City's High Line park, of which we are very fond. We found it to be a lovely walk, and quite busy with other walkers and joggers.
From the park we strolled to the Bois de Vincennes, a wooded park on the edge of the city, where we found a whimsical monster in the forest.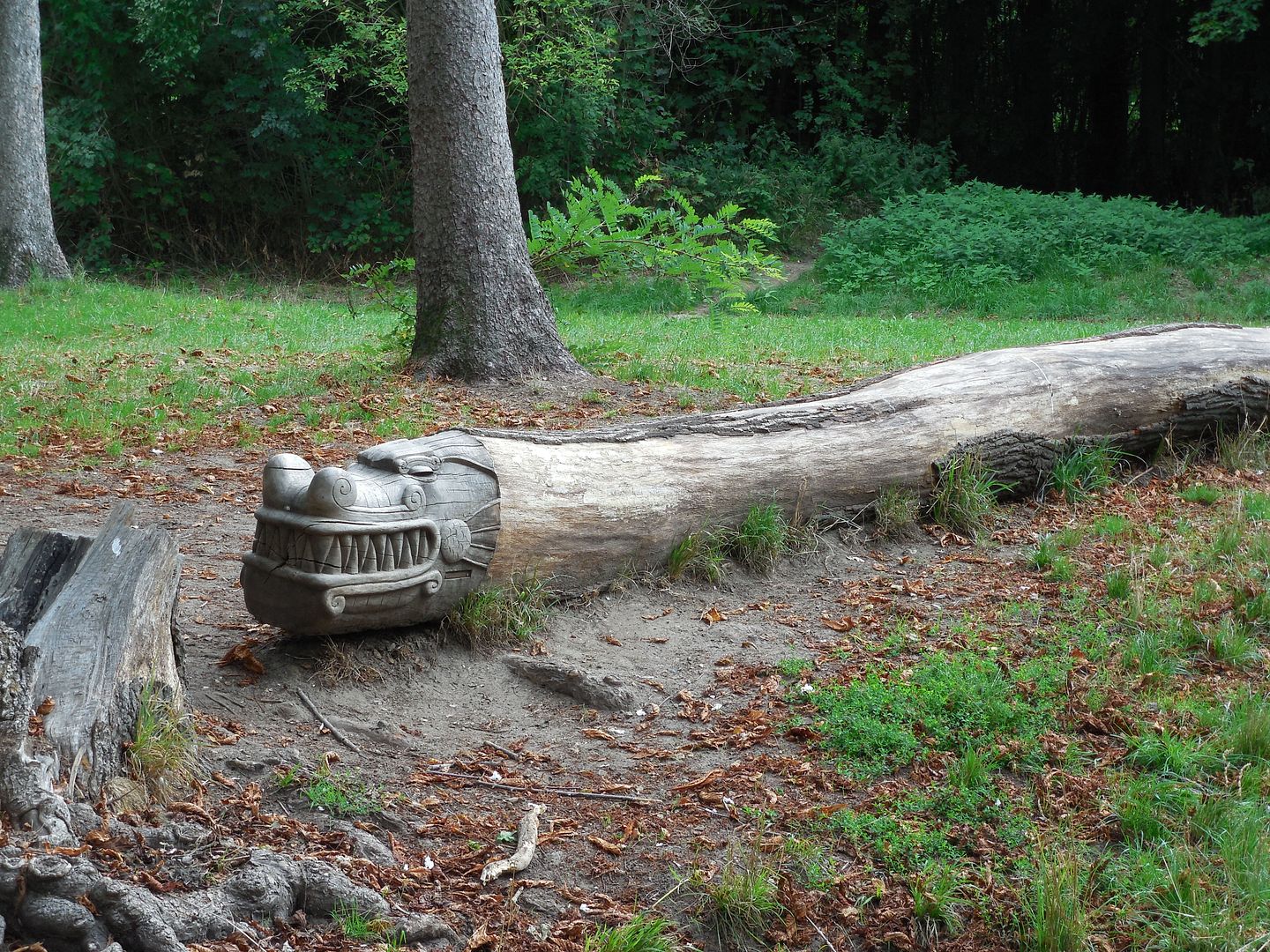 Our direction was not a matter of chance, as I was interested in seeing the Chateau de Vincennes. I visited it on my first trip to Paris, over 30 years ago, but did not see the inside, as it was closed the day I was there. This time, fortune favored us (note the drawbridge is down).
Vincennes was used by several French kings from the 14th to the 17th century, but much of the audio guide commentary talked of Charles V (called 'the Wise'). We toured the central tower, which was interesting.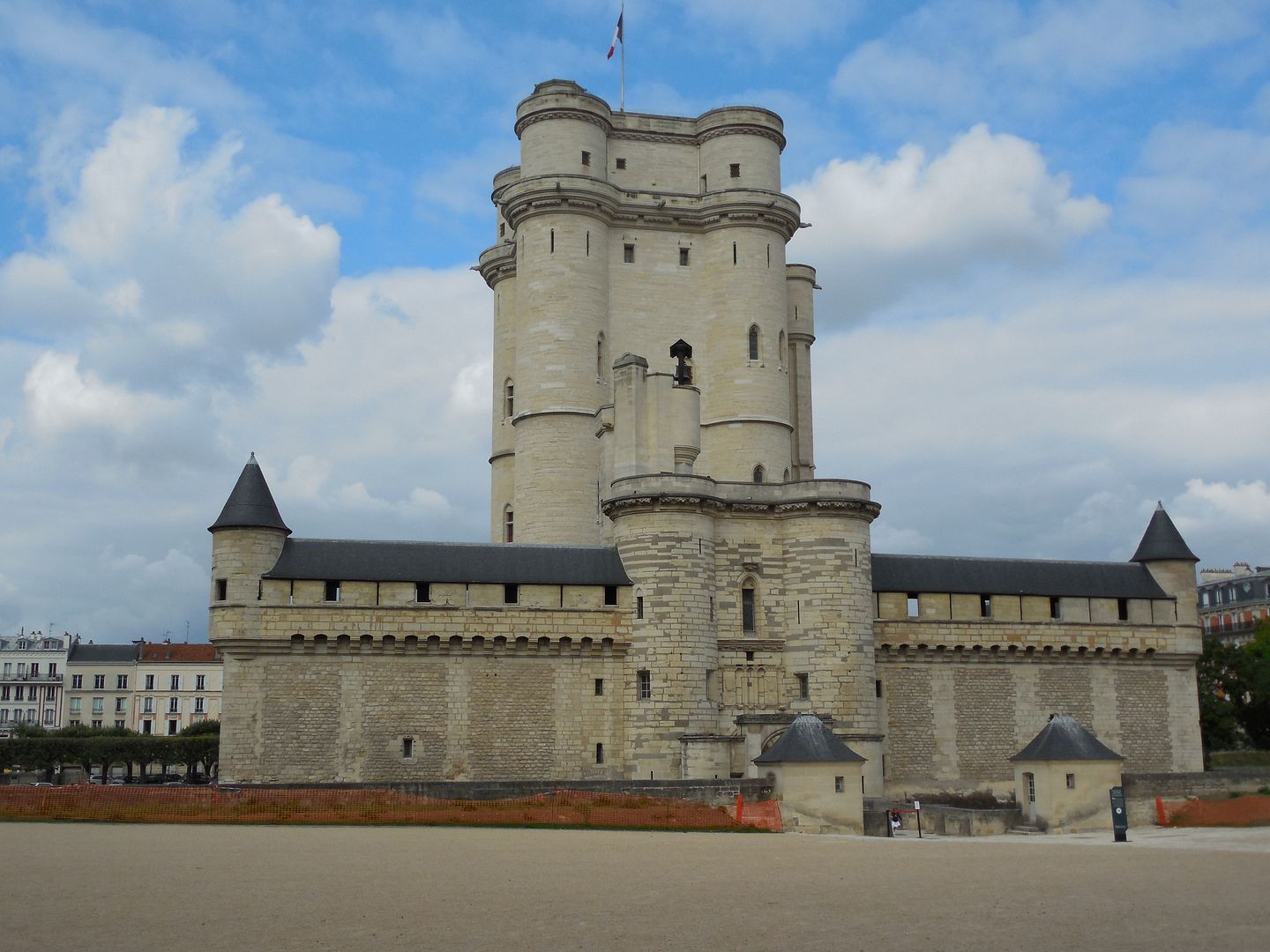 One of the coolest parts was seeing Charles' study, a tiny room. Though the present room is bare stone, the appearance of the room is known from historical descriptions. So they have created a virtual reconstruction of the paneling, the furniture, what it would have looked like. The attendant handed us an iPad, and as we pointed it at different areas of the room, it showed us the decorated and furnished version, as if we were looking through a window. Someday I expect that we'll be able to see entire buildings that way, using virtual reality glasses.
As with any castle, it had its own church, the Sainte Chapelle, resembling a miniature of one of the large cathedrals.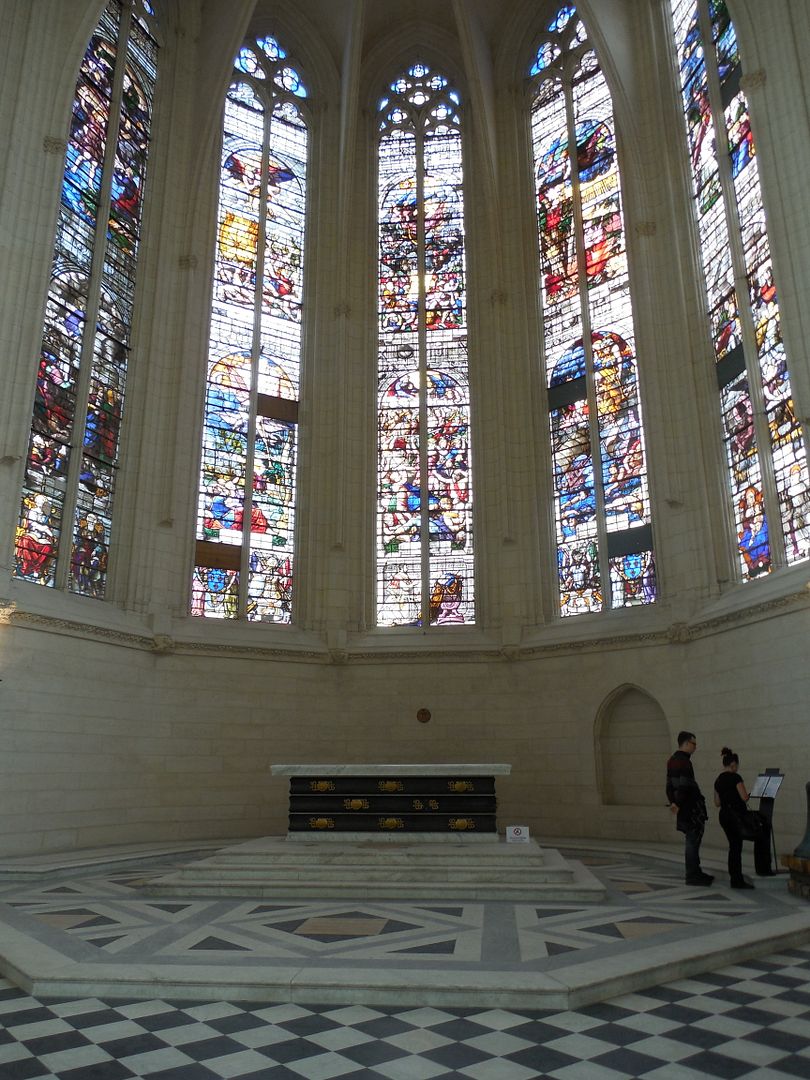 After walking all over the chateau, we got a quick lunch and then headed back into the city center for an afternoon at the Louvre. We've long since given up trying to see large museums in marathon sessions- we reach saturation after a few hours. That's a strategy that applies trebly to the Louvre, which is vast. And as gorgeous as much of the art is, I find that the building itself is just as worthy of admiration.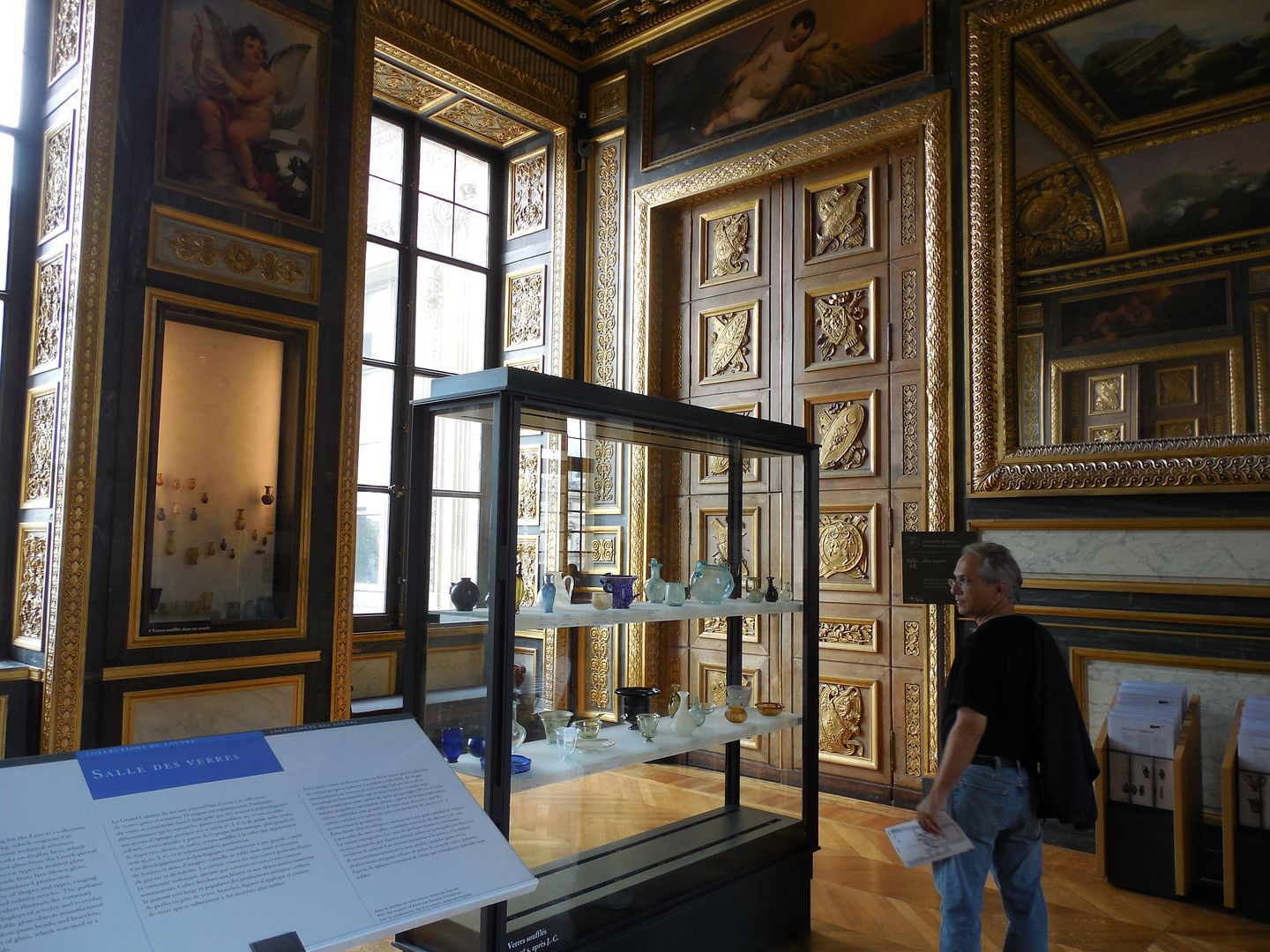 We wandered about, looking at some furniture, some art, some ridiculously elaborate armor.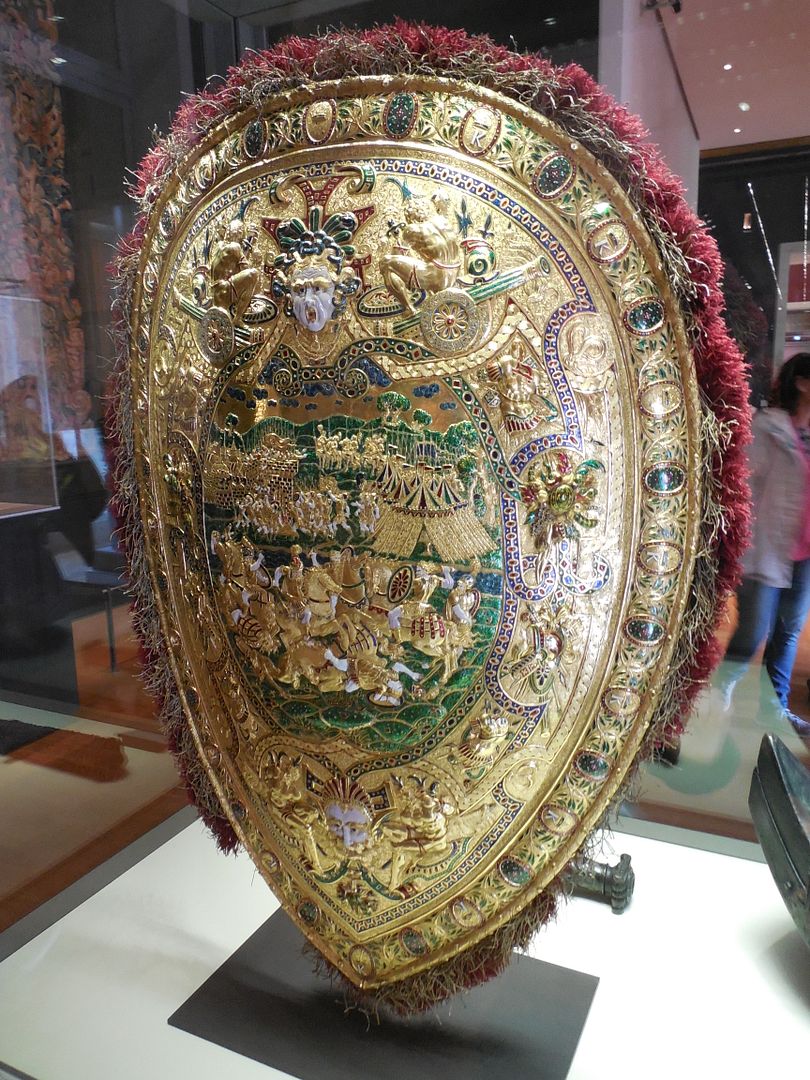 It was staggering, as always. On our exit to the courtyard, we discovered the source of a phenomenon we'd observed around the city- tourists holding their cellphones on a long stick to take selfies. Outside the Louvre, we found a number of enterprising vendors, selling the selfie-sticks. Apparently no one has told them that
selfies kill more people than shark attacks do
. (Do I need to tell you that we did not purchase one of these abominations? I hope not.)
We walked around some more-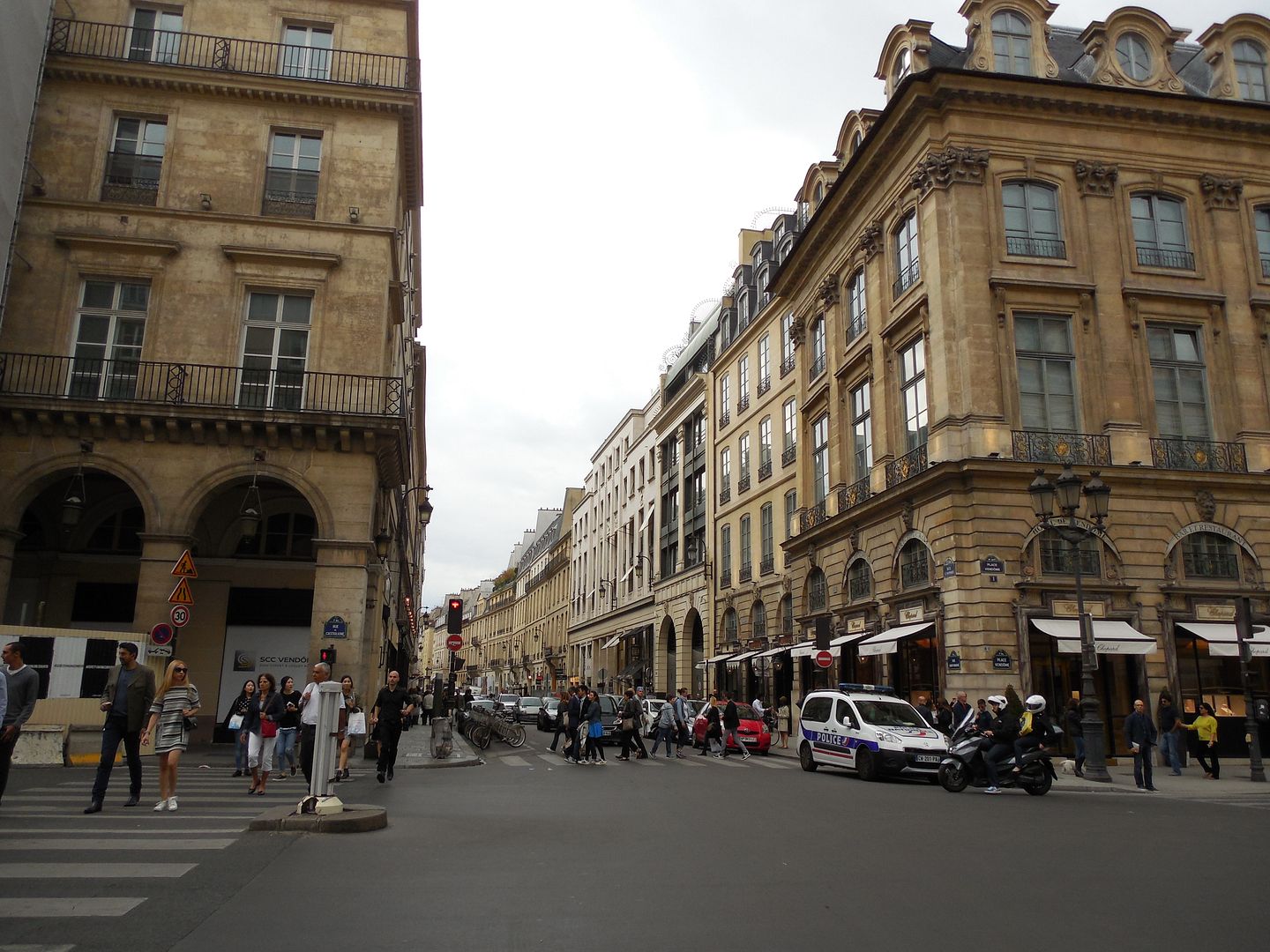 -eventually finding our way back to the restaurant district near Monmartre, where we found our last dinner in Paris. On our way back to the hotel we found an electronics store to sell us a European power adapter for our multifarious electronics, and headed back to the hotel to get an early night, as we would need to be up at 4 AM to catch our flight to Berlin. Fortunately our execrable French (and the hotel staff's rather better English) were up to arranging for an early wake-up call and a taxi in the airport in the morning. Because while we'd carefully arranged a hotel near the train line most convenient to Orly, we had only belatedly checked the train times and found that the first train of the morning was marginal in terms of getting us to the airport in time for our flight.
To be continued...
Oh, yeah, and there was a slideshow with all the other photos...(Best way to see the captions- expand the image using the slanted arrow key on the lower left and then jiggle the mouse or touch the touchscreen to keep the captions visible. For some silly reason they dim them out if there's no screen input.)