The next day was lovely and clear and we mailed postcards and then set off to take a ramble out of town in the direction we hadn't yet been. The views were lovely, but we eventually came to a point where to continue we'd have had to walk on a rather busy road, so we turned back.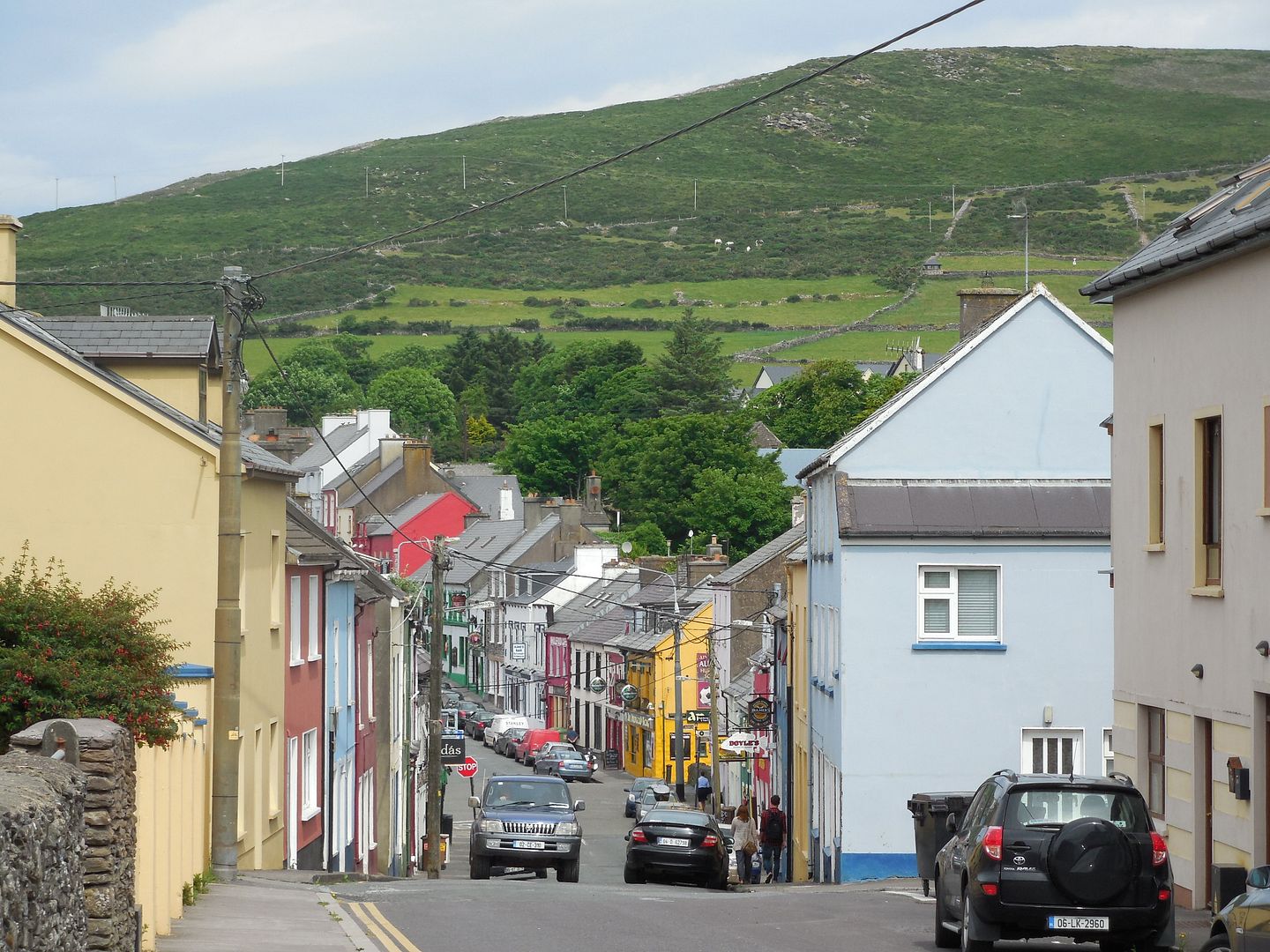 After a light lunch we walked down by the harbor and spotted a sign for a harbor cruise that was due to leave in only a few minutes, and would return just before it was time to catch our shuttle for Shannon.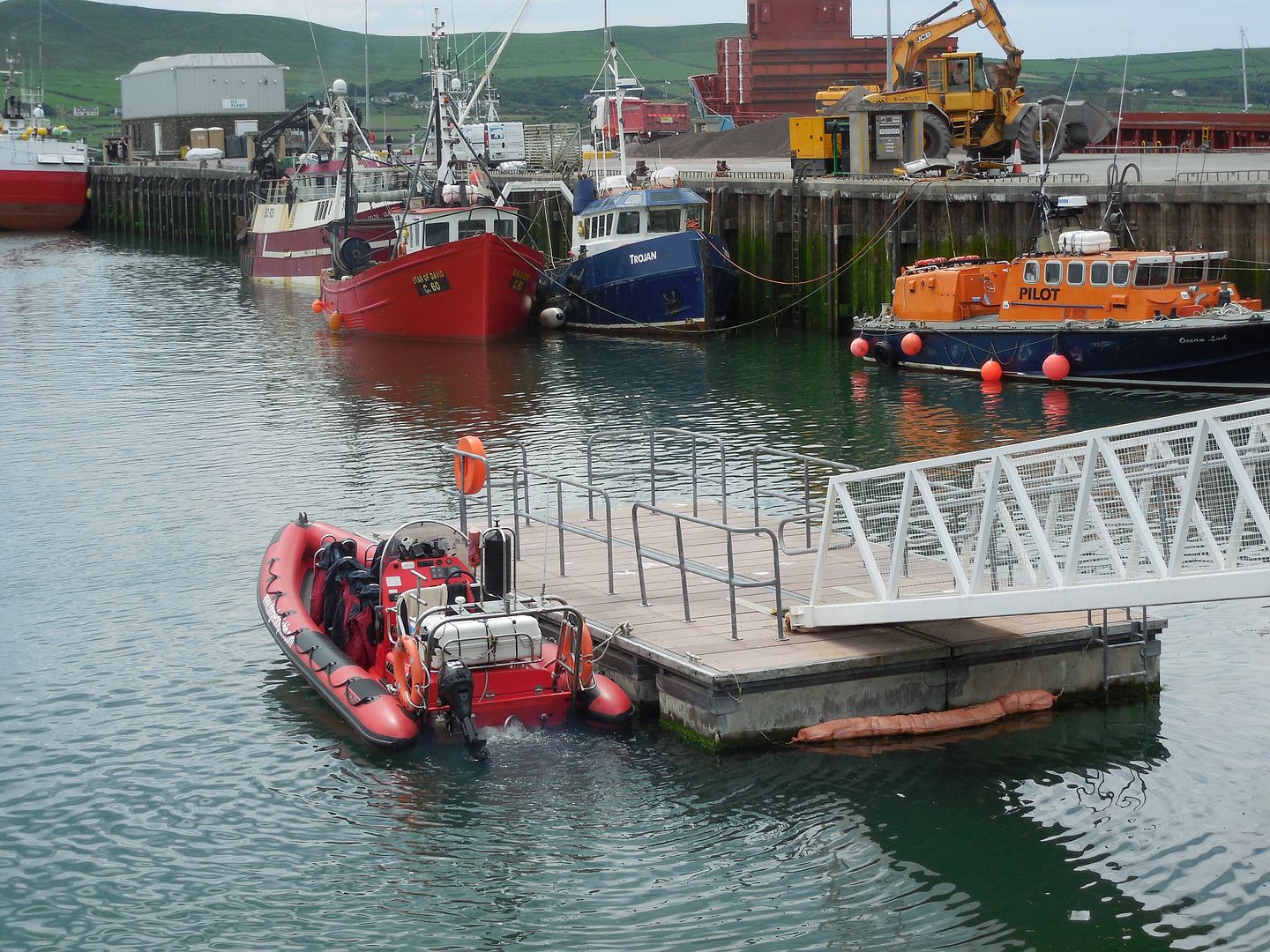 The boat was inflatable and had a sort of saddle arrangement on which you sat astride. This turned out to put stress on the same hind parts that were stiff from bicycling the day before. But we were soon distracted by the views out over the water.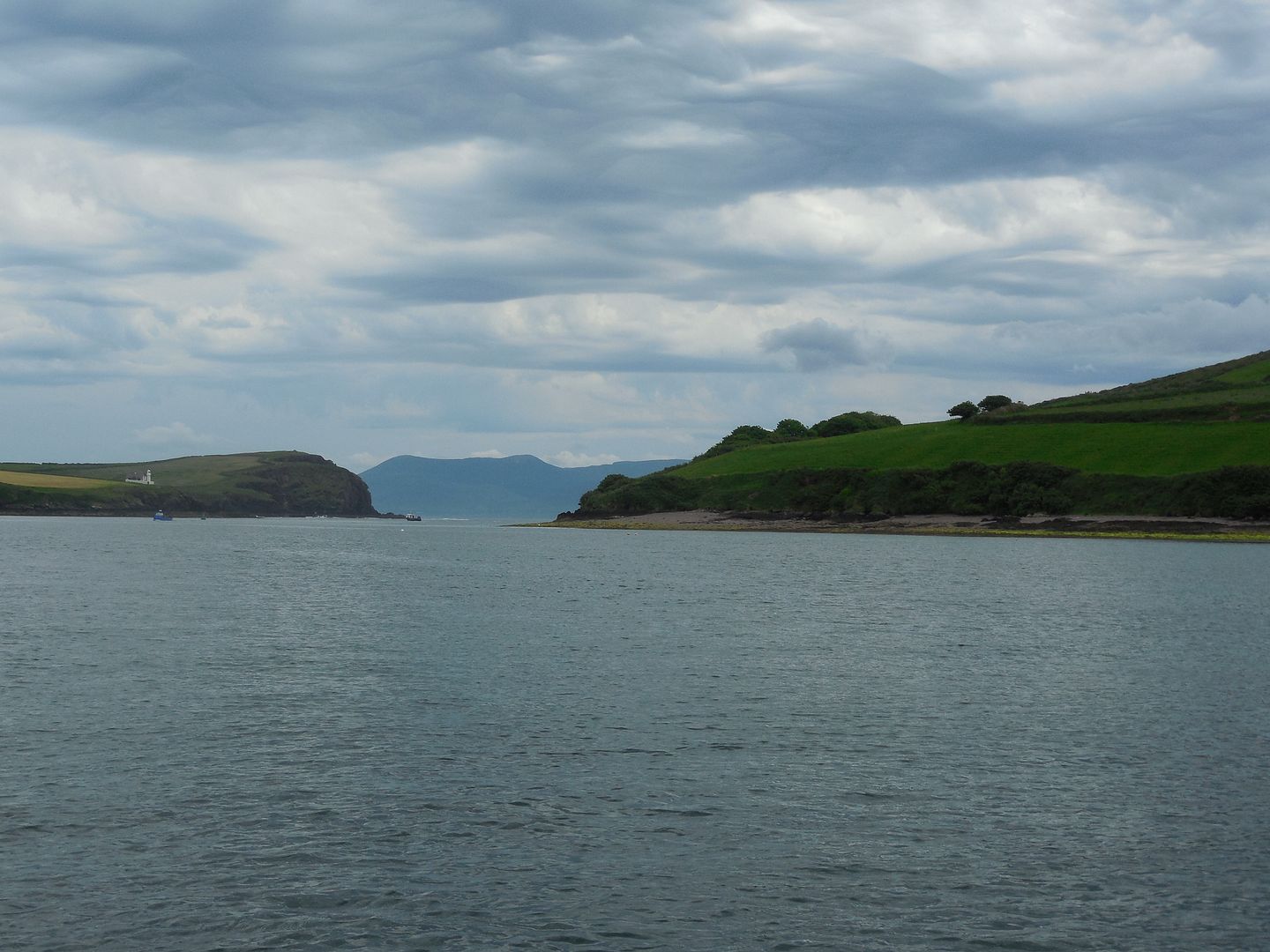 On the way out of the harbor, we saw the famous Dingle dolphin Fungi, who for many years has made his home there. At that point the captain opted not to take us out in the direction of the Blasket Islands- where seals had been seen the day before- because the conditions there were reported to be too rough. Instead we went to Knight's Town on Valentia Island, on the next peninsula over from Dingle, but vastly different. It was a quiet town with a large dock. The coffee shop there appeared quite flustered at having more than one customer at a time.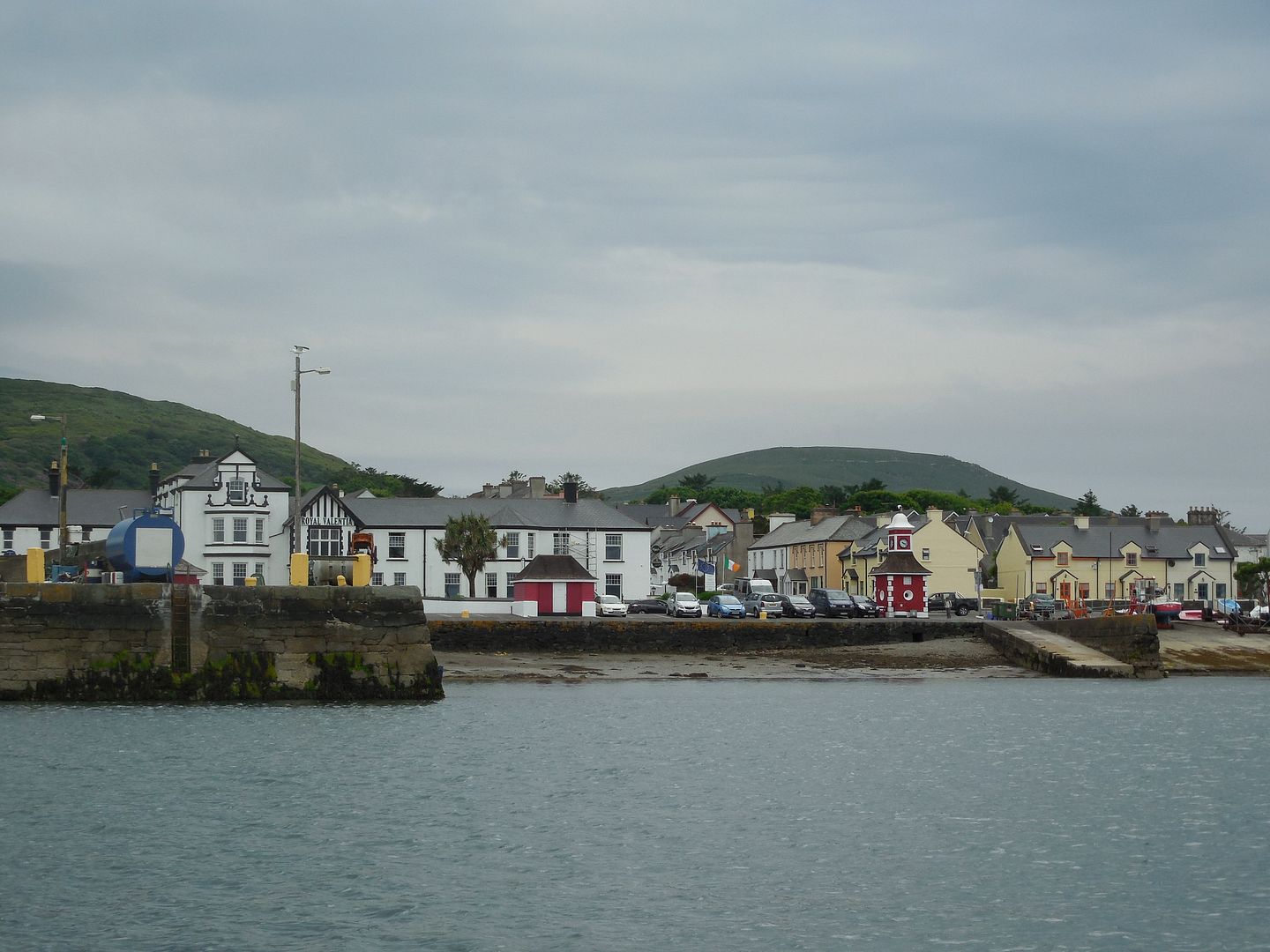 On the way back, we spotted a large pod of dolphins, probably 30 or so. I had read about how dolphins will play around a boat, coming quite close, but had never before seen it. It seems hard to imagine any other reason for them to act as they did except that they were having fun. They darted along the boat, leaping out of the water, sometimes in twos or threes, criss-crossing at both the bow and the wake. They came so close to the boat that at times they were only a few feet away. When the boat sped up, so did they- they're incredibly fast and graceful. They followed us in to the harbor, twice more leaping about exuberantly for several minutes as they followed us in.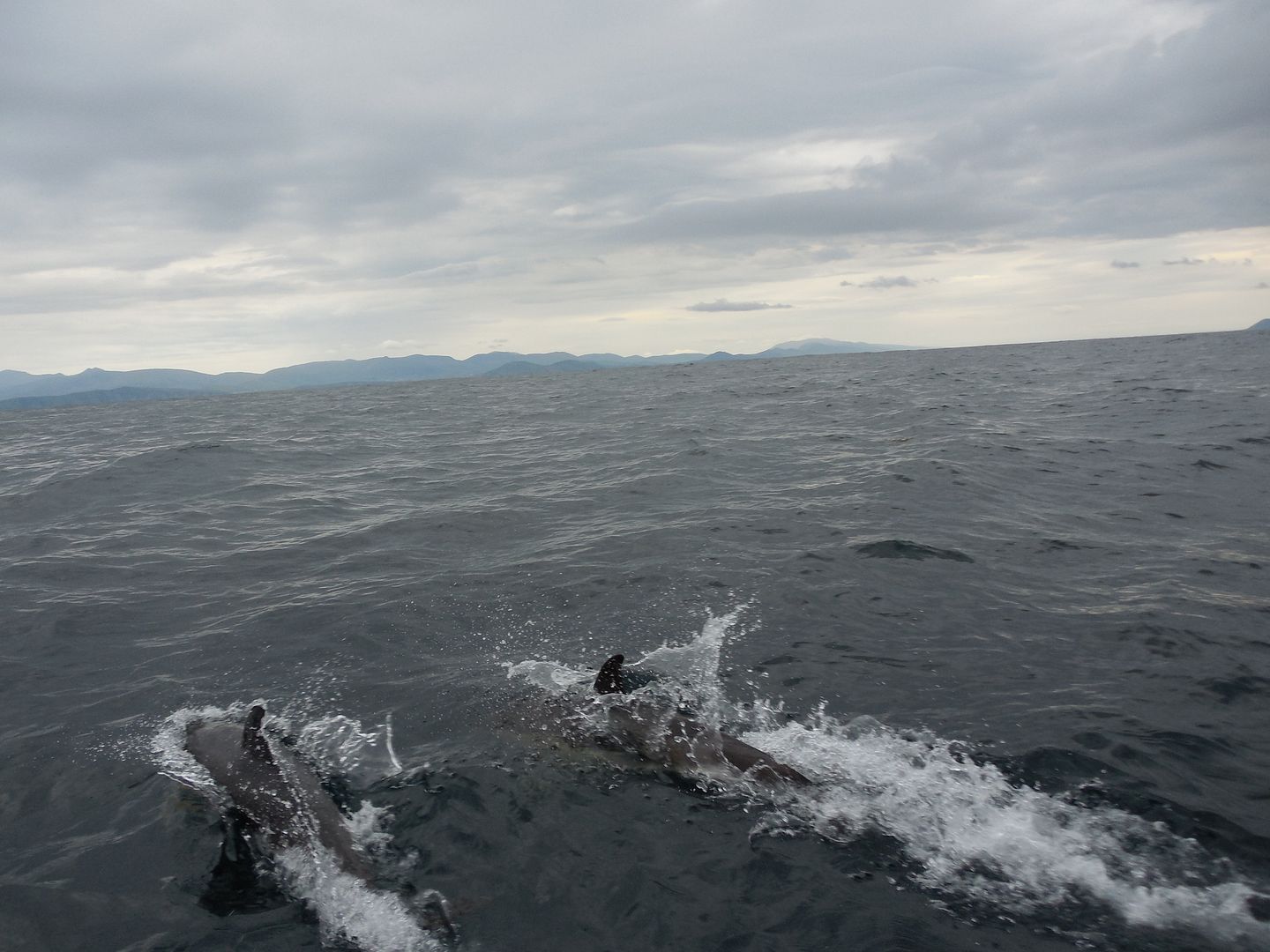 A shower came up and it rained a bit as we came in, but no one minded after the dolphins. The sun came back out as we stepped onto shore and we headed back to grab our luggage and get our shuttle.
Our driver Frank was very personable, and we chatted all the way to Shannon, where we checked in and met up with some of the tour folks in the evening, as we got ready to set off on the next phase of the trip.