One thing about winter in New England, it really makes you feel justified- even smug- about being a knitter. This is what my street looked like when I got home yesterday:
So perhaps that's why I took some time out from the socks to swatch the wool for the next sweater coming up. (The socks? Are lovely, but I'm really regretting the size of my feet- 96 stitches around in fingering weight wool is not as fast-moving a project as I have come to expect from socks.)
I can't exactly call the wool an impulse buy- not when I read
a review of the yarn
, heard in the comments to the blog post that the very same wool was on sale, searched online to find out if that was really true and where the nearest store was to my path home. I may never buy yarn without a plan-- but I'm capable of planning on my feet when the occasion calls for it.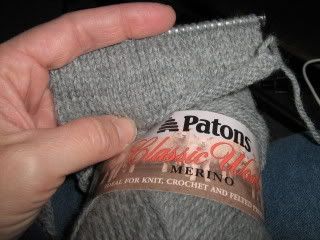 The pattern I'd had in mind for this is actually (I think) a Patons pattern- it was long since torn out of a book or magazine, and has been in my 'patterns' file for about fifteen years. It has a few cables and some light texturing, nothing too fussy. However when I looked at it at home, it calls for a DK weight, not a worsted. So I'm now futzing with math and trying to decide if I want to knit this in the smallest size in worsted (assuming the math works out that it will be roughly enough larger), or if I want to rewrite the pattern for worsted (taking out a few pattern blocks so the width comes out where I need it). Or if I should just roll my eyes, put the pattern away until I actually find some DK I like and use a different worsted pattern for this sweater.
One thing is for sure-- as long as I can look out my windows and see snow, I'm going to have warm woolly things on the brain.