I don't know where the month went, I truly don't. It was March, there was this blur (with a gloriously summery week in the middle) and then, poof!, it's May. May. I'm wondering if some scoundrel has made off with a week somewhere.
Last weekend I went out to WEBS to see
Stephanie Pearl-McPhee
(along with hundreds and hundreds of other people). Everyone and their mother has already blogged about this so I will say only a) Northampton was as lovely as ever, and had all her spring flowers out to welcome us, b) Stephanie was as funny and gracious as everyone says and c) sock yarn was on sale: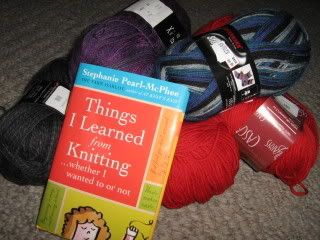 I consider that I was fairly restrained, though part of that was that I wasn't vicious enough to elbow and or trample other knitters to get to everything that I liked. The store was very busy and crowded when I got there- by the time I left for the theater, people were packed in elbow to elbow, and you could hardly see the yarn.
On the cardigan front- I knit on the way out to Northampton. I knit while chatting with my lovely and hospitable mother-in-law. I knit while waiting at the store, during the talk, on the drive back. I've knit all week since I got back. This damned sweater? Isn't done yet. (Okay, I'm on the button bands. But I'm not making any more predictions about how long this is going to take to finish. I'm out of the predicting business. It will be done when it's done. Didn't I say some weeks ago that I tend to overestimate my speed at getting things done? I wonder why I didn't listen to myself.)
So. It's a cold and rainy Friday. And that's a good thing, since my plans involve throwing in a DVD, drinking a cup of hot chocolate and knitting button bands. However, I did get just a little bit of sunshine- it came in the mail. Woats helped me open it:
I could tell you that she loves yarn, but that's a lie. She really wants to eat the tape on the package. (She wasn't allowed to. She's still sulking.)
So beautiful sunny Lola (in a colorway appropriately named A New Day), my prize from
Karen
's
blogiversary contest
, is hanging out with the other sock yarns. She doesn't have a plan yet, but I'm turning over a few ideas.