So, after searching around, the helpful folks at my LYS introduced me to the perfect partner for
Lola
, a charming Norwegian yarn called Dale. I think they look stunning together: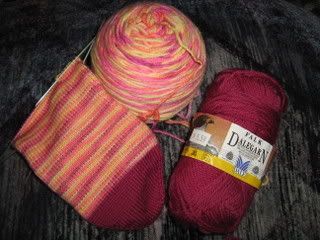 I needed a plain project for wandering-around knitting, preferably in a light-colored yarn suitable for knitting in dim restaurants. This yarn is good- it's heavy so I didn't want something heavily patterned and lively enough to be interesting to knit. There's only a bit over 200 yards, so I'm using the Dale for toes, heels and cuffs, to bulk it out a bit. Since I like my socks a bit short in the leg, I should have plenty.
This really isn't a colorway I would have bought myself (it was a blog contest prize), and yet clearly I need to become more adventurous in my yarn-buying because I adore it- the soft peach/yellow/pink is so cheerful and sunny I smile whenever I pick it up. (Thanks,
Karen!
)
And best of all? It's not red.