Having determined to finish off April by trying to finish up some projects, I went on a bit of binge. First, the hat I finished in New York last weekend (I omitted the ziz-zag and just let the pattern spiral, so instead of the All-Day Beret, this is the Friday AM beret):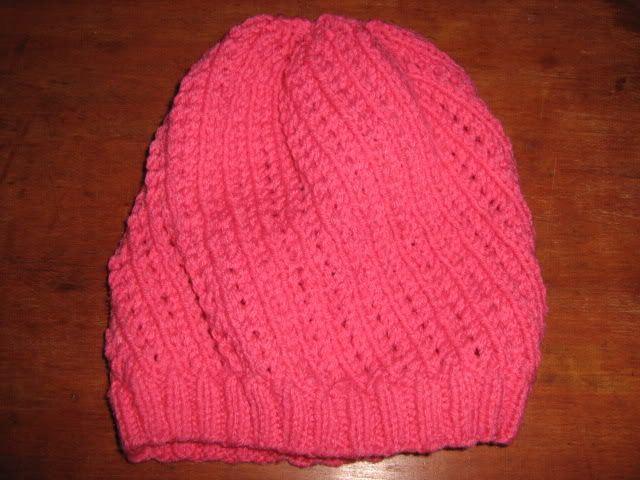 Then I suddenly recalled that I'd always wanted to try Stephanie Pearl-McPhee's
Unoriginal Hat pattern
. However there was a small impediment. The pattern calls for one of the metric sizes of needles that's between 10.5 and 11 in US sizes. Moreover, it wants dpns. And the largest size of dpns I have is 10.5. So I shrugged and cast on with the needles I had. "Let's see what happens," I said. What happened was that I got a child-sized hat. A fairly small child, or at least a child with a small head. And I still had tons of that yellow yarn left - I'd had some left from the afghan last year even before I got more for Easter. So I added one more repeat of the chart to increase the diameter, and started the hat partway through the chart to add some length and got a quite respectably adult-sized hat. Very charming pattern, and speedy too. I'd recommend it highly for that last minute gift knitting. Here are the two hats in question: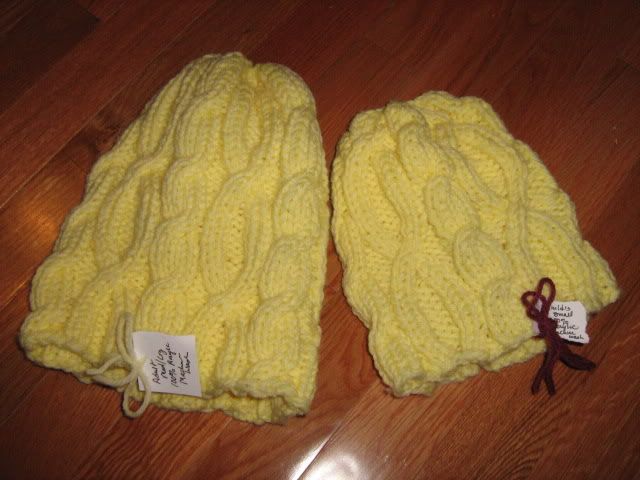 But don't imagine it's all been hattitude around here. Nope, I've been changing off with mittens- there's been a fair amount of gallivanting, and the sweater is just too awkward to travel well, so it's been staying home. Here's my collection of traveling mittens: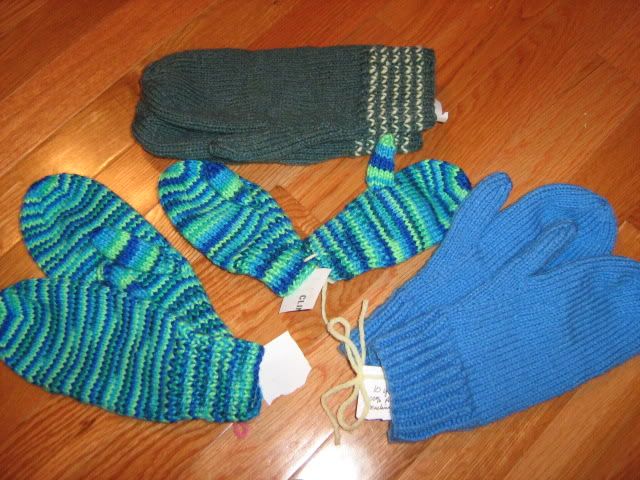 Yep, four pairs, for ages 4, 8 and 10 (two of those). Mittens travel almost as well as socks, and so I'm taking a short break until I decide what the next socks will be.
Speaking of gallivanting, this week's ten-mile-plus walk was in Stowe, Vermont. They have a lovely bike-and-recreation trail that follows the river, with many pretty views. Such as:
The village is very charming, with the usual touristy types of shops...also a very nice yarn and fabric store- small, but with a good selection, and some really gorgeous quilts. We strolled around the village, had lunch, admired yarn and quilts, walked a bit over 11 miles. Then stopped on our way south to check out Cold Hollow Cider (yum), their cider doughnuts (yum, yum), and took the tour of the Ben and Jerry's factory in Waterbury. A nice tour, with samples at the end. It was only with fantastic self-restraint that I managed to walk past all the ice-cream and leave empty handed. (It helped that I got two of the little sample cups...)
Surprisingly enough, this gets me close to the 100 projects goal- not quite, as I needed 33 projects by the end of April to be on schedule, where I was only at 31. But still- I was more caught up than I expected. We'll just have to see how May goes.