Part 10 of my vacation trip diary. If you're joining the trip in progress, the prior entries are:
Day 1: Standing Stones | Day 2: Cotswold Way | Day 3: Don't You Know There's a War On? | Day 4: The Black Country | Day 5: Ironbridge to Shrewsbury | Day 6: The Enchanted Palace | Day 7: Uncovering the Past, Cataloguing the Present | Intermission | Day 8: From Hampstead Heath to Our Just Deserts | Day 9: Stitches to the Sea
7/3 Saturday
There was no chance of oversleeping in the morning as all cabins had a loudspeaker broadcasting a wake-up call. I went and had a roll with ham and tea in the coffeeshop while we were coming in to dock, and we were ready to disembark with everyone else. We caught the train to Schiedam right outside the ferry terminal and changed there for Amsterdam with no difficulty. Since neither of us speak Dutch, we had been a little concerned about this, but JT had been practicing a collection of useful phrases during the earlier part of the trip, and train schedules proved not too hard to decipher. We were interested to observe that the people on the platform would get up and move to the edge a few minutes before the train was due – unlike the British, the Dutch expect trains to be on time.
JT's cousin Erika met us at the station. She's an expat American who has lived for many years in Britain, and is currently in Amsterdam for reasons of employment. On the walk back, she gave us some tips for navigating around Amsterdam. "You might think that because the Dutch drive on the same side of the street as Americans, that will help you," she said seriously. "But it won't. The bicyclists ride on the right, the left, the street, pretty much anywhere they feel like it. If you're in their way, they'll ring their bells and expect you to move." We smiled, thinking this might contain a hint of exaggeration. "No, really," she insisted. "I've been knocked down twice. And-" she added with a dark look, "the scooters are worse." She also warned us about the electric trams, which move quietly enough to surprise an unwary tourist.
This proved nothing less than the truth. We had expected to see a lot of bicycles, and even we were astonished at how many there were. There was a multi-story bike park at the train station.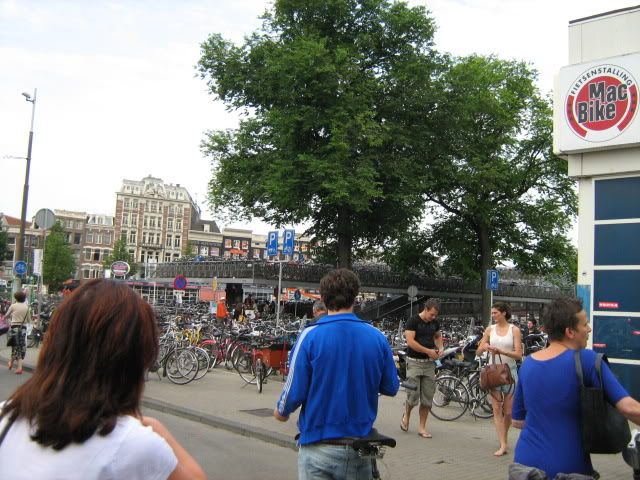 We quickly acquired the habit of cautiously looking in all directions at once and then scurrying across the bike lanes, and breaking into a run at the sound of bicycle bells. We walked with Erika to her and her husband's apartment, a lovely high-ceilinged space in a building fronting on a canal. We made plans to meet for dinner, and then were rapidly provided with keys, an excellent street map, and a recommendation to take a canal boat tour, which was already on our list. We were offered bicycles, but after our harrowing walk from the station, we opted to start with a walking tour of the city center.
Amsterdam has pretty parts but also a lot of graffiti. Did I say a lot of graffiti? It has a lot of graffiti. The city center has all the usual shopping chains and dirt and grime you'd expect in a major tourist area, and then some. We were a surprised and a bit dismayed, we'd expected more pretty and less grittiness.
However we also saw a lot of really nice architecture, and as soon as you got away into the side streets there were many nicer parts to the city, with tree-shaded streets, lovely old buildings and lots and lots of canals. (Warning- I took a *lot* of photos of canals. Even after we weeded out the ones with blurry bicyclists and scooters in the middle, there are still a lot.)
After the initial survey, we had some lunch—Asian food, as it happened—and then found ourselves a canal boat tour. We were amazed and impressed by the number of English-speakers. Although JT tested out his useful phrases with some success, most of the people we met spoke excellent English. It turns out it's an unofficial second language in Amsterdam—it's a required course in secondary school. Restaurants had bilingual menus, many signs were in English and we found later that museum exhibits were labeled in a variety of languages, but most consistently in Dutch and English. Erika told us later that due to the proximity and greater availability of English programming, that many people in the Netherlands watch English television.
The canal boat tour was fabulous- we learned that the city literally has a thousand bridges, that historically houses fronting on the canal were taxed by their width (which led to a lot of narrow but deep houses being built), that there are a huge variety of decorative gables, and that they all have a sturdy hook at the top for a block and tackle, allowing for furniture to be moved in and out via the windows, rather than carrying bulky items up narrow staircases.
The tour took us up and down canals lined with houseboats—a popular living arrangement: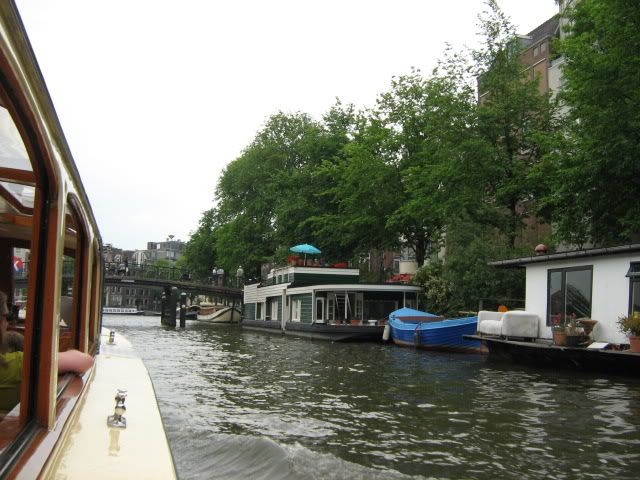 —and we watched an enormous amount of water traffic go by. We took a turn through the harbor, where we saw many enormous container ships shuttling goods in and out of Europe, and we saw a floating pagoda, which rather threw us until the guide explained that it was a Chinese restaurant. (Also after the tour we saw a figure of an elephant with a flowered hat and blond braids. We can't explain it—we have no idea. We're not even sure we want to have an idea.)
After the tour, we walked some more, until we were caught in a brief rain shower—which I think was the only rainy weather we experienced on the whole trip. We ducked into a bookstore for a bit, and then when it slackened headed back to meet Erika and her husband for dinner. Dinner was Indonesian, and simply amazing. I have no idea what it was, but it was all delicious. Definitely a cuisine that warrants further exploration. We finished the evening in our hosts' courtyard, talking until well after dark.
Slideshow of more Amsterdam photos: (You can click on the show to see it with larger photos.)