Friday we left San Francisco for the suburbs, and went to meet my sister-in-law. Apparently under the delusion we had somehow been underfed on the trip so far, she had determined to take us to all her favorite restaurants (her phrase was 'we're going to eat our way across Palo Alto'), with a break to see the Stanford campus.
Stanford campus was very pretty-with a classic quad: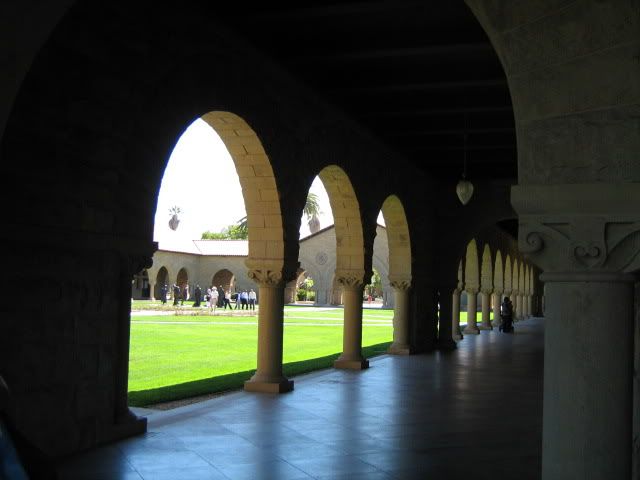 ...a famous collection of Rodin sculptures, including
the Burghers of Calais
.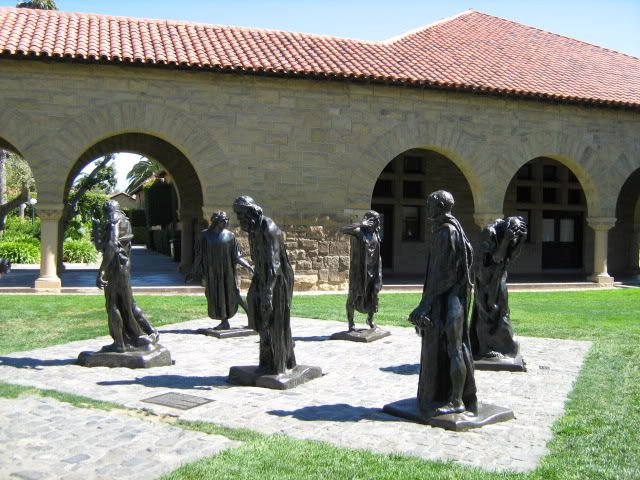 (Okay, confession- I'd never heard of it, but my husband recognized it on sight, impressing me no end. It's his expensive liberal arts eduction showing.)
And the university chapel was also very striking: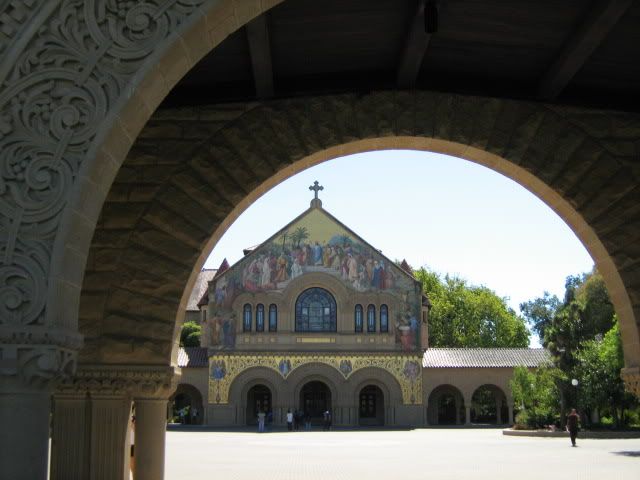 After this, we split the party. My sister-in-law went off to retrieve her children from day care, my husband took a long walk around
the Stanford Dish
(with the camera):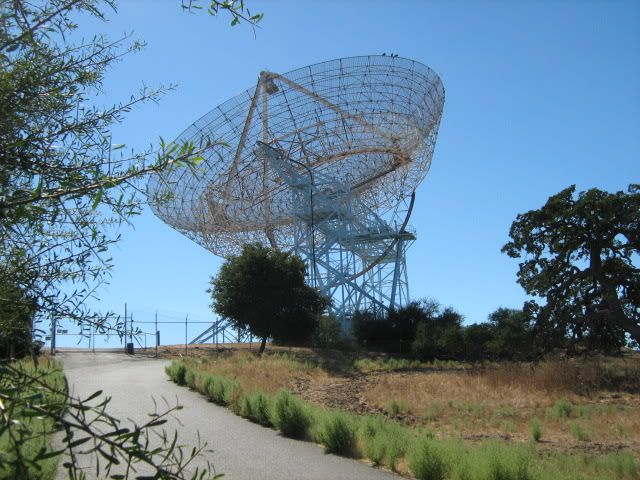 ..and I headed off for a visit with blog friend
AlisonH
- (of whom I have no picture since said husband had the camera). It was a lovely visit-I got to meet her potter friends
Mel and Kris
who were there dropping off some extremly lovely bowls. Delightful people- we had a nice chat over some of Alison's famous chocolate torte (truly amazing!). The time fairly flew, and then I had to rush off to meet family for Mexican food for dinner. (By this time, I could probably have skipped dinner, but hey, Mexican food!). The original plan had included a yarn store visit, but that wound up not happening...with the result I saw no yarn on the trip. Next time for sure.
And then we where whisked back to the family house, which for the last several weeks had been home to several large boxes for our nephews. My sister-in-law had planted them in the hall and then told the boys heartlessly, "We can't open these until Uncle Jonathan and Aunt Robin get here." By the time of our actual arrival, the excitement had reached a feverish pitch. Jack and Dash helped with the unpacking---of their first electric train set.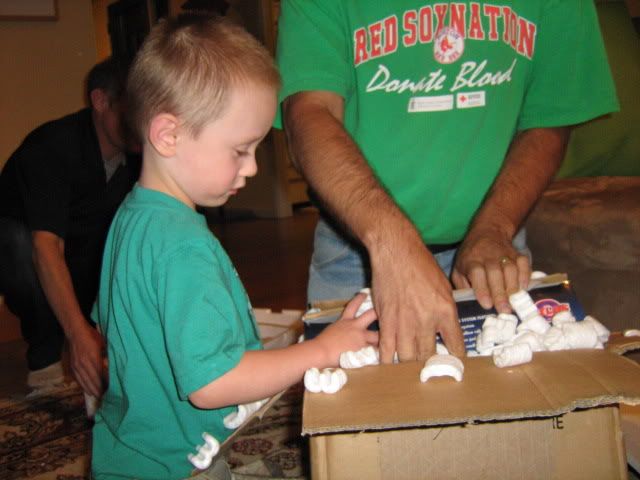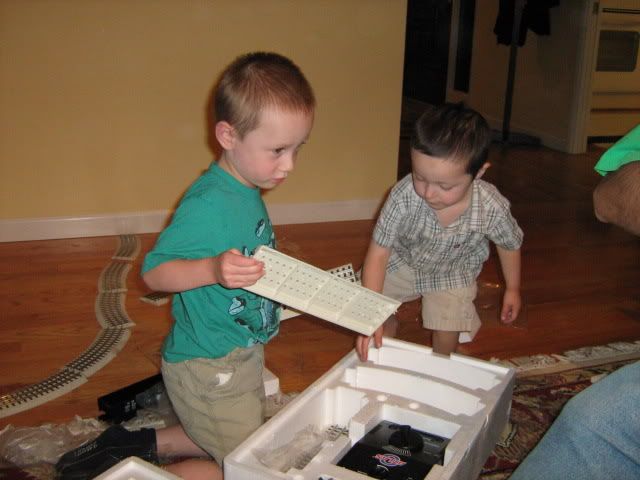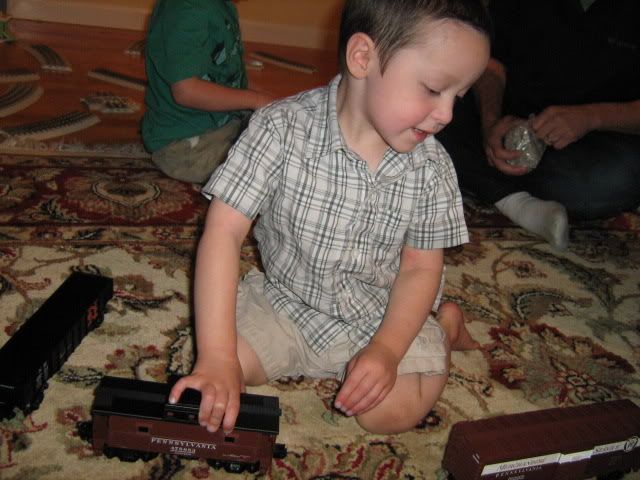 Jack was hugely excited when he realized he could make the trains go himself.
The boys took quite some time to settle down after that and go to bed, and the next morning they raced down and had to be persuaded to leave the trains alone while they had breakfast and we all went down to see the farmer's market and take a last walk in San Francisco. I thought the rocket ship was delightful, and even better was the 'travel poster' and 'departure schedule' posted next to it.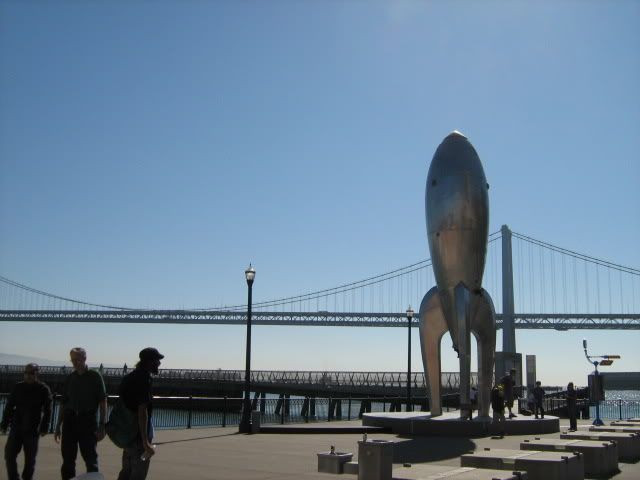 Dash led the charge off to see the giant fountain: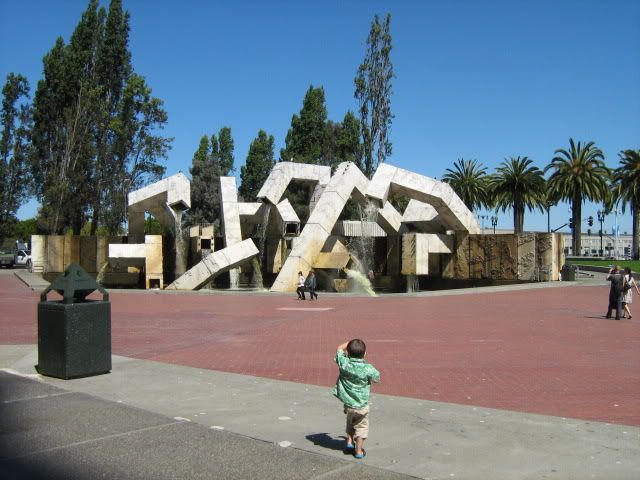 And I thought the expressions on these two faces were especially cute. (You'd look up dubiously too, if a bird was about to poop in your ear.)
And then after that, there was more playing with trains (the train layout gained a tunnel, and coaling and water towers.
Giant robot coaling and water towers
, according to Jack) and a trip to a local mystery bookstore, and pizza, and we all sprawled around the living room and watched Wall-E. Well, we sprawled. Dash bounced, wiggled, and attempted to scale furniture. But then he'd seen it before. Then it was time to say goodbye, as the boys went to bed and Jonathan and I headed off to catch our redeye home.
And for anyone who'd like to see even more photos of the trip-
click here to visit the trip album
.