1. FO- yes, the first FO of the new year is off the needles! I started it last week during the finishing marathon, got four rows in and decided it was never going to be fast enough to be done for New Year's Eve. But I liked it, so I just dumped it into a basket. However a garter rib scarf in bulky weight turns out to be just the thing for party knitting.
The New Year's Day party lasted until the wee hours, and we maxed out our spare beds if not our total crash space. (We were total wild people. We played board games and ate snack food until 2:30 AM. I even had a glass of hard cider. Like I said, wild and crazy.) Sunday the last groggy guest staggered out at noon. Jonathan and Cookie stretched out on the couch and emitted waves of sleepiness. I drank lots of coffee and went to my knitting group....
2. ....where I was given the gift of new yarn. A skein of Cindy's incredibly gorgeous hand-dyed silk. It's got to be a scarf, I think. I'll want a pattern with organic kinds of curves for the yarn. Maybe beads. Or would that be too much?
3. Cat. I finally managed to catch our newest family member in a rare moment of not hiding: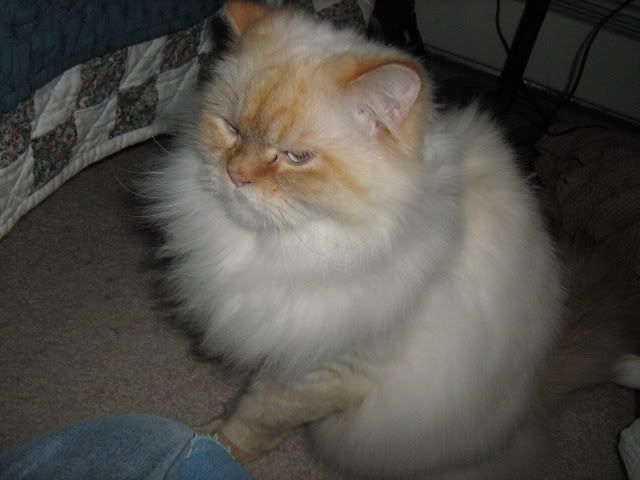 Biscuit is possibly the most timid cat I've ever met. Nevertheless, feline curiosity is bringing him more and more often out from under the bed. This evening, he even ventured briefly into the dining area. Cookie is mightily curious and not a little weirded out. For the first time today they got to within three feet of one another. And Biscuit hissed and ran away and Cookie retreated to the very top of his cat castle.
Poor babies--we can't help laughing at them, even while we feel guilty about weirding them out. But we're making progress...very, very slowly!