It's been a pretty busy year, trying to keep up with
Toni
and her crazy hundred projects goal. It's possible I should have remembered that I mostly knit, and knitting is a
slow
craft...but you're wondering if I made it or not, aren't you? Well, as of my last post, I had completed project 94. Here's project 95, another pair of mammoth woolly house socks: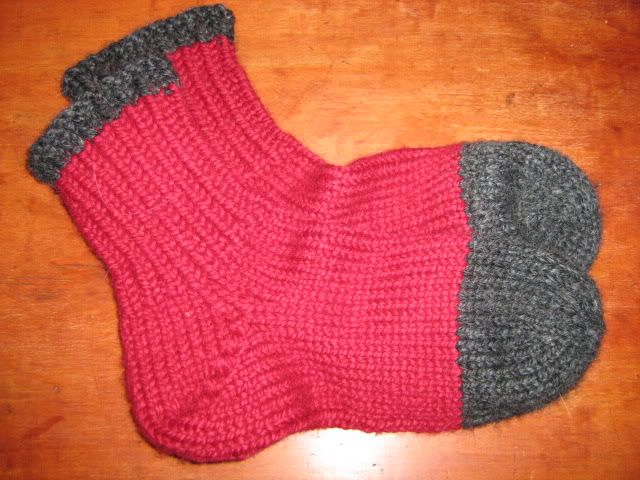 And since I was flying through the bulky weight, I cast on right after that for a pair of heavy men's mittens: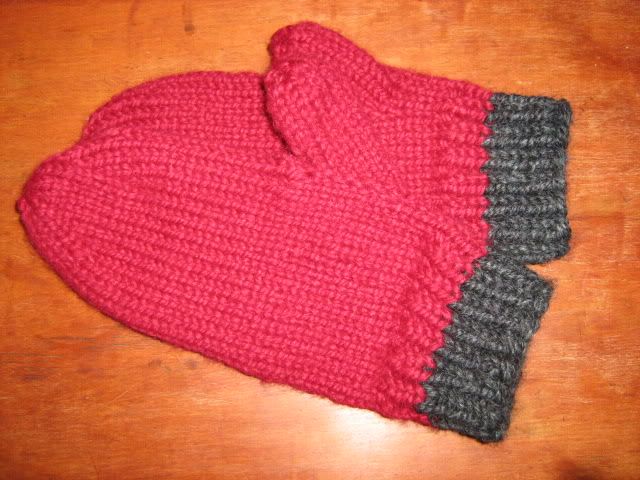 But I was starting to run seriously short of time, and after carefully looking at all my WIPs, I concluded that none of them were close enough to done to finish without giving up on the hundred project goal. Since I've got just a teensy competitive streak, I abandoned them all with scarcely a second thought and started casting on small mittens just as fast as my little fingers would fly. That brings me to 97 and 98, a pair of 4-year-old mittens and a pair of infant mittens. I was particularly pleased when I realized that if I knit the infant mittens in the round, I could do a three-needle bind-off at end and not have any sewing at all!
Number 99 needs a bit of explanation. My sister Kate very kindly made new curtains for my husband's office and my sewing room for Christmas. Not knowing how we'd want them to hang, she included a bunch of coordinating ribbon to make curtain ties. I loved the lace curtains in the sewing room just as they were--see:
But my husband wanted his tied back- they're a very handsome blue, but thick enough to block a lot of the light. So I trekked over to Jo-ann's today for some rings for the ends, and then sewed ends and rings for the ties:
And then hung them all up. Cookie inspected them closely and has pronounced them good. (Actually he just sniffed them a lot, but it was an approving sniff.)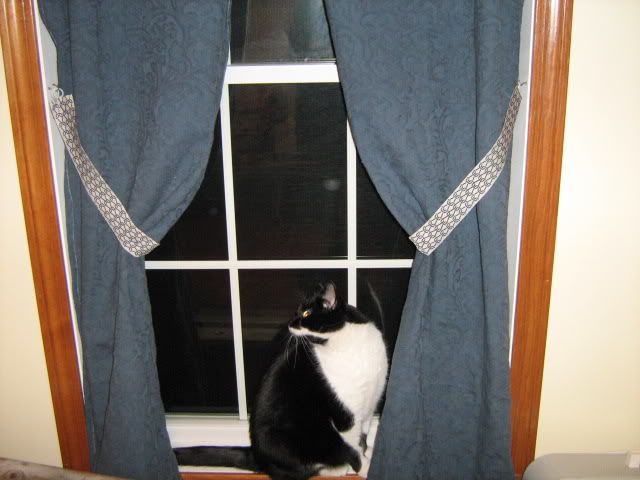 And last but not least...I couldn't possibly come so close and then miss by just one project! So despite having woven in ends on No. 97 this morning, and completely knit No. 98 and done the sewing for 99...well. What's one more pair of mittens?
(See, they're waving Happy New Year!)
So. Whew. That's a lot of craft projects. I couldn't resist crunching a few numbers. The breakdown by crafts:
Knitting: 90 (!)
Crochet: 4
Carpentry: 2
Sewing: 4
Types of projects:
Mittens: 40
Fingerless mitts: 7
Gloves: 1
Socks: 19
Sweaters: 6
Hats: 18
Headband: 1
Scarves: 1
Cowls: 1
None of these numbers especially surprise me except for the socks...I hadn't realized there were so many. And five pair were in worsted or bulkie weight yarn...but all the rest were fingering weight. I'm starting to see why the last four pairs I have in the queue didn't make it for the year.
I've had a lot of fun with this, and it's certainly true that having a goal has pushed me to do more. However I don't think I'll be doing it again in 2011. I have some non-craft projects that haven't really moved this year, in part because of the craft focus. And the goal pushes me to do more small projects--which would be fine, except that I have two sweaters in process and six more in queue that I'm anxious to knit. Which is not to say that if I find I'm still in the running at the end of the summer, I might not decide to play again. I do tend to have small portable projects on the needles even if I'm working on a sweater at home. But right now it's not looking very likely.
Happy New Year and happy crafting in 2011!