So, it isn't that I have suddenly become less busy that has let me get caught up on posting FOs, but rather that I was on vacation the week of Labor Day. Unlike most of our travels, this was not a sudden-death-must-keep-moving-sightseeing-marathon, but a more relaxed trip to the San Francisco area to see family and friends.
Our first weekend was spent with my sister-in-law and her family- Jonathan spent a good deal of the weekend playing with trains with the boys. We also went out to see the boys' favorite museum (the
Hiller Aviation Museum
, which I quite recommend), and the
Lawrence Hall of Science
, which featured a lot of audio-animatronic dinosaurs (always a big hit with the under-3-foot set, but plenty there for adults too). I didn't take many photos during the first part of the trip, in part because the ones I did take mostly showed three small-boy-sized blurs zipping around trains, planes or dinosaurs. But my sister-in-law did get this nice one of me with my middle nephew Dash, sitting on a giant fiberglass whale outside the dinosaur museum.
We then joined our friends, who took us on a series of leisurely walking tours featuring various scenic areas adjacent to their favorite restaurants. The food was wonderful...it's a really good thing that we did so much walking though! A few highlights:
(Note that we admired the cable cars, but we didn't ride on them...we walked up the hill without mechanical assistance.)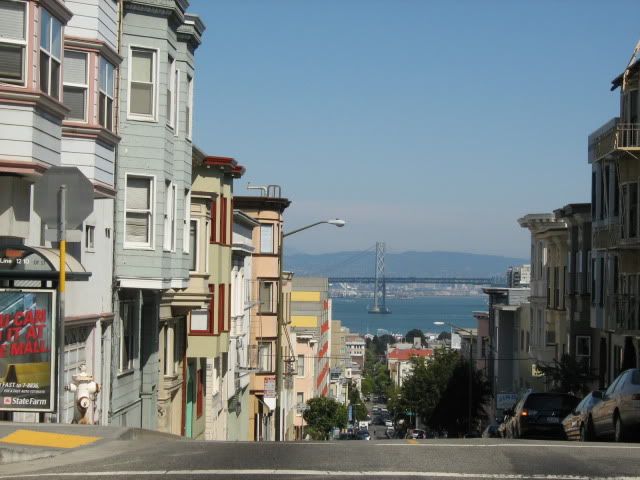 There was also hanging out, playing games and pickling of pears. Yes, that's not a typo- our friends have a pear tree in their backyard and have been trying absolutely every recipe they can find to use or preserve the pears. And they have found
the most wonderful recipe for pickled pears
. They come out sweet but intensely cinnamony and quite delicious. I came home with the firm intention of hitting the farm stand for pears of our very own. And we may not bother to can them...eight pounds or no eight pounds, I really don't expect them to last very long.
Our last day we took the ferry out to Angel Island. It was quite windy and the bay was full of sailboats:
It was strangely disconcerting to walk all around the island and see land all around. But the views were fantastic.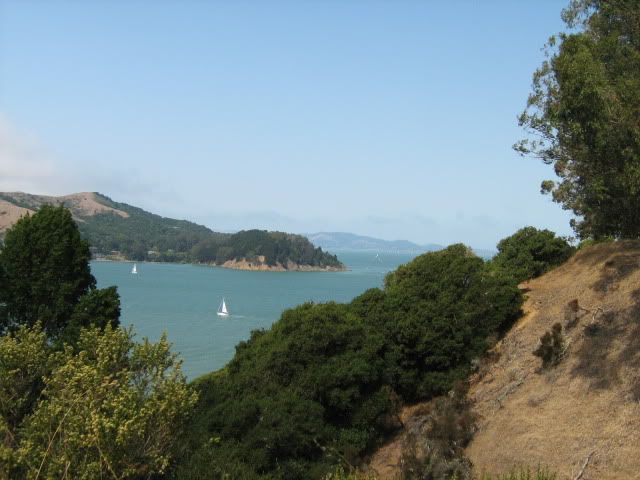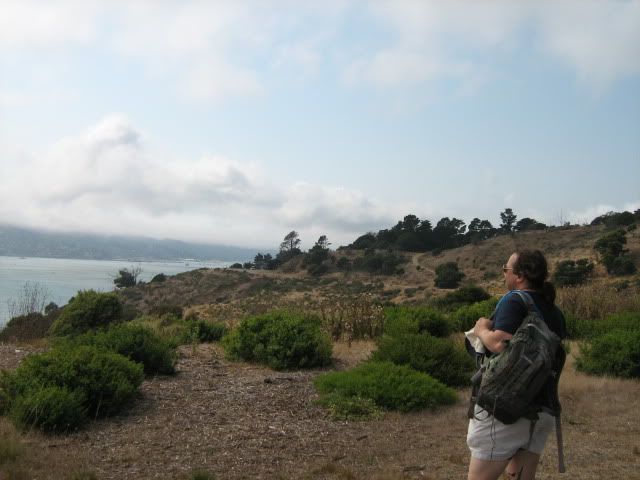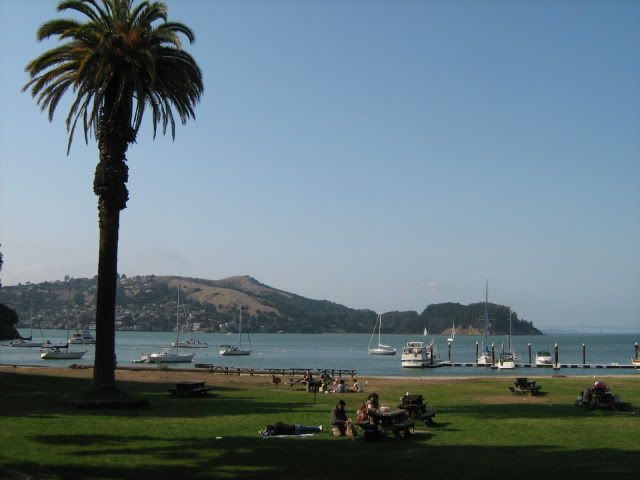 We visited the
Angel Island Immigration Station
, which operated from 1910 through the forties, and is now open to visitors. It's sometimes called the Ellis Island of the west, but it was aimed more at keeping people out than welcoming them in. They've preserved some of the heartwrenching poetry carved into the walls by the people imprisoned there. The rooms with cots and displays of typical immigrant possessions were pretty bleak-- filled to overflowing with people, it must have been awful.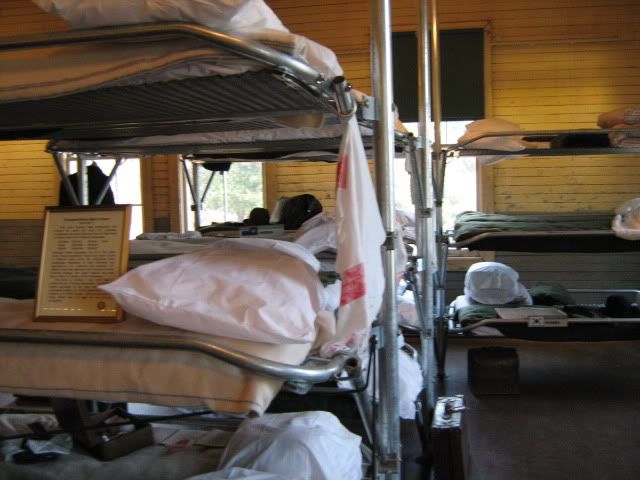 After taking the ferry back, we had dinner at
Louis Restaurant
, with a gorgeous view of the water, and then went straight to the airport to get the redeye home.
It was a perfectly lovely trip, with family, good friends, wonderful food and terrific weather. Pretty much ideal- we can't wait to do it again!