Part 13 of my vacation trip diary. If you're joining the trip in progress, the prior entries are:
Day 1: Standing Stones | Day 2: Cotswold Way | Day 4: The Black Country | Day 5: Ironbridge to Shrewsbury | Day 6: The Enchanted Palace | Day 7: Uncovering the Past, Cataloguing the Present | Intermission | Day 8: From Hampstead Heath to Our Just Deserts | Day 9: Stitches to the Sea | Day 10: City of a Thousand Bridges | Day 11: Past and Present | Day 12: Sutton Who?
7/6 Tuesday
Tuesday we could hardly believe that it was our last day already. We went out and walked, stopped for a lovely breakfast at Patisserie Valerie, walked some more, took another pass through the British Museum, this time viewing the early Middle Eastern galleries- Babylon, Phoenicia and the like. Somewhat to our surprise we realized that we'd actually covered quite a lot of the museum. I should explain: Because the national museums in London (like our own Smithsonian) are free admission, we've taken to going in, picking an area, spending a couple of ours, and then when our brains start to hit overload, going and doing something else for a while. We may like museums—and it must be said that the British do museums very well—but the keenest interest will start yawning and thinking more about sore feet than the exhibits if you try to spend whole days trying to take in a something like the British Museum all at once.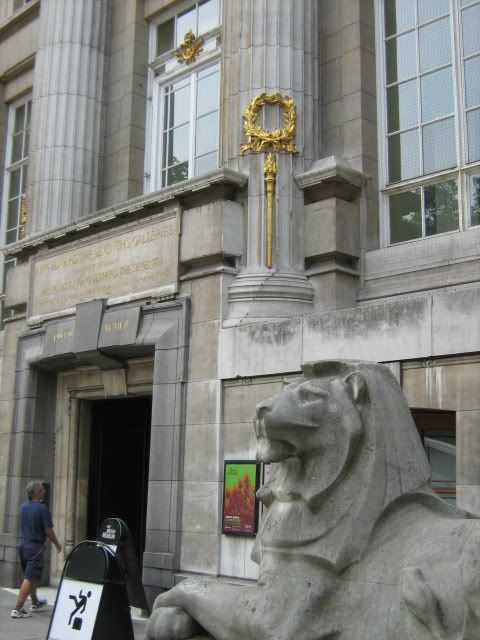 From there we went in search of another favorite bookstore, a mystery specialist, and were dismayed to not find them where we'd last seen them. Hopefully we'll find they've only moved and not gone under (crosses fingers) [We did find later that they have become an online dealer only, they no longer have a store. Sad, but better than disappearing entirely.] Divided between disappointment and relief (that our bags weren't going to get heavier), we proceeded to another planned stop, the Neal's Yard Dairy, to acquire a few samples of their excellent artisanal English cheeses. The proximity of a new Mexican restaurant seemed like a Sign, so we had Mexican for lunch.
Then we wandered down to the Natural History Museum for a last visit there. We finally made it to the new primate exhibit, which had a nice presentation of the uses of morphology in the distinguishing of species. We've actually seen a good deal of that museum as well, now, but we still skipped the still unviewed Creepy Crawly gallery in favor of a new exhibit on uses of geology and earth science in water management, agriculture, energy generation, conservation, and mining. Fascinating and well worth the visit.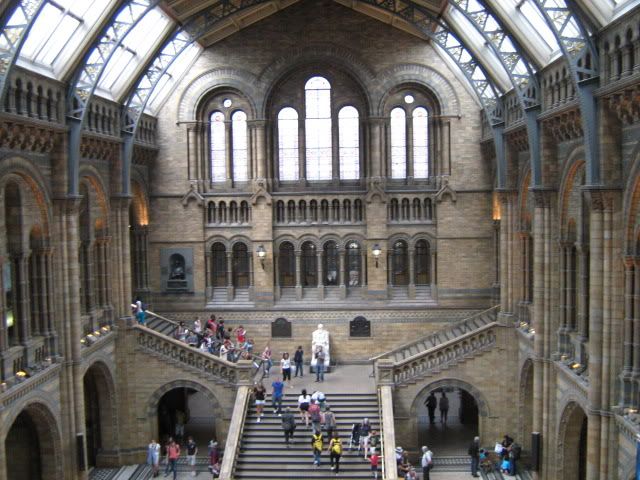 We walked through some of our favorite parks one last time, and retrieved our luggage from the hotel. From there we staggered back to Paddington Station under the load of books and cheese, and took the train back to Heathrow. Somewhat to our alarm, when we went to check in, we were directed to a live customer service agent. We were not entirely reassured by their repeated and unsolicited assurances that we were going to get on the plane, there were just a few Issues.
After a non-trivial wait, we were eventually granted boarding passes, but there seems to have been some dislocation of our flight. When we got to the gate, there was no plane to be seen. Eventually they called us, and all the passengers were loaded onto buses and taken for an extended tour of Heathrow. Eventually, somewhere near Camden, we drove up to a lonely airplane sitting by itself and climbed aboard.
Then we took another extended tour, this time in the plane as it taxied for another half hour. We definitely saw the maintenance yards, a number of runways, and quite likely the A4 and Gatwick before finally taking off. (We think we eventually took off from Heathrow, but could not by any means prove it.)
After the somewhat alarming lead in, the flight home was refreshingly uneventful. We arrived home in the middle of the heat wave, and went back to work the next day rather tired and let down, but very pleased with our most excellent vacation.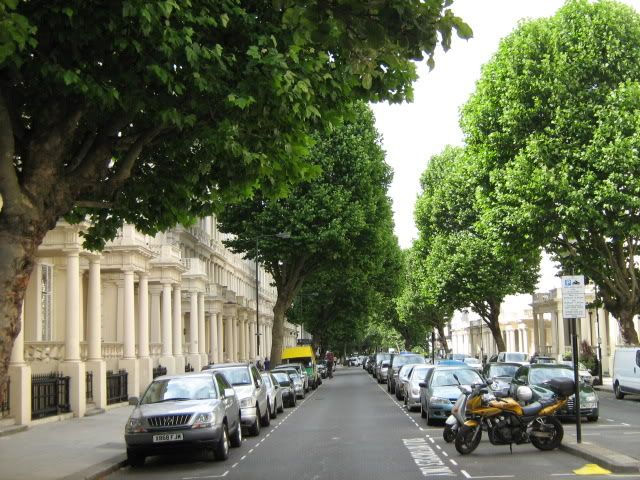 So this is the end of my rather long-winded recap. Thanks for staying with me to the end; I've really enjoyed reliving the trip virtually, and taking my blog friends along. Until the next time! And we now return you to your regularly scheduled crafting content.
Slideshow of British Museum, Natural History Museum and London photos: (You can click on the show to see it with larger photos.)