Part 5 of my vacation trip diary. If you're joining the trip in progress, the prior entries are:
Day 1: Standing Stones | Day 2: Cotswold Way | Day 3: Don't You Know There's a War On? | Day 4: The Black Country
6/28 Monday
Monday, we had a small dilemma. We were visiting the
Ironbridge gorge
, and the area has a complex of ten different museums, spread out over several miles. We did not have the same level of interest in all of them, however even the ones that we wanted to see were some distance apart, and the bus that connects them only runs on weekends and holidays. And the museum hours were only 10 to 5. So we took a train to Telford, and a commercial bus from there to the town of Madeley, which is actually between several of the museums, and walked from there to Blists Hill, arriving at opening time. After seeing Blists Hill we could walk to another museum where we could rent bikes ('hire cycles') to expedite seeing the other museums.
Blists Hill was a Victorian village, filled with all of the businesses you would expect- a baker, a candlemaker, tinworker, a turner (woodworker). They have an iron foundry and a brick works, as well as a clay mine and the usual shops.
The dentist's office had a somewhat sinister message on the door:
And it really wasn't reassuring to see inside it!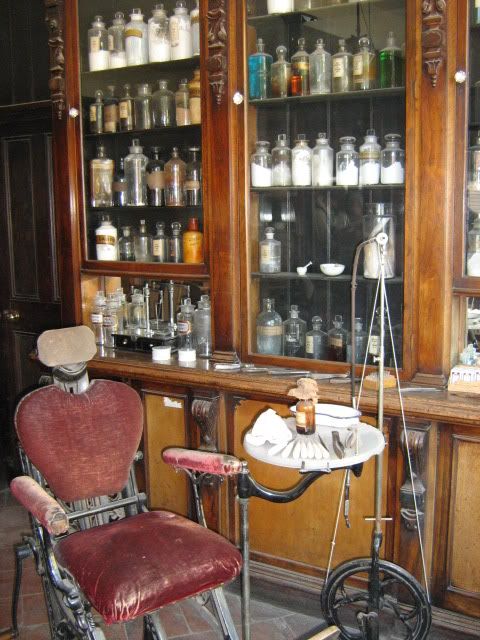 The clay mining was especially interesting- there were various clays that were suitable for different purposes- bricks and porcelain, firebrick (brick used to line chimneys and furnaces, capable of withstanding very high temperatures) and architectural ceramics (tiles and terracotta used in buildings) which was shipped to factories and brickworks up and down the river. We walked out along the weedchoked canal to see how they'd gotten boats down to the river. Not a lock, as it happens, the change in elevation was considerable. No, they used an inclined plane- cradling a fully loaded boat, and then letting it slide down the hill while using it as a counterweight to pull a boat from the river level up to the canal.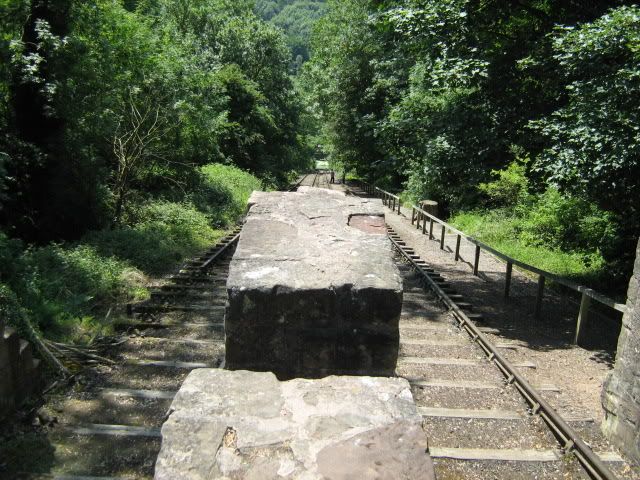 Being a weekday, there were several groups of schoolchildren. (We heard one supervising teacher firmly instructing her charges, 'No, I don't think we need to go into the pub now!') and saw another group undergoing a Victorian school lesson (all dressed in costume) at the schoolhouse. One of the staff there mentioned that most of the people in the schoolhouse were retired teachers, which seemed rather apropos!
From there we went to collect bicycles and went to see the famous Iron Bridge. Completed in 1781, it was made of cast iron, and arches gracefully over the gorge- its reflection in the water makes a perfect circle.
We crossed it- it's still in use as a pedestrian bridge- and went up to the Museum of Iron and the Museum of the Gorge. The history is fascinating... a man wanted to make cheap iron cooking pots, so he figured out how to use coal as fuel--prior to that iron was made with charcoal, and firewood was getting scarce. But coal was cheap and plentiful, and once someone had done it, others came on board. And after that it was only a matter of time before they found out how to make iron of a quality suitable for wrought iron. In addition to the usual metal products- nails, pipe, beams, the museum has an excellent collection of gorgeous decorative ironwork.
After that, we biked back down to the riverside and returned the bikes- we reflected that the way one ought to do it is to stay over, and rent the bikes for two days. Then you'd have transport, be able to see all the museums in detail, and also would have the bikes after the museums closed. As it was, we had to return them before going to the Tile Museum, to be sure they'd be back in time.
Ironbridge Gorge was a center of tile-making for all kinds of industrial ceramics, including printed and encaustic tiles- many of them very beautiful. The museum had many excellent examples, along with preserved fireplaces, walls and entire rooms showing how they had looked installed.
We left when they closed, at 5 pm, and caught a bus from Ironbridge back to the train station. (There was a brief hiatus involving ice cream while waiting for the bus.) The schoolteacher we'd chatted with at Blists Hill had told us that we really should see Shrewsbury, which was only a few stations up the line. And since we had flexible railpasses, and Telford did not appear to be a hotbed of exciting restaurantage, we said, "well, why not?". So instead of going back to Birmingham, we took the train to Shrewsbury to find dinner.
Shrewsbury is *very* pretty- lots of good old architecture, a fascinating-looking castle, and many intriguing restaurants. It also had a piece of modern sculpture that looked remarkably like Klingon bat'leths. We have no idea why.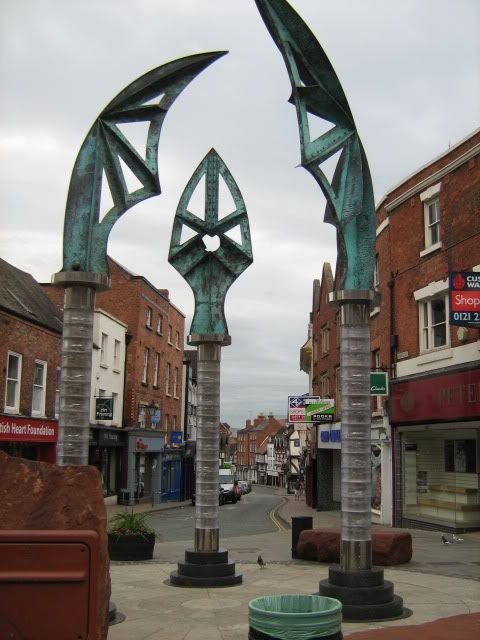 It was actually not all that lively being a Monday evening, but we found an excellent Italian restaurant. (Called
Ask
, we've seen branches in other places as well.) We thought that Shrewsbury looked like a very interesting place, and definitely worthy of a return visit- perhaps on some future trip when we visit Wales.
Slideshow of more Ironbridge and Shrewsbury photos: (You can click on the show to see it with larger photos.)