Part 8 of my vacation trip diary. If you're joining the trip in progress, the prior entries are:
Day 1: Standing Stones | Day 2: Cotswold Way | Day 3: Don't You Know There's a War On? | Day 4: The Black Country | Day 5: Ironbridge to Shrewsbury | Day 6: The Enchanted Palace | Day 7: Uncovering the Past, Cataloguing the Present | Intermission
7/1 Thursday
Thursday, we dealt with an increasingly pressing (or possibly un-pressing) problem and took our accumulated laundry to a laundromat I had spotted the day before which offered a wash and fold service—or in other words, you give them your dirty clothes and come back later in the day to get back clean ones. (In this particular case, I also got back a pair of socks that weren't mine. Pity they didn't fit.) However it did finally resolve the 'wash or buy new clothes' debate we'd been having since the trip started. We'd deliberately packed light, but we didn't actually want to take the time to do laundry ourselves, nor did we want to spend time shopping! After all, we had a city to go experience. Cheap at the price.
After dropping laundry, we walked up through Kensington and Notting Hill—both lovely neighborhoods:
—and through Holland Park, which was enchanting, with beds of gorgeous roses, neat paths and a peaceful Japanese garden which was signed as a quiet area.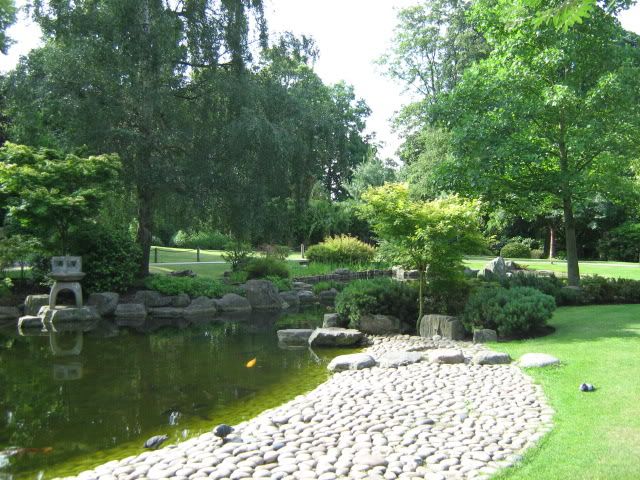 We then took the Tube out to Hampstead, to walk through Hampstead Heath. We didn't see any horse-drawn carriages or dastardly highwaymen (as routinely appear in romances of a certain type) but rather a lovely wild park with many walking paths through old growth forest.
It was beautifully quiet, with only an occasional glimpse of the taller buildings in the financial district of London to remind us how close we were to one of the world's largest cities.
We Tubed back down to the British Library, to see a fabulous exhibition of antique maps—many of them incredibly beautiful. It was also interesting that they had considered not just maps as artifacts in and of themselves, but the uses to which maps were put—political, decorative, status symbols and sometimes propaganda. By the time we finished it was past noon, so we had lunch at the library's cafe.
From there we walked to the river via the Inns of Court, and discovered that either someone had it in for tourists, or else was maybe a little confused: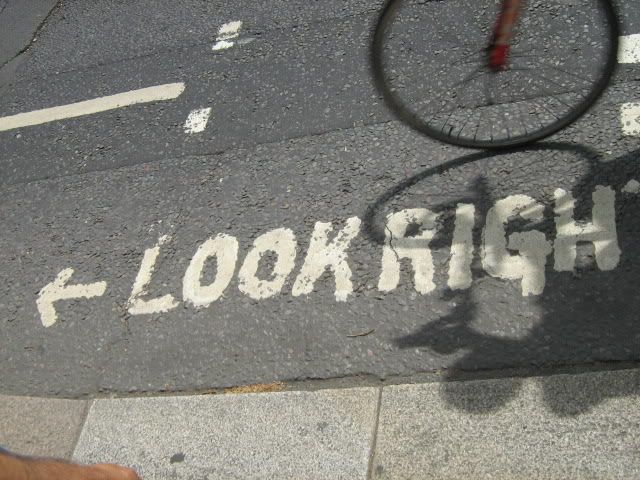 We rested our feet on a short riverboat ride. It was the first time we'd actually seen London from the water, and something we'll have to try again when we've more time. We were amused to note passing the London Eye that there was a spare carriage floating on a barge in the river—it looked very much as if it had fallen off!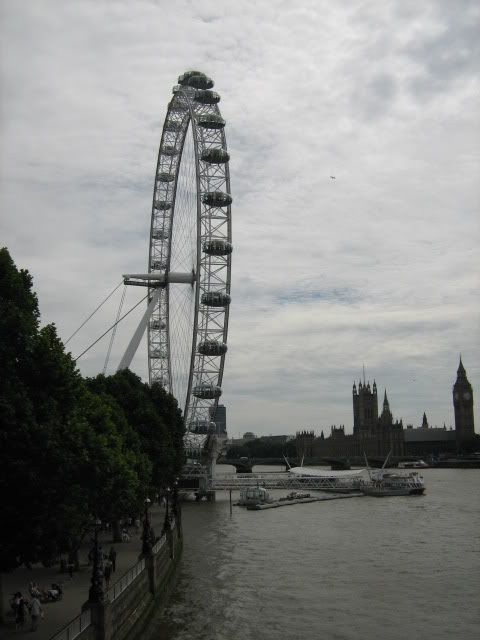 We walked back through Victoria Station and around the block so I could visit a yarn store—iKnit, which I'd read about online. It was small but had an excellent assortment of yarn. I found some lovely Shetland wool there, for my 'souvenir yarn'—I've already got a project in mind for it, so I'll show it to you when I cast on.
We hit the Tube yet again (gotta love the Tube pass) to go back to Kensington, where we found that we could not take tea at Kensington Palace because they were closed for a special event. (And they somehow failed to invite us. Gracious.)
We did collect our clean laundry, however, and then set off for Chimes, another favorite restaurant specializing in English food and featuring an extensive selection of English ciders. I succumbed to the lure of the bread pudding for dessert, which came with a little creamer full of vanilla custard sauce. They have very advanced ideas about dessert at Chimes, and not are definitely not stingy with their custard! We took a leisurely stroll back to our hotel (because that sounds so much better than 'waddled due to being so full'), and paused just long enough to admire the excellent air conditioning before falling into bed.
Slideshow of more London photos: (You can click on the show to see it with larger photos.)