Well,
Toni
has definitely beat me to the finish line on the 100 project challenge, thanks to my sudden detour onto the Christmas knitting list, but I figure that I should get some credit for artistic impression.
Everything takes longer than I think it will, and I'd hoped to have this done sooner, but still- eight days for a sweater- even a small one- isn't too bad. (I actually cast this on Thanksgiving day but didn't really do anything more than that until the following Saturday-- a week ago today-- since I was still finishing the other sweater.) So here's the sweater for my older nephew: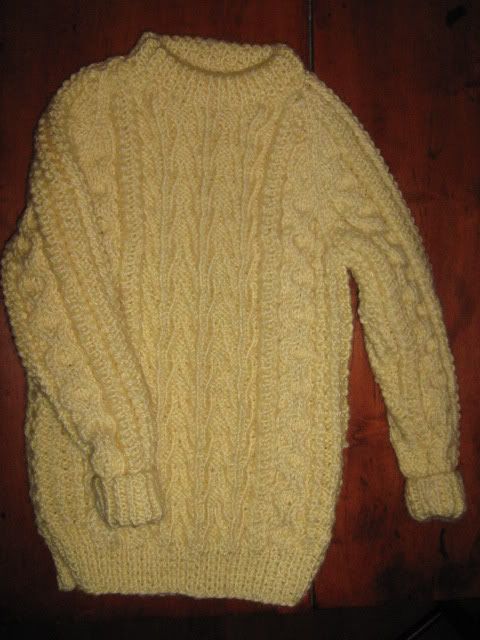 It's another pattern from the pattern book of Aran sweaters that I inherited from my grandmother (the same one I'm making my own Aran from). The pattern is really a rather elaborate ribbing, so it's not as long and skinny as it looks- it will stretch when worn.
And now I'm on the next item on my list, another pair of Monkey Socks. I am wondering if there's something goofy with the gauge on this. The first time I did this pattern I used 00 needles because I liked the way the fabric looked. This is the first time I've tried to get gauge. According to the pattern, I should be making the large size...and yet I know that this yarn on these needles makes a sock that's on the large size for me with 80 stitches- and this sock is supposed to be three sizes smaller. And the lace pattern for this is stretchy. So I'm dropping back to the medium even though I'm getting 10 stitches to the inch and the pattern says I should have 8 for a medium. I'm going to kick myself if I wind up having to go up a needle size on this...but I'm still going to knit a couple of inches and see what size the sock comes out. Because I'm stubborn like that. (Note to self: Robin, why are you knitting this pattern when you're on a deadline again? Me: Because. Robin: *sigh*)
I'll let you know how it goes....