The most recent FO was the Guernsey-inspired sweater that I knit out of the yarn my mother and I dyed a few months back. There were a couple of kinks in my plan...where I had half the back knit and then discovered that my gauge swatch had lied like a lousy rotten lying thing and I had to rip it all out and start over. And then at the end when I discovered that despite our general similarity in size, my friend Victor has somewhat shorter arms than I do. So I took a couple of inches off the sleeves. But it all worked out in the end:
Victor liked it. Here's a closeup of the patterning.
The FO before that was a pair of Jaywalker socks. I was severely short of yarn, but was able to find some dark brown contrast yarn that went reasonably well with it.
There was a simple mistake rib scarf with some nice Cascade 220 Heather out of the stash:
Three more pairs of navy mittens. I still have a giant skein of navy yarn, but I couldn't face it so I tucked it away and have been doing other things for a while.
I finally wrapped up the ribbed lace socks that I started on the trip to England. The merino-tencel yarn has a beautiful sheen and softness, but is fearsomely slippery. I was happy to be using the little bamboo needles for that.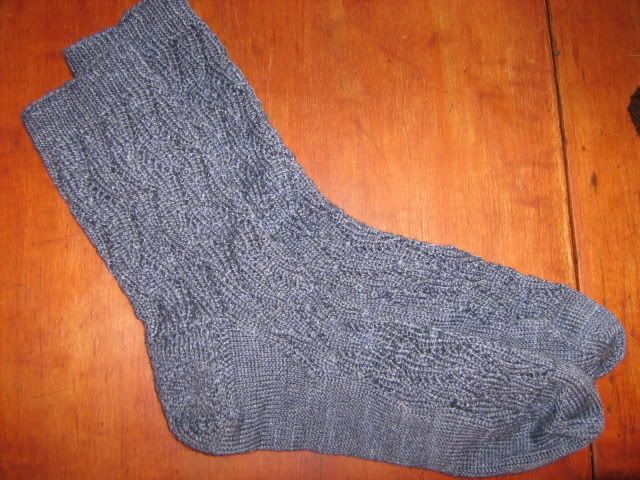 And somewhere in there I blew through some of the brown sport weight yarn I had a lot of it by doubling it up and knitting a plain ribbed guy hat.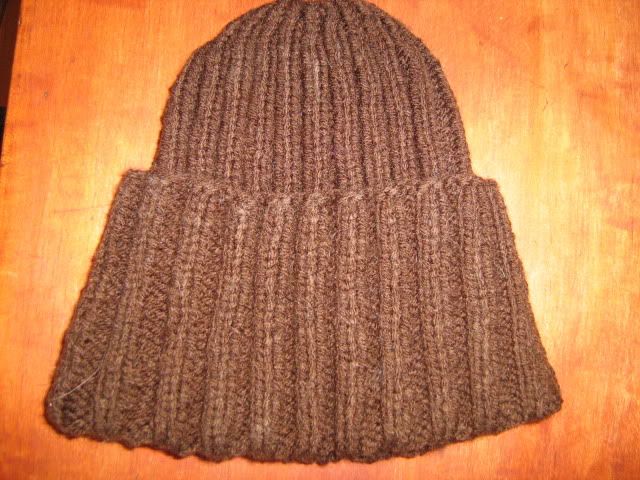 So, not an enormously productive summer in terms of number of projects, but I'm very happy to have the sweater done...with 340 stitches around the chest on size 2 needles, I feel sure that if I were tracking number of stitches knit, I'd be way ahead of the curve!