Thursday, September 1, 2011
Sunday- May 29
The last thing we'd done every evening for pretty much the entire trip was to check the weather report for this weekend. We'd built some flexibility into our itinerary, but the hotel reservations were fixed and we'd selected this Sunday as being the most promising weather for our walk to Canterbury. We had such a marvelous time in on the long distance hike in the Cotswolds last time that we'd wanted to do something similar over the downs in this part of the country. Our planned route would take us along the North Downs Way, a marked long-distance hiking trail, through several small villages and ultimately, after 18 miles of walking, to Canterbury.
The only trouble was, the best day of the four we'd planned for Dover wasn't actually all that good. As the day approached, we decided we'd plan for the best and play it by ear. We set the alarms for 5 am and had most of our gear already packed.
Sunday dawned gray. Miserable and gray. The skies were dark and there was a raw chill in the breeze coming off the channel. Jonathan looked outside. "I'm not so sure this is a good idea," he said. "Let's see what the weather report is," I suggested. The weather report was virtually unchanged…white cloud, cool and windy in the morning, getting brighter and windier as the day went on, but not actually great. About the only thing you could say for it was they weren't predicting rain. "I can live with cloudy and improving as the day goes on," I said positively. We had a GOAL, and I wasn't about to let a few clouds stand in the way. "It doesn't look very nice," Jonathan replied glumly, "but I guess if you're up for it…" "Improving as the day goes on," I repeated firmly. Surely the obliging English weather wouldn't be so cruel as to disappoint us at this late juncture. Jonathan perused his maps and pointed out that we had bailout points if it proved uncongenial, but we shouldered our packs and got checked out. We left the hotel about 6 am.
I actually didn't mind it—yes, it was cloudy and raw, but walking uphill with a backpack I was plenty warm enough. Jonathan led the way with grumpy determination. I should point out here that 'grumpy' is Jonathan's default setting in the morning (as it often is mine-Jonathan comments that he's had to put up with me sans breakfast, which is far worse--a claim that has a certain justice). Anyway I didn't take his glum mood in the least personally. I was sure he'd feel better about the idea once he was properly awake. We climbed out of the river valley up to the downlands where we could pick up the North Downs Way. We found it with no difficulty and it immediately led us through a picturesque churchyard and a tunnel carved in the abundant greenery.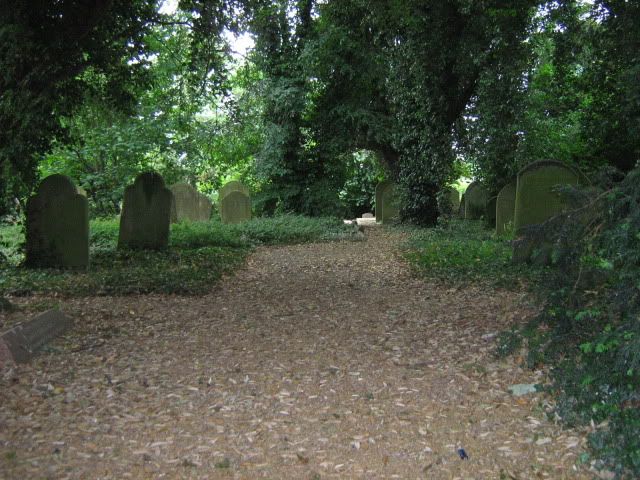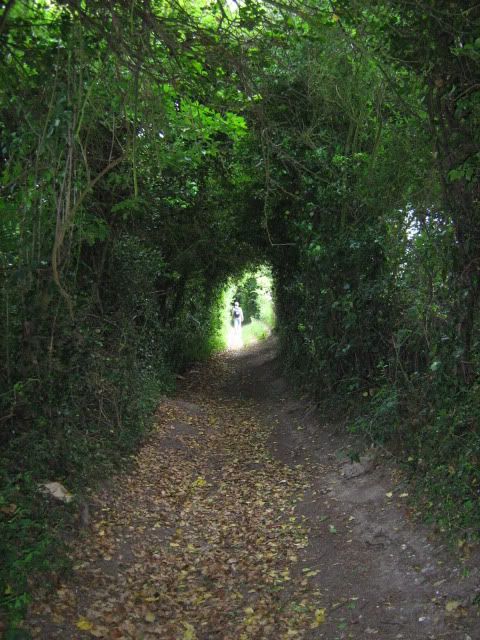 In the early morning gloom it was more like walking through the setting for a suspense story or an English murder mystery, but we discovered no corpses and continued walking. We met our first setback when we found that a large section of the trail was closed and we had to detour. We took an extended tour of a very modern suburb and a retail strip full of unpicturesque box stores (I declined to photographically document this part of the hike), and kept going. One part I did document- the goat on the trampoline. Yes, you did read that right. Don't believe me? I took a photo: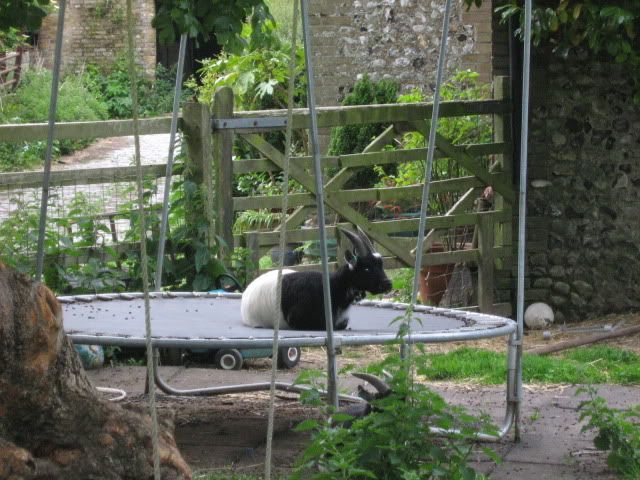 This led to a certain amount of speculation as to whether you got a free goat with every trampoline in England. Another unanswered mystery, I fear.
We had to skirt a highway interchange and climb over a fence, but were able to rejoin the trail past the closed section with little trouble, and returned to vistas of woods and fields.
The day did start to grow imperceptibly brighter and I brought out the camera: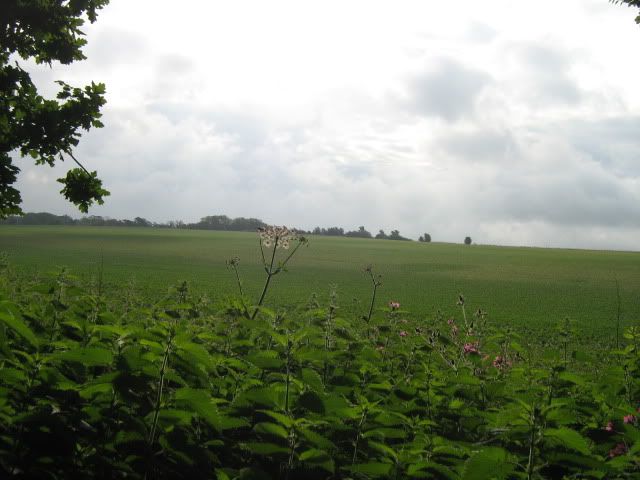 As the morning wore on and the miles fell beneath our sneakers, there was a distinct lightening of the sky, which I attempted to point out to Jonathan.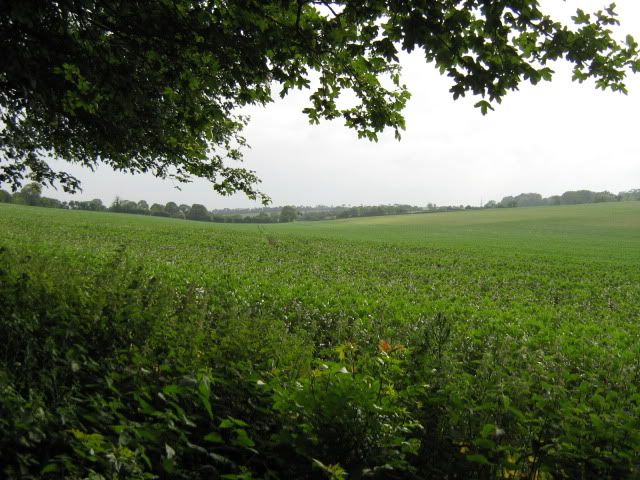 He stuck his fingers in his ears and declined to listen on the grounds he didn't want to jinx it.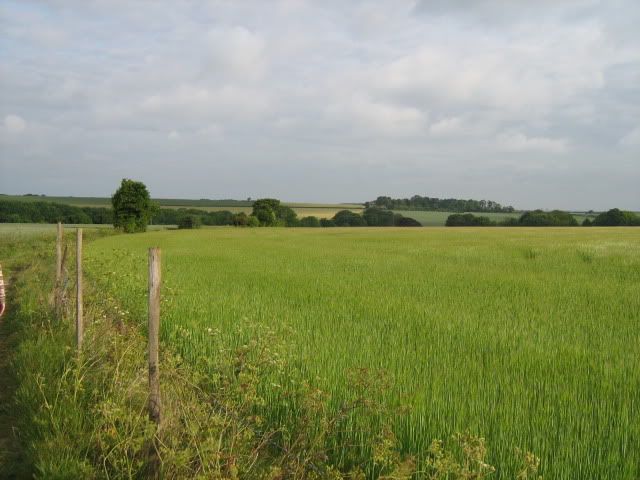 I ceased and desisted, since there's nothing more aggravating to someone in a crummy mood than excessive cheeriness. But soon, even Jonathan couldn't deny there was something going on: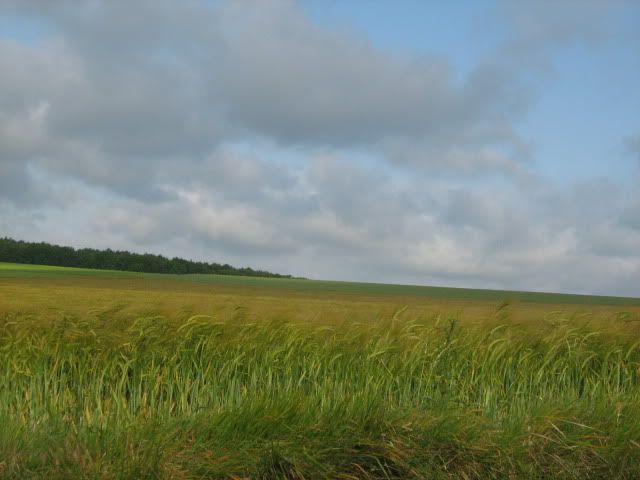 >
The blue sky is a dead giveaway. At that point the walk ceased to be merely interesting, and became a positive pleasure. The trail cut across fields—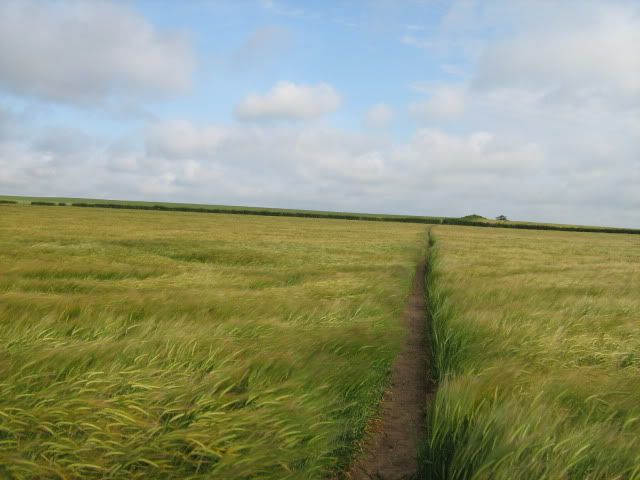 —often bordered by masses of poppies: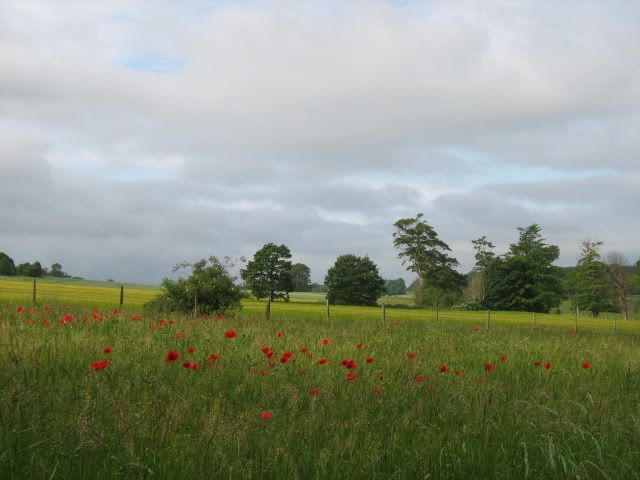 We passed through another churchyard, this one featuring an ancient yew tree:
Jonathan told me that it was once the law that yews be planted in churchyards so as to ensure the supply of wood for English longbows. This one was certainly ancient. The day continued to improve and we crossed a field full of sheep. (Obligatory fiber content for my crafty pals!)
We discovered fields of…something. Anyone? Our best guess was some kind of bean. The bottom part of the plant had roundish leaves, and the top was all these great spikes absolutely covered in seed pods. Whatever it is, they grow a lot of it in Kent. A considerable amount of websurfing has given me no clue as to what this crop is:
It was around this point that Jonathan turned around and said, "I'm so glad you wanted us to go on with this." It was turning into a really gorgeous day, much better than the weather forecasts had led us to believe.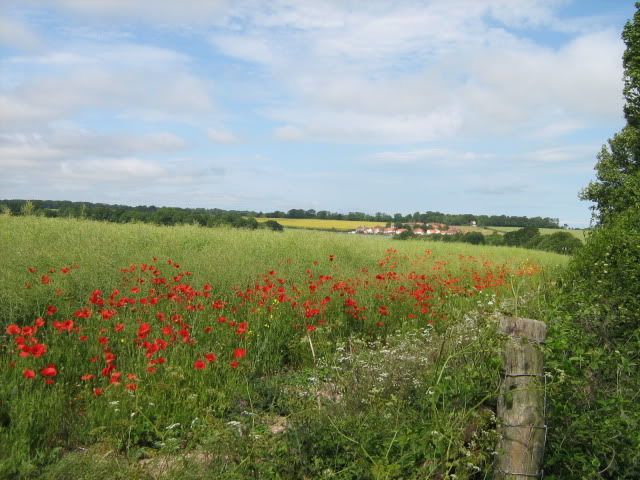 We saw a literally rose-covered cottage with a lovingly maintained thatched roof: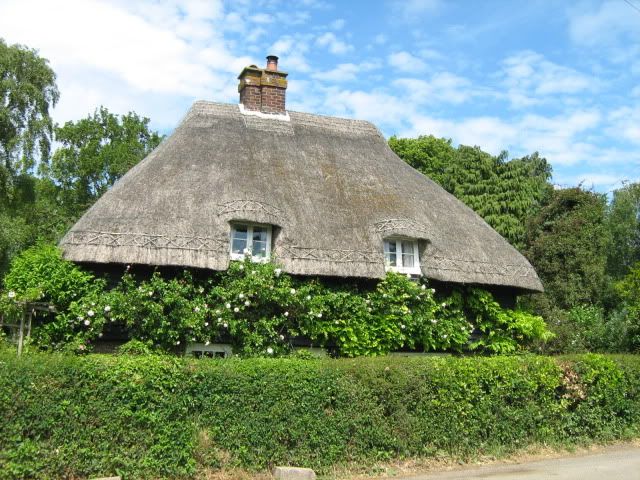 In fact, the only thing we weren't seeing much of was places to eat. And by this time, we'd been walking for about six hours and the sheep were starting to look good.
We'd passed through several tiny villages—so small they didn't have a pub. We strode on with renewed energy, looking for the next town. Which turned out to be the village of Patrixbourne, home to charming brick houses and an actual working ford (note the footbridge on the right for pedestrians):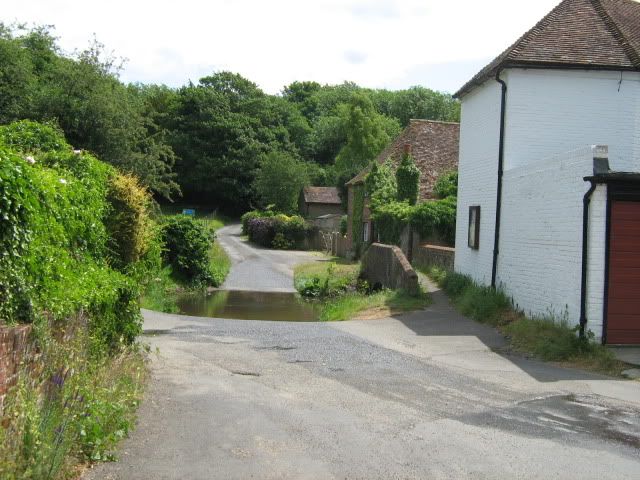 But it turned out to be rather on the small side, as we noted from the house numbers:
And there was no sign of a pub or other eatery. So we tromped on to the next village, Bekesbourne, which we knew had a train station. "If we don't find something here," I said a bit reluctantly, "we might have to hit the train station and bail." I hated to think it, because we were only three miles from Canterbury, but we were getting quite hungry.
At Bekesbourne we found we actually had a choice. There was a sign for a cafe, but it was a mile off our route (so would add 2 miles to the walk), or we could go to the train station. "What do you think?" Jonathan asked. "There's no guarantee it'll be open," I said. "Let's try the train station first. Even if it's small they might have vending machines." Most of the train stations we'd seen up until then had a small building, often with a coffeeshop as well as vending machines, so this wasn't a completely unreasonable guess. And the train station was quite a bit closer. So we turned off onto Station Road and very quickly came to the smallest train station we'd yet seen. In fact, calling it a station was a misnomer- what it had was a platform and a small shelter, like you'd see at a bus stop. There were no vending machines, and no rest rooms.
"Well, darn," we said. And "Now what?" It was then we were given a sign. No, really. It was an excellent sign: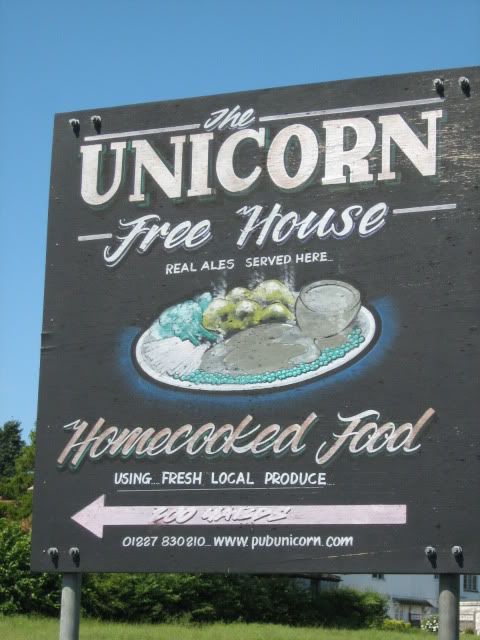 "Let's try
the Unicorn pub
," I said.
"We don't know how far it is," Jonathan pointed out. "Or if it's open."
I replied, "The arrow points up a walking path. I'm guessing it's not too far. And it says, 'real ales', and 'home cooking', and 'using fresh local produce'.
We followed the arrow. The pub was not hard to find—it was visible from the path: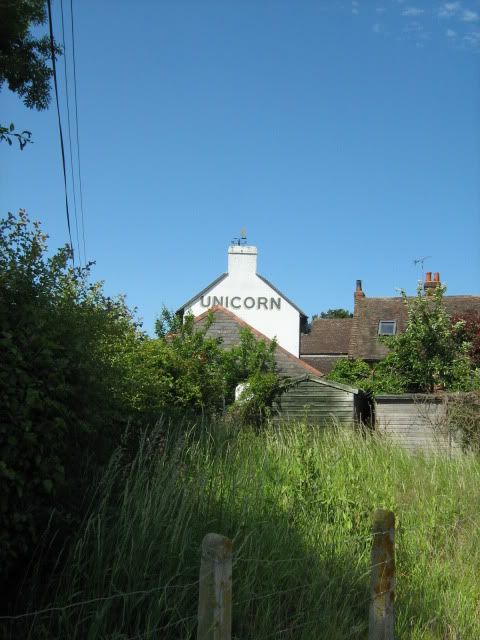 The pub turned out to be awesome, the kind of place we'd have gone well out of our way to experience if we'd known it existed. For one thing, it wasn't just busy, it was
mobbed
with locals. We wound up sitting outside because there wasn't any space inside. And it had live folk music (which was going to be later in the evening so we unfortunately didn't get to hang around for it but it's the sort of thing we approve of.) The menu was extremely enticing. And they had a pub cat. Clearly she had a lot of confidence in her staff because she didn't need to supervise them closely.
They gave us refreshing beverages with considerable alacrity. We had a nice chat with some of the locals while we were waiting to order. We were spoiled for choice—they had several locally made ciders.
Out of a native sense of caution, I started with lemonade and only then ordered a pint of cider. Jonathan was less restrained. He had a pint of cider—what we Americans would call hard cider—on an empty stomach. He went back in for another drink to go with the food, and was offered a sample of a local raspberry cider which was so delicious he had a second pint with lunch.
Lunch exceeded our wildest expectations. Homemade sausage from a local farm, locally grown vegetables. It was outstanding. Even granted that we were quite hungry, it was a wonderful meal. I finished before Jonathan and sat back and pulled out the sock I was knitting. It was then that I absentminded felt the back of my neck, which was rather warm, and realized that the cool breeze had kept me from realizing that I'd gotten a blistering burn back there. I groaned...it's not the first time I've gotten a bad burn in England, but I never seem to learn. I belatedly put some sunscreen on it, and covered it against further damage. But filled with good food and drink and with our packs off, I couldn't be too worried. It was truly gorgeous
We ate, and rested our feet and when we were done we pooh-poohed the idea of bailing out. "It's only three more miles!" I said. "We're almost there."
We redonned our packs and set off with renewed enthusiasm for Canterbury. As we left the pub, I noticed that Jonathan was not managing an entirely straight path. Imperial pints are larger than American pints, and he rarely drinks at all—two whole pints of cider, which is comparable in alcohol content to some wines—well, it was a lot more than he was used to. Between the food and the drink, we strolled on at a rather leisurely pace compared to the morning.
By now we were seeing more habitations, and encountered another mystery.
See the white things on top of the roof? We were darned curious as to what they were, so I took the photo. But the internet has failed us. My best guess would be some kind of wind generator, but I haven't been able to find anything remotely similar online.
We got into Canterbury rather later than we'd intended, but we had no complaints. We didn't get to see the Roman museum, but we did take some more photos of the cathedral, taking advantage of the sunshine: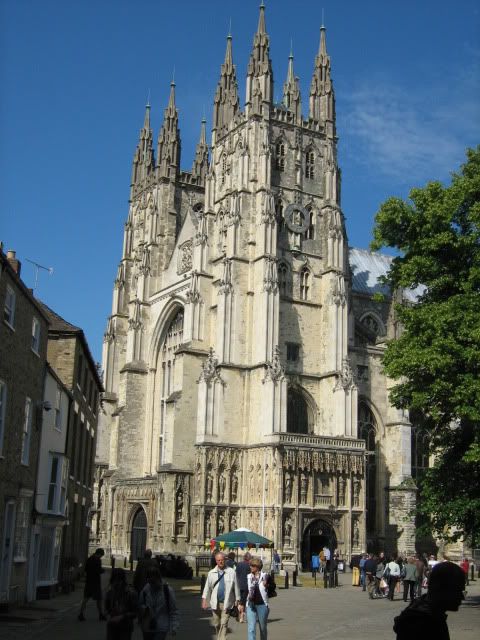 We saw more of the city.
We had more cold drinks (non-alcoholic this time), and stopped for snacks at Patisserie Valerie. We ambled gently on sore feet back to the train station and took a fast train to London, and checked into the hotel and dumped baggage.
Although we had arguably eaten enough for one day, we decided to pursue dinner anyway. We set off with the vague intention of trying a Chinese restaurant on our 'interesting places we might like to eat list', but before we made it there, we happened on a barbecue place. That turned out to be exactly what we were in the mood for, and when we went in, we found that it was (unsurprisingly) American themed and showing a Red Sox game on the television. The Sox were tied with Detroit. That settled it, and we sat down for a modest sandwich before heading back to our hotel, footsore but happy with our last full day in England.