I tried to see if there was anything I could say about the just-finished Top Secret project, but the Christmas Censor (tm) software left me only with words like "knit" and "FO". You can assume that was yarn was involved and come back on the 26th for the medium-sized reveal. (A big reveal would involve something like a 747-cozy, and fortunately I don't know anyone who owns a 747, let alone have this hypothetical person on my Christmas list.)
So. The next project. Back in June when I was in London, I made a point of stopping by
iKnit
, a charming yarn shop a short walk from Waterloo station. I went in search of souvenir yarn, and specifically wanted a UK yarn, something I didn't necessarily see everywhere at home. After lengthy consideration and fondling of skeins, I settled on a yarn--Rennie Handknits lambswool, made in Scotland, in a nice cheery yellow. Just the thing for a scarf to brighten the depths of winter and remind you that spring is coming, don't you think?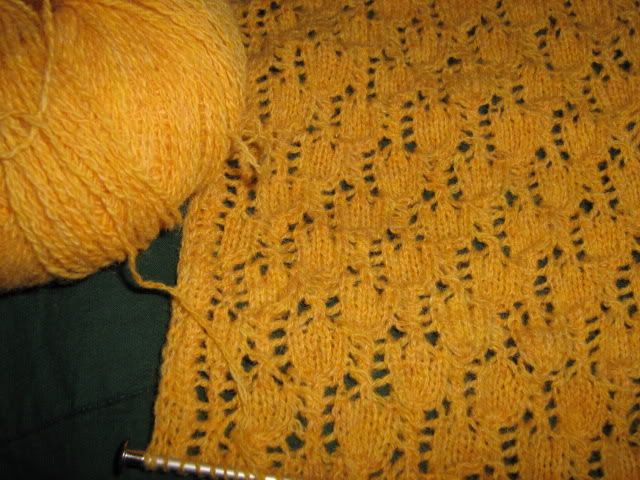 Continuing with the spring theme, I'm using a lace pattern called Tulip Time, which I unearthed from an ancient folder of patterns. I'd gone in search of this pattern specifically, but had not recalled that it's a top down pattern..I'd always planned to knit the two halves of the scarf separately (so the tulips will all hang right-side-up), but with the top-down design, it's even easier--I've just done a provisional cast-on in waste yarn, and can knit half the scarf down, and when the first half is done, take out the waste yarn and knit the other half. Much easier than grafting!
It's moving a bit slowly, so it's hard to say when this will be done. It's for someone I won't being seeing before the holidays, so I may bump some faster-moving projects ahead of it. Speaking of which, knitter cannot live by lace alone (there are times when the constant counting to make sure you haven't added or subtracted a stitch aren't practical), so I am also working on more socks: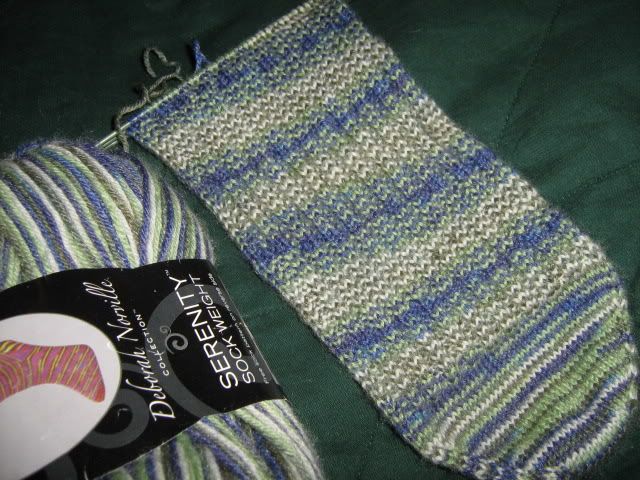 A simple garter rib, and I'm nearly to the heel, so these are moving along. I'm done speculating on what will or will not be done when, however. We'll just have to see how far I get.