So, yesterday I went out to the
Amherst Railway Society Hobby Show
, a mecca for model railroading hobbyists of all stripes. Afterward there was
lunch
,
shopping
, visiting with in-laws, and more visiting with in-laws and eating. This is how much sock got knit:
I cast it on on the trip out, since the sweater is awkward to schlep, and the fan lace socks (my other WIP at the moment) are a bit too fiddly to be easy to work on in the car. Yarn is Cascade 220 superwash- I've found that one-and-a-half skeins makes a pair of socks. And since I had a bit over a half-skein left from the Christmas socks for my brother-in-law, clearly I needed to get another skein so I could use up the remaining half-skein.
At the yarn store I was quite restrained- I got four plus one extra balls of yarn for my cardigan (no excuses for not finishing now!). And, look, here's another ball of sock yarn. Now I know that I have said I don't buy yarn without a plan. Okay, it has a plan- socks! For um, me. Or perhaps someone else, if someone especially deserves nice wool socks. And I had really only planned to *look* at lace weights, because I have already bought yarn ahead for several more projects. But I loved this silk, and I do have a plan, thanks to the
Tsock Tsarina
, who recommended a lovely pattern to me. Now I just need beads. No, I've never done beaded knitting before, why do you ask? No, the pattern doesn't call for beads. I just think they'd look cool, and I have an internet and know how to use it, and.. yeah, this is how the whole cardigan insanity started. Hey, I'm having a creative inspiration here, let's not muddy the waters with common sense.
There was model train shopping at the show as well: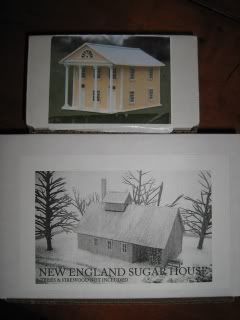 My husband and I are modeling New England-type town and country landscapes (in HO scale), and when we saw these kits we just had to snap them up. The house (country bank) is very reminiscent of structures in my husband's home town, and the sugar shack is much like the ones we visit on pilgrimage each March, in search of
sugar on snow
, maple cream and other maple-drenched sugary treats.
A couple of shots from the show: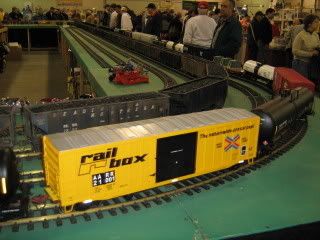 There are
more train show pictures
, if you're curious.
The show is held at the Eastern States Exposition grounds in Springfield, MA. Commonly known as "the Big E"- it's a fairground with permanent buildings suitable for use in January. The hobby show expanded to take up a fourth building this year- and these are not small buildings. Think acres. The crowd was still quite thick, with a bunch more young people exhibiting (a welcome sign in a hobby that is dominated by middle-aged guys). It was a blast, as always. The highlight of the show is the big club layouts (built in sections to a common standard, they are carted to the show individually, and then all joined together to form gigantic super-layouts with room for very long trains.
Now all they need is to join forces with other area hobbyists, so they can hold a giant fiberarts/knitting/weaving/spinning and quilt show in some of the adjoining buildings. Fun for the whole family. (Not that there aren't women in model-railroading, but they're about as common as male knitters.) Of course I'd be doomed- I'd have to go both days to see everything!