A few months ago, my mom emailed me a question:
Mom: I need you to settle a bet I have with your father. Do you still have the coveralls you took to camp when you were fourteen? I say you do, and I win dinner out if I'm right.
Me: You can start picking out your entree...
My mom was on firm ground in making this bet, because I'm pretty sure she's the one who taught me the rhyme:
Use it up, wear it out
Make it do, or do without!
I call it thrift, though others have been known to remark that I can pinch a penny until it begs for mercy.
Which is by way of explanation for why I just took a cotton sweater-dress and shortened it to sweater length for my husband. It was a unisex design in a neutral color, except for being, well, a dress. In a sweater length it is completely innocuous for a guy.
But I'm a knitter! Why am I not knitting him a sweater, you might wonder? Well. My husband would cherish and appreciate a lovely handknit sweater. But he does indulge in a lot of activities that are not conducive to cherishing handknits. Many of these involve paint, stain, polyurethane, solder, epoxy, wood glue and other items from our extensive collection of adhesives. For these activities, commercial sweaters, preferably secondhand commercial sweaters, are just the ticket. And the investment in time is roughly equal to that involved in getting in the car, driving to a store, selecting a sweater and returning. While burning no hydrocarbons and involving no outlay of cash- my kind of project, in other words!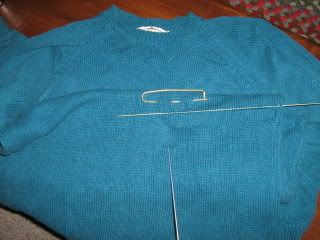 I snipped a stitch about an inch below where I wanted the hem and took out the whole row. Then I just picked it up on needles, did regular cast off, and hemmed it. Result- one unworn garment belonging to someone with too many clothes, transformed into a garment for a man whose current sweaters are engaged in mass suicide.
I also spent a bit of time trying to avert the aforementioned mass suicide- resewing seams, chaining up laddered stitches (and sewing the ends firmly to their neighbors to prevent them getting further ideas), and my favorite- knitting patches for holes. I found the closest match I had in my scrap yarn bag, and unplied it to get roughly the same thickness as the sweater.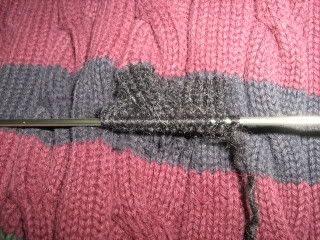 I picked up stitches above the hole, and then knit the patch in pattern (including a wee cable) until it was long enough, then cast it off and sewed down the three sides with ordinary sewing thread. No more ventilated elbows. It's only a stopgap of course, but it'll buy him few more months, and around here, we'll seize any excuse to avoid clothes-shopping.