2007 was the year that I rediscovered knitting.
I've knit for over twenty years- My mother taught me at my request when I was in college. (I'd tried once before, at age 12, and lost interest quickly in a morass of dropped stitches and bewildering tangles. I was an exceptionally poorly coordinated child.) At eighteen, I picked it up more quickly than any other skill I have ever learned before or since, the stitches slipping smoothly and evenly across the needles. Day one, I began a pair of children's mittens for the charity bag. Day three I cast them off. Day four I started mittens for myself. At three months I proudly cast off my first sweater and immediately started planning a more elaborate one.
I knit sweaters from patterns I found in magazines that my mother bought at yard sales, or in books from the library, or given to us by friends. I knit the two-needle flat mittens the same way my mother and grandmother did. I tried all sorts of patterned knitting and made a sweater in several colors for a friend. The result was wearable if not perfect. When I'd finish one thing, I'd cast around for something with a different pattern or technique in it. I quickly found myself well beyond my mother's level of interest in the craft. My mom mainly knits to fill in a few spare moments or while watching TV. This fall she recorded her 1000th(!) pair of mittens for the charity bag, and she's made endless numbers of slippers, mittens and hats for the family, but she rarely ventures anything larger. My late grandmother was a more ambitious knitter and crocheter, but I didn't see her often enough for her to be a real influence on my knitting.
Which is a roundabout way to say that I've never really known anyone whom I could ask about the more complex bits of knitting. A few years ago, my mother (a passionate and inventive quilter) drew me into quilting for a few years. I made
a number of smallish quilts
and greatly enjoyed them. But after my last quilt, I knew it was time for a break. Between work and night classes I didn't have a lot of time for designing and piecing a new quilt top, a necessary prerequisite for the quilting. I enjoy the designing, but piecing tends to be an irritating obstruction to be dealt with before I can start to hand-quilt- the part I find really relaxing.
It was at this point that an online friend happened to mention she was knitting a log-cabin baby blanket. Knitting! I remembered knitting! It's excellent for not needing an extended period of prep work. And baby blankets- what a great idea! I had several friends who had just had babies (and I hadn't yet sent a gift), or who were due in upcoming months. And the whole log cabin idea seemed tailor-made for some yarn I already owned- nine skeins of fine, fine baby yarn, in two colors. By the time I saw my friend's log-cabin baby blanket pictures, I had already taken the concept, made a bunch of changes, and was off and knitting.
It was the same friend who, when I bugged her for more pictures, pointed me at the
Yarn Harlot blog
. And now I was in love- this blog is funny, and creative and simply full of knitting. And links. And I looked at more blogs and websites, and patterns and yarn, new ideas and techniques and articles...and given that I spend roughly 90% of my waking hours umbilically connected to a keyboard, I am really embarrassed to admit that I never thought of looking for
knitporn
knitting information online. It's some kind of weird blind spot having to do with learning to knit pre-internet, I guess. But that was the start of my year in knitting.

2007 Parade of FOs:
Log Cabin Baby Blanket- the original pattern that my friend was knitting is (I think) from Mason-Dixon knitting, and was a garter stitch based blanket. While I love reversible patterns for blankets, I was afraid I'd find garter stitch boring. Not to mention that I was using a fine baby yarn, and wanted a pattern that would disguise the fact that I was using the largest needles I thought I could get away with. So I chose this lattice pattern (from a book whose information I've long since lost), and resigned myself to a lack of reversibility. There were several useful things I figured out while knitting this, but chiefly, to use a pattern in a log cabin design, you want the number of rows in the side stripes to be an even multiple of your pattern stitch plus any border (so that when you pick up one stitch for every two rows to knit in the perpendicular direction, you come out with the right number of stitches to make complete pattern repeats. Another thing was that I needed to put my garter stitch border rows on the inside edge of a perpendicular strip. On the outside edge they didn't match up with the pieces going the other way for the frame effect I wanted. Yarn is Wintuk Sayelle from Brunswick. And I have no idea where it came from- I think someone gave it to my mom.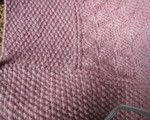 Basket Weave Baby Blanket- The log cabin blanket was almost done before I was due to leave on a trip to England for a week. While I don't usually like to have too many things on needles at the same time*, I wasn't going to haul a nearly finished item along an the whole trip. Clearly, I needed more yarn. So I went off to the LYS, and found a nice wool blend. It's an uncharacteristically country sort of pink for me, but it was a lovely soft yarn, worsted weight (I was still twitching from the baby yarn) and this was going to an infant in the north woods of Maine. And it was washable (I think that things intended to be spit up on should preferably be machine washable. Particularly if you want them to be used.) This one was reversible, using a simple basket weave pattern for the center and seed stitch for the border. The yarn is...ah...a mystery. I appear not to have saved the ball band. (Edit: Ahah! I found it. I won't speculate on what the ball-band was doing behind the TV, but the yarn was Plymouth Encore, 75% acrylic/25% wool Color: 0241.)
*I realize that this is not a usual kind of phenomenon, but I am that rarity, the non-stashing project knitter. My 'stash' consists of two small bags of yarn that has been given to me (non-stashing does *not* mean I'm silly enough to turn down free yarn), plus whatever I've bought for projects in progress. While I don't practice strict project monogamy, it's fairly unusual for me to have more than two knitting projects going at once. The number of different
kinds
of projects- carpentry, sewing, writing, knitting, etc, can be quite large.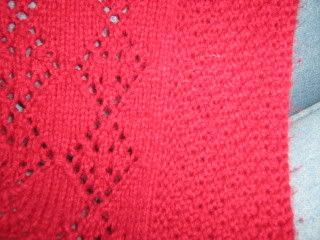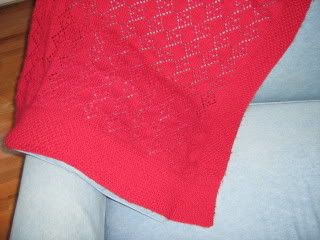 At about the halfway point in the basket weave blanket (and when I was still finishing the log cabin one), I found out that I was about to become an aunt again. But I couldn't face another pastel, so I found a clear bright red for the next one. This is the Diamond Filigree baby blanket, using another pattern from the same book as the lattice one above. The yarn is Dark Horse Fantasy.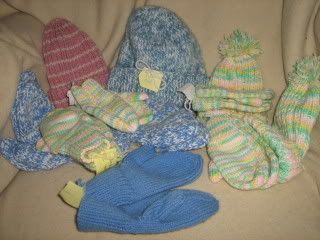 By the third baby blanket I was starting to get a bit bored. (This will be a recurring theme, I'm sure.) So I whipped through a few sets of hats and mittens, so I'd remember what decreases were.
And in the meantime, I'd been looking at sock patterns, luscious tempting sock patterns. Socks looked so interestingly not like flat rectangles. And my brother-in-law passionately loves red wool socks. No, I'm not sure why. He just does. And while commercial wool socks are easy to find- red is a lot harder. So I discovered at the library (and later purchased my own copy of) Charlene Schurch's
Sensational Knitted Socks
, and knit the first of two pair for a Christmas gift . While I can't provide a comparison with other sock knitting books, I found this one to be very well organized, with a lot of good how-to information and useful charts for sizing.
These are garter rib socks made from Country Yarn for Sox. They are seriously heavy, dead-of-winter, snow shoveling, keep-your-feet-warm-in-a-blizzard socks (fortunately, by Christmas we'd no shortage of blizzards). I also congratulated myself on getting a jump on the holiday knitting. (Ha! As you will discover in future posts, no amount of planning on my part is equal to my ability to bite off more than I can chew.) I also have to say that this yarn is positively enchanting as it knits up. You think it looks like a bland solid? Not so. The subtle heathery highlights made every stitch of these completely captivating. (We shall not speak of possibly rude words I may have uttered during my first attempt at kitchenering the toes.) These are my second pair of socks ever. It was a real wrench giving them away.
At that point, I started thinking that perhaps a pair of medium weight socks would also be good (okay, okay, so sue me, I just wanted to knit more socks!). So I made these- beaded rib, in Cascade 220 Superwash(Color 809).
By now it was clear that this knitting kick wasn't going to be a passing fancy but a more extended affair. In October, I decided to make a sweater for [name elided in case the recipient stumbles across this blog] for Christmas. While this did not actually come to pass (about which more anon), it did keep me knitting. In mid-December I reluctantly admitted that the sweater was not going to be a Christmas sweater, and switched gears to zip through a pair of elbow-length knitted fingerless mitts for my sister (big needles, bulkie yarn- gotta love it for those last minute gifts). The photo, on looking at it, is not very good. But, I'm knitting her a second pair, and will get a better photo of them shortly. Yarn is Reynolds Andean Alpaca Regal- lovely stuff. I chose it not only for the bulk, but for the plushy softness against the skin.
Christmas Day, I polished off the last FO of the year while providing a self-heating sleeping surface for cats beside my sister and brother-in-law's Christmas branch (a whole tree was deemed unwise, as the cats cannot be persuaded not to climb them). Appropriately, the mittens were for the charity bag (they're basically identical to the blue ones in the group pic above, so they won't get their own photo).
Peace on earth, warm hands for men, women and children everywhere.